About 22 million Americans along the East Coast were under flood watches Saturday as a "once in 200 years rainfall event" began hammering the Carolinas with heavy rains — and the worst was yet to come.
A flash flood warning was issued for Charleston and Berkeley counties in South Carolina early Sunday, with the National Weather Service warning people to get to higher ground. The warning was put in effect until 6:15 a.m. Sunday.
"This is an extremely dangerous and life threatening situation," the NWS warned. There were no immediate reports of injuries.
The weather service said there were "multiple reports" of water entering buildings, especially in downtown Charleston, and that "extremely heavy rainfall continues to fall and will only act to worsen ongoing conditions."
Downtown Charleston was closed to incoming traffic Saturday as rain flooded roads and left some motorists stranded as flood waters engulfed their cars. At least two bridges were washed out in other parts of the state.
"Where we normally are dealing with flooding for a few hours, we're dealing with it in days here," Charleston Police Chief Greg Mullen told The Associated Press. "We're seeing areas flood today that did not traditionally flood."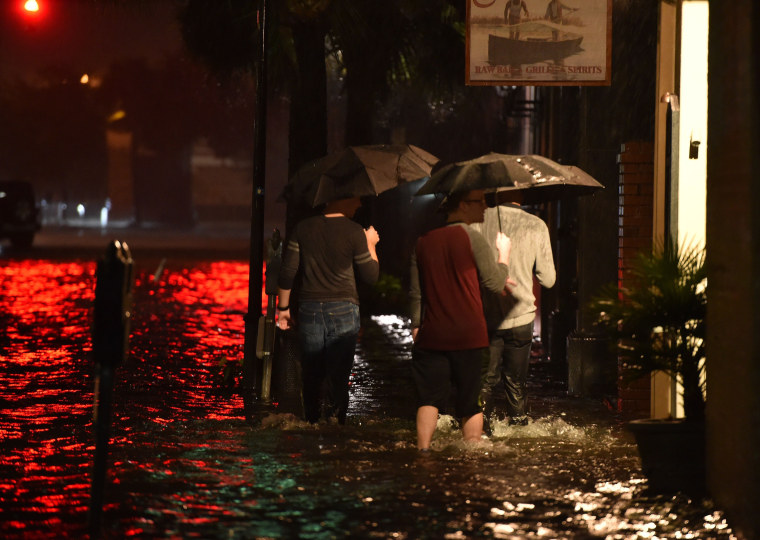 Charleston recorded 10.7 inches of rain Saturday, the wettest day on record, the National Weather Service said. Charleston's airport recorded 13 inches of rain in all, breaking a three-day record, the NWS said.
Saturday was the third consecutive day of a relentless onslaught of rain, with a plume of precipitation expected to last through the weekend and only begin to taper off Monday. Officials in Charleston County, South Carolina, said 300 calls for assistance came in over two hours Saturday night.
"A lot more damage is still yet to be done," NBC News meteorologist Bill Karins said on MSNBC. "The rivers are going to be a problem in this area for days to come."
President Obama declared a state of emergency in South Carolina and ordered federal aid for the Palmetto state.
RELATED: Images: Carolinas Battered By Historic Rains
With a tide of 8.2 feet, water levels in Charleston were the highest they had been since 2009. North of Myrtle Beach, residents received 16 inches of rain.
As much as a foot of rain fell overnight in Wilmington, North Carolina, and numerous water rescues were reported. "Our goal constantly is to be overprepared and underwhelmed," North Carolina Gov. Pat McCrory told reporters Saturday morning.
On Friday night, 400 to 500 people were evacuated in Brunswick County, North Carolina due to flooding. Some neighborhoods in Calabash and Carolina Shores were flooded with two to three feet of water, NBC station WECT reported
"It was absolutely terrible," Bryan Randone, who had to move all his furniture upstairs after water flooded his home, told the station. "I didn't even realize it until it was too late," he said.
So far, one North Carolina resident had been killed in the weather: A woman driving on Interstate 95 died when a tree fell on her car Thursday.
Three people died in three separate weather-related traffic incidents in South Carolina since the heavy rains began, the state's highway patrol said, including two motorists who lost control of their cars and a pedestrian hit by a car, The Associated Press reported.
Around 10,000 people were without power in South Carolina Saturday night, the South Carolina Emergency Management Division said.
Elsewhere on the East Coast, soggy weather was also causing misery: Storms in New Jersey were so severe, they ripped a home off its foundation in Wildwood along the Jersey Shore.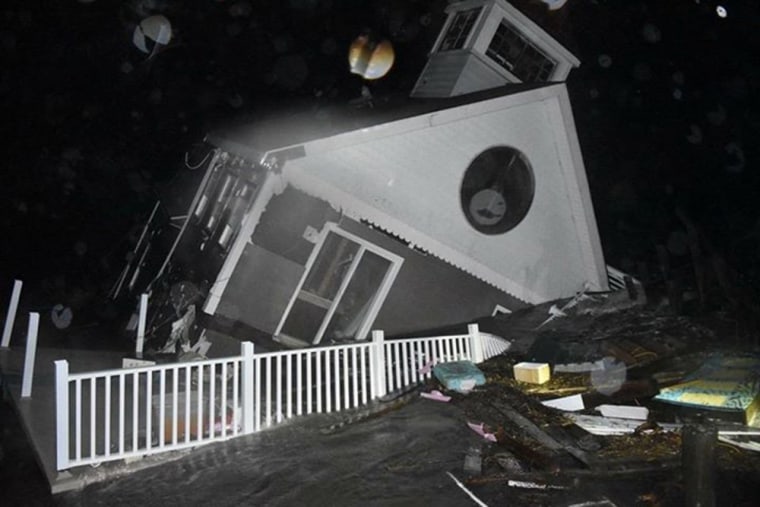 Officials in Delaware were monitoring high tides and wind gusts of up to 40 mph. About 145 flights nationwide were canceled.
But the Carolinas have been getting the brunt of the nasty weather, which forecasters said could have been exacerbated if Hurricane Joaquin made landfall in the U.S. as initially anticipated.
Joaquin, a restrengthening Category 4 storm with 145 mph winds, battered the Bahamas but was moving out to sea Saturday. The storm was about 455 miles southwest of Bermuda as of 8 p.m. Saturday, and was moving northeast at 17 mph, the National Hurricane Center said.
Karins said the National Weather Service was referring to the historic drenching in South Carolina this weekend as a "once in 200 years rainfall event" — and it had the potential to be as bad as any likely to occur every 500 years.
The NWS added that "record rainfall and life-threatening flash flooding" were possible through Sunday. Up to 15 inches of rain was possible in some parts of the Carolinas, forecasters warned.
This stretch of the East Coast from Charleston to Washington, D.C., is expected to be deluged as a result of a weather pattern called a "Rex Block," which is forecast to bring heavy rain to the area's already-oversaturated grounds.
This "powerful" low-pressure system over the southeast is moving slowly northeast, carrying heavy rainfall and expectations for high tides, the NWS said.
The NWS predicted "several rounds of abnormally high tides" in South Carolina and Georgia from Friday night through Sunday. "The highest tides are expected early Saturday afternoon, potentially into Saturday night," it added.
"Periods of heavy rain will affect southern South Carolina and eastern portions of Georgia," the NWS said. "There is increasing confidence that a significant heavy rainfall event will occur through Sunday with some locations seeing record rainfall amounts."