For trick-or-treaters on Halloween in parts of the Midwest, snow will be on the menu along with sugary snacks.
Snow showers were forecast to spread from the Upper Midwest through the Great Lakes through Halloween, which is Tuesday, the National Weather Service said.
Late Monday, around 64 million people from southeastern Arizona to parts of New York state were under freeze warnings, according to the weather service. Atlanta was among the areas under a freeze watch until 10 a.m. Tuesday, with temperatures as low as 28 degrees possible.
The weather service in Cleveland had fun with the forecast, warning that "A frightful end for October is expected across the region," and that on Tuesday rain will turn to snow.
"Waves of snow," with around 1 inch of accumulation, are forecast in time for the morning commute in Chicago. For the Baltimore and Washington, D.C., areas, the next couple of nights will be the coldest of this fall.
The cold snap will bring chillier weather to much of the Northeast and mid-Atlantic, where temperatures soared into the 70s and 80s over the weekend. In Washington, D.C., and Raleigh, North Carolina, temperatures from Monday to Tuesday are expected to drop a whopping 20 F over 24 hours.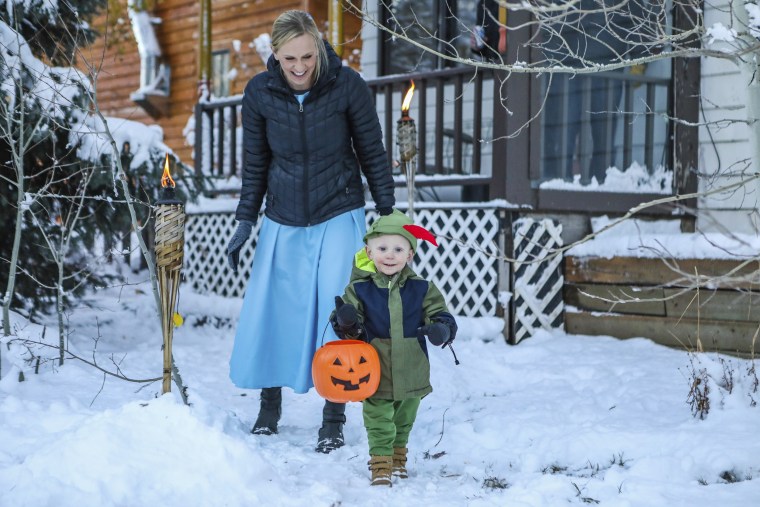 Another fast-moving "clipper" system dropping south from Canada into the Great Lakes will bring pockets of snow showers and potential for lake effect snow to the region Monday evening. The National Weather Service said additional snow showers are possible as the system pushes into the Upper Midwest on Tuesday.
Hurricane season remains active as the National Hurricane Center continues to monitor two disturbances in the Caribbean and Atlantic for possible development over the next week. The first is located east of the Bahamas with a low chance of development, and the second will likely form a tropical depression tracking toward Central America later this week.