Britain is using its most sophisticated spy plane to tackle floods caused by one of the wettest winters in 250 years.
The Royal Air Force Sentinel aircraft is normally used to surveil enemy targets on the ground in places such as Afghanistan and Libya.
But with yet another storm due to hit the British Isles - an event some newspapers anticipated as "Ferocious Friday" - the plane has been deployed over sodden southern England to help co-ordinate the government's response to the crisis, the BBC reported.
"We're taking radar imagery and transposing that onto our mapping, and from that we're getting live pictures of where the flooding is and where it's moving," said RAF Sgt. Chris Bradbury.
"What we can do over a period of time is build up a picture of how these flood waters are affecting agriculture and also potentially where they are going to break through and [cause] further flooding and disruption to people."
The U.K. has seen its wettest December and January since 1910, with winds of more than 100 mph leading to a rare "red warning" on Wednesday from Britain's official weather service, the Met Office.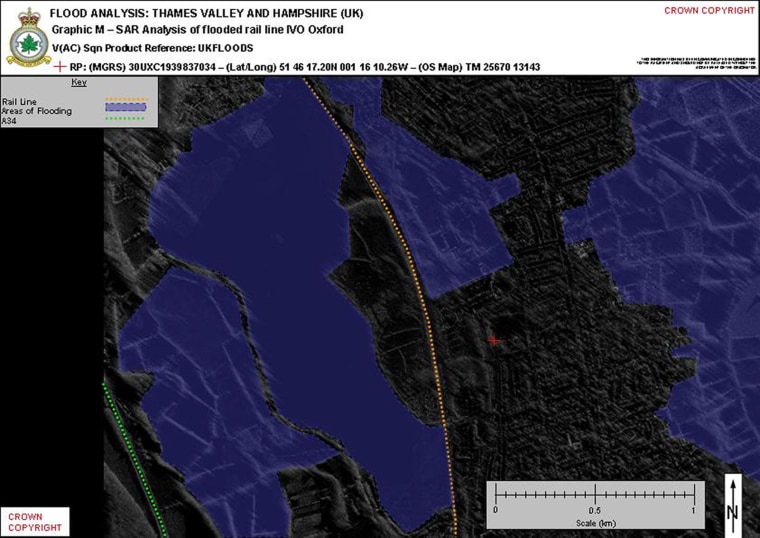 Picturesque fields have been reduced to muddy lagoons and whole towns have been forced to evacuate. Worst affected are the Severn river, separating England and Wales, the Somerset Levels, in the southwest, and the Thames Valley, west of London, which this week burst its banks.
The soggy situation was set to be exacerbated further on Friday evening after the Met Office forecast another system that would batter the British Isles over the next two days. The forecaster told people to brace for a three-pronged assault of more wind, rain, and snow in mountainous regions.
"With very wet ground conditions in Wales and the south of England and following repeated heavy rainfall earlier in the week there is the potential for further flooding in places," it said in a statement.