NEW ORLEANS — A boy on an Alabama beach was struck and killed Wednesday by a log washed ashore by storm surge from Tropical Storm Cindy, which spun bands of severe weather ashore from the Florida panhandle to East Texas as it churned ever closer to the Gulf coast.
Baldwin County Sheriff's Capt. Stephen Arthur said witnesses reported the 10-year-old boy from Missouri was standing outside a condominium in Fort Morgan when the log, carried in by a large wave, struck him. Arthur said the youth was vacationing with his family from the St. Louis area and that relatives and emergency workers tried to revive him. He wasn't immediately identified.
It was the first known fatality from Cindy. The storm formed Tuesday and was expected to make landfall some time late Wednesday or early Thursday.
Rough seas also led to the rescue of a shrimp trawler in danger of sinking off the coast of Texas. The U.S. Coast Guard said crew of the trawler Footprint was about 80 miles (130 kilometers) southeast of Galveston when the crew radioed that the vessel was taking on water faster than onboard pumps could clear it. A helicopter crew lowered an extra pump that enabled the shrimp boat crew to clear enough water to stay afloat. A Coast Guard cutter escorted the vessel to Freeport, Texas.
Cindy was expected to come ashore near the Louisiana-Texas line but the severe weather extended far to the east. National Weather Service forecasters estimated it had dumped anywhere from 2 to 10 inches (50 to 250 millimeters) of rain on various spots along the Gulf Coast from south Louisiana to the Florida panhandle as of Wednesday. And more rain was on the way.
Alek Krautmann at the weather service office in Slidell, Louisiana, said more moisture was heading in from the Gulf Wednesday evening.
"There were plenty of breaks today, but it's filled in a little more this afternoon," he said.
Coastal roads and some buildings flooded. There were several reports of possible short-lived tornadoes.
In Gulfport, Mississippi, Kathleen Bertucci said heavy rainfall Wednesday sent about 10 inches of water into her business, Top Shop, which sells and installs granite countertops.
"It's pretty disgusting, but I don't have flood insurance because they took me out of the flood zone," said Bertucci, whose store is near a bayou. "We're just trying to clean everything up and hope it doesn't happen again."
In nearby Biloxi, a waterspout moved ashore Wednesday morning. Harrison County Emergency Management Director Rupert Lacy said there were no injuries but fences, trees and power lines were damaged.
Storms also downed trees in the Florida Panhandle. Fort Walton Beach spokeswoman Jo Soria said fallen trees hit houses and cars in what she called "pockets of wind damage" in two or three residential neighborhoods.
Related: Here's Why You May Hear About More Storms This Summer
The White House said President Donald Trump was briefed on the storm Wednesday by Homeland Security Adviser Tom Bossert.
Also Wednesday, Louisiana Gov. John Bel Edwards declared a state of emergency, like his Alabama counterpart a day earlier. He was among authorities stressing that the storm's danger wasn't limited to the coast.
In Knoxville, Tennessee, the power-generating Tennessee Valley Authority, said it was drawing down water levels on nine lakes it controls along the Tennessee River and its tributaries in Tennessee, Alabama and Kentucky, anticipating heavy runoff from Cindy's rains once the storm moves inland. The TVA manages 49 dams to regulate water, provide power and help control downstream flooding.
The storm was centered Wednesday afternoon about 135 miles (215 kilometers) south of Lake Charles, Louisiana, and had top sustained winds of 50 mph (85 kph). A tropical storm warning was in effect along the coast from San Luis Pass, Texas, to the mouth of the Mississippi River.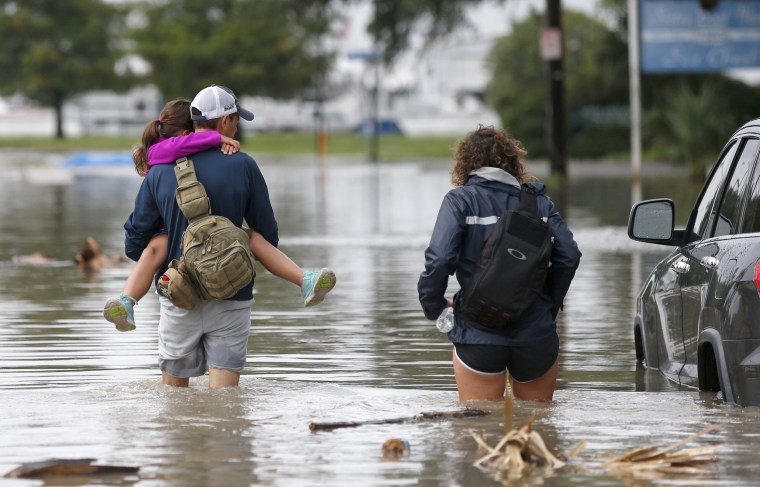 In Alabama, streets were flooded and beaches were closed on the barrier island of Dauphin Island. Some roads were covered with water in the seafood village of Bayou La Batre, but Becca Caldemeyer still managed to get to her bait shop at the city dock. If only there were more customers, she said.
"It's pretty quiet," Caldemeyer said by phone from Rough Water Bait and Tackle. "Nobody can cast a shrimp out in this kind of wind."
Texas Gov. Greg Abbott ordered the State Operations Center to raise its readiness level. He also activated four Texas Task Force 1 boat squads and two Texas Military Department vehicles squads of five vehicles each for weather-related emergencies.
The Louisiana National Guard dispatched high water vehicles and helicopters into flood-prone areas. The state said the Federal Emergency Management Agency also was moving 125,000 meals and 200,000 liters of water into Louisiana. And workers on Grand Isle, Louisiana's barrier island community south of New Orleans, reinforced a rock levee protecting the island's vulnerable west side.
"All arms of the state's emergency preparedness and response apparatus are taking Tropical Storm Cindy seriously, and we are calling on all Louisianans throughout the state to do so as well," Edwards said in a statement.