Tropical Storm Earl strengthened to a hurricane Wednesday as neared Belize and southeastern Mexico, bringing up to a foot of rain and the possibility of floods and mudslides, the National Hurricane Center said.
A hurricane hunter plane reached the storm Wednesday and confirmed that the storm had maximum sustained winds of 75 mph, making it a Category 1 hurricane, the hurricane center said.
By 1 a.m. Thursday, The storm system had 80 mph winds and was just 15 miles east-southeast of Belize City, moving west at around 14 mph, the hurricane center said.
The storm dumped rain on nearly all of Honduras as it brushed past, where officials reported a lobster fishing boat was hit by a large wave in the Caribbean and capsized. Most of the 83 people on board were rescued, but the navy was looking for two missing. Trees and power lines were knocked over in that country.
The hurricane is expected to make landfall late Wednesday or early Thursday, and could bring 8 to 12 inches of rain to Belize, Honduras, Guatemala and the Yucatan peninsula of Mexico through Thursday night, the hurricane center warned. Rain bands were spreading out over Belize Wednesday night ahead of the hurricane, the center said.
Isolated areas of Belize and Mexico could receive up to 16 inches of rain. "These rains could result in life-threatening flash floods and mud slides," the hurricane center said.
Belize's national emergency management organization was setting up shelters and warned residents to be prepared to leave. Storm surges of 2 to 4 feet were anticipated and flooding was called likely.
The U.S. State Department warned Americans in Belize to carry their travel documents in waterproof containers and to contact friends and family to update them on travelers' whereabouts.
A hurricane warning is in effect for a stretch of coast from Costa Maya, Mexico, and along the entirety of the Belize coast to Guatemala. Warnings for the Bay Islands off Honduras' northern coast expired.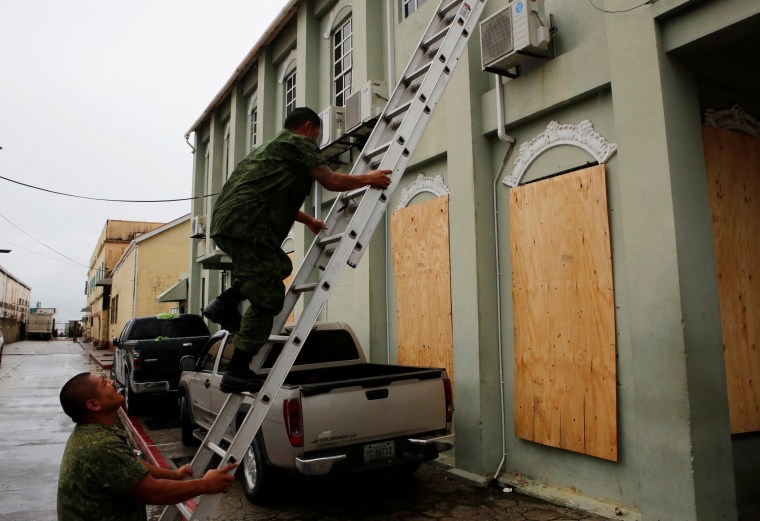 In Belize at The Palms Oceanfront Suites on Ambergris Caye, Ana Ico said the hotel began preparing two days ago and gave guests the option to evacuate to the mainland or stay at the hotel. About 12 guests chose to remain, Ico said.
"Some of them have decided to stay so what we're doing is we're giving them some water, flashlights, and informing them as we get updated on the storm," she said.
The storm has already been blamed for deaths in the Dominican Republic.
The storm threat comes after Earl — as a weaker tropical wave — pummeled the Dominican Republic on Sunday, knocking down power lines and starting a fire that killed six passengers on a bus filled with people returning from the beach, The Weather Channel reported.