KABUL, Afghanistan — It's rare that a nation's sporting heroes are raised in the refugee camps of a neighboring country.
But that's where the captain of Afghanistan's cricket team found his passion — and began an improbable journey that will lead him to the bright lights of the World Cup on Wednesday.
Mohammad Nabi Eisakhil was born in Afghanistan but grew up in Peshawar in Pakistan, a nation whose addiction to cricket proved difficult for the youngster to avoid.
"Everyone played cricket — on the streets, especially at schools, especially in my home," Eisakhil recalled. "Because I have nine uncles and a lot of cousins we played a lot of cricket together."
"To go from 12 years ago not having any structured cricket in Afghanistan to today playing in the World Cup is a magnificent achievement"
Eisakhil wasn't the only Afghan to fall prey to cricket's allure - the game is now competing with soccer to be Afghanistan's most popular sport.
The incredible rise of Afghanistan's national team, which was established amid war in 2002, has helped.
"We [started playing] cricket for nothing," fast bowler Hamid Hassan told NBC News. "[We had] no money, no cricket clothes, no bats, no stuff, no nothing. When we went for the first tour I borrowed some money from my family."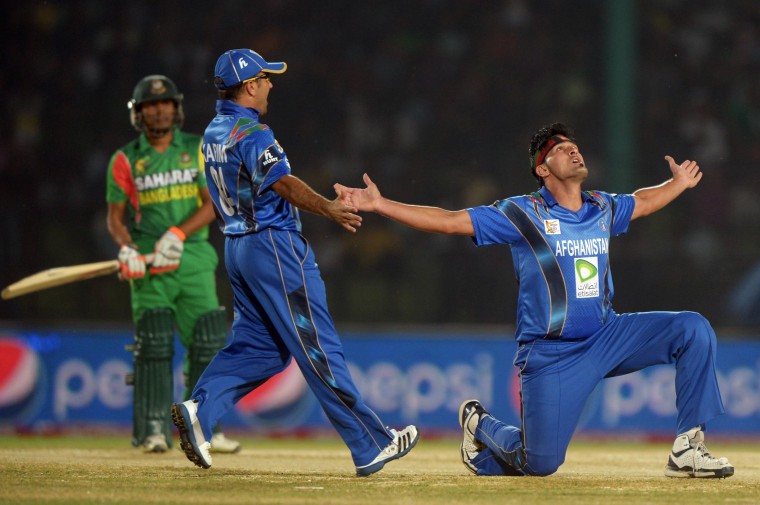 But what a difference a few years makes. The players have now become celebrities and some have earned sponsorship deals.
"You see everywhere is cricket — in streets, colleges, schools," Hassan said. "If we go to the market or somewhere for shopping, [fans] come and take photographs … I feel very proud."
Cricket's popularity and its role in bringing together Afghanistan's youth has been recognized by the government, which has given "exception support" to the national side, according to the team's English coach, Andy Moles. Help has also come from abroad: India's government last year committed $1 million for a stadium in Kandahar.
The next step for the Afghan team is to compete at the cricket's global showpiece: the 2015 ICC World Cup, hosted by Australia and New Zealand.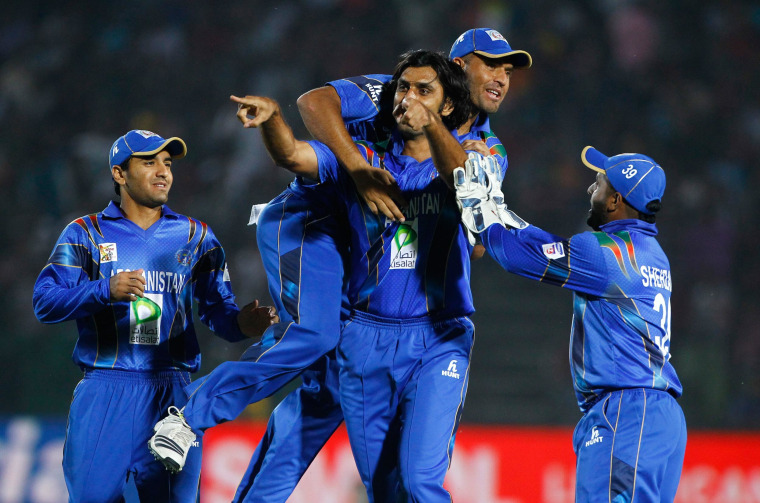 Their task is monumental. A victory against Bangladesh in their opening game on Wednesday is a possibility, as is a good result against fellow minnows Scotland. However, match-ups against powerhouses Australia, New Zealand, Sri Lanka and England should prove much more difficult.
Moles, who has coached the team for six months, said managing expectations will be important.
"The public here are very passionate and obviously want [the team] to do well," he said. "To go from 12 years ago not having any structured cricket in Afghanistan to today playing in the World Cup is a magnificent achievement."
Far from the packed-out stadiums and superstars — Australian, English and Indian stars of the game are paid millions — cricket in its simplest form is played in backyards and streets, parks and dusty fields.
All that is needed is a bat and ball. As in baseball, teams compete to score the most runs.
But the growth of grassroots cricket presents challenges in Afghanistan.
"We have the security problem here," Afghanistan Cricket Board chairman Nasimullah Danish said. "We cannot move to many remote areas of Afghanistan to [promote cricket]. We have a lot of interested people there."
However, Danish is optimistic about the sport's future.
"The history of cricket in Afghanistan is unbelievable," he said. "From zero in 2004 and we are in the World Cup in 2015. It is a dream."
Matthew Grimson reported from London.