An ailing elephant that Thailand had presented to Sri Lanka more than two decades ago returned to his native land for medical treatment Sunday following allegations that the animal was badly abused while living at a Buddhist temple.
The male elephant, known in Sri Lanka as Muthu Raja, or Pearly King, and as Sak Surin, or Mighty Surin, in Thailand, was flown directly from the South Asian island nation's capital to Chiang Mai province in northern Thailand on a Russian Ilyushin IL-76 cargo plane.
A six-person team, including two veterinarians and four mahouts, or professional elephant trainers, accompanied the elephant on the flight, which took about six hours.
A special container was built to hold the 9-foot-tall, 4-ton pachyderm. Several mahouts went to Sri Lanka in advance to accustom the animal to being caged so he wouldn't panic during the trip to Thailand.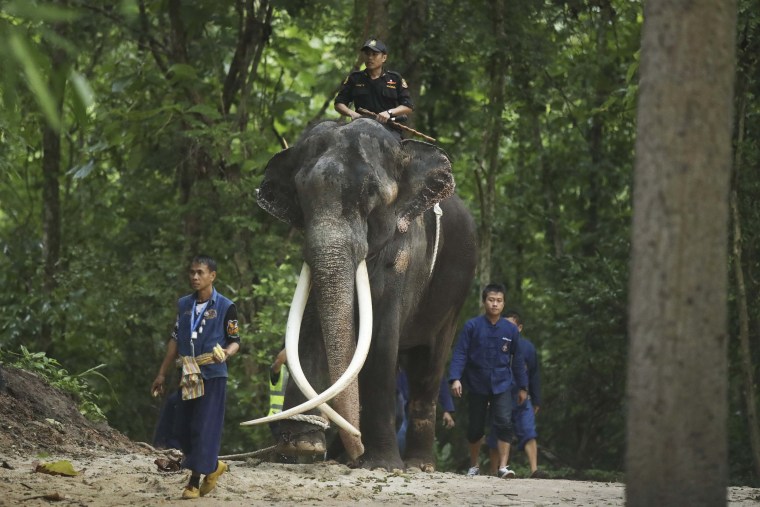 Video of his arrival in Chiang Mai showed the elephant conscious and appearing calm.
Thai Environment Minister Varawut Silpa-archa was at the airport and said the elephant landed in perfect condition. He said earlier that Thailand spent at least $540,000 for the animal's repatriation.
The pachyderm could be heard trumpeting from inside the container that was loaded onto a truck's flatbed trailer to transport him to the government's Thai Elephant Conservation Center in nearby Lampang province, where he will be quarantined for at least 30 days and stay for rehabilitation.
The elephant was sent to Sri Lanka in 2001 when he was around 10 years old as a gift from the Thai royal family. He was one of three elephants that Thailand gave to Sri Lanka's government for training as a carrier of religious relics. Mathu Raja was placed in the care of a Buddhist temple.
A Sri Lanka-based animal rights group, Rally for Animal Rights and Environment group, alleged in 2020 that the animal was in bad health due to years of hard labor and abuse, and needed urgent medical care. The group started a petition calling for him to be rescued and later called for the elephant's return to Thailand after the Sri Lankan government allegedly ignored the activists' complaints.
Thailand's Foreign Affairs Ministry released a statement in November 2022 saying a preliminary investigation was conducted by the Thai Embassy in Sri Lanka concluded that the elephant "was not in good health and was in poor living conditions." The statement said Thailand would seek Sri Lanka's approval to bring the elephant back for treatment.
The elephant was reported to be underweight, have rough skin and abscesses on both hips, thinning foot pads, and a stiff left foreleg, making it difficult for him to walk and stand.
He was moved from the Buddhist temple to Sri Lanka's National Zoological Garden for preliminary treatment and appeared healthier before his flight to Thailand.
Sri Lankan Prime Minister Dinesh Gunawardena told members of Parliament last month that while visiting Thailand in May he had expressed his regret to his Thai counterpart over what had happened to the elephant.
Thai officials have said the main purpose of bringing the animal back was for medical care and whether he returns to Sri Lanka remains a subject to be discussed with the Colombo government.
During a press conference in Bangkok last month, Thai Environment Minister Varawut Silpa-archa said authorities would start surveying the health condition of other Thai elephants in foreign countries. He said exporting Thai elephants was already banned for conservation reasons.