Tens of thousands of protesters marched peacefully through the Argentine capital on Wednesday demanding an independent judiciary, as the country reels from the death of a state prosecutor who had been investigating the president.
The protest, one of the biggest during President Cristina Fernandez's seven years in power, took place a month after a state prosecutor who had accused Fernandez of plotting to cover up his investigation into a 1994 bombing was found dead.
Alberto Nisman's death in mysterious circumstances sent shock waves through Argentina ahead of October's presidential elections and has plunged Fernandez's final year in office into turmoil.
"Our democratic values are broken," lamented protester Eduardo Gonzalez, 46, as torrential rain poured down. "We want an end to corruption."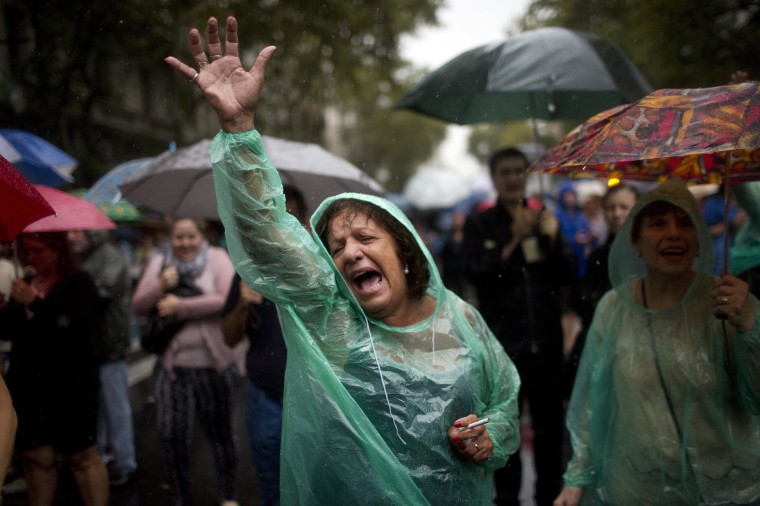 Protesters waved placards reading "Truth" and "Justice" while others held posters saying "I am Nisman."
"We want a democracy in which the justice system is blind, independent and not inclined toward any one group," said Hector Fiore, a retired metal worker who clutched a small Argentine national flag.
Nisman had accused Iran of being behind a 1994 bombing of a Jewish community center in Buenos Aires and alleged Fernandez had conspired with the Tehran government to whitewash his investigations in return for economic favors.
Fernandez called the accusation "absurd" and said rogue state security agents who held a grudge against her had misled Nisman's investigation and then killed him. Top officials placed former spy master Antonio Stiusso at the center of the scandal.
Iran has repeatedly denied the accusation.
On Wednesday, the investigator assigned to Nisman's death revealed Stiusso had testified after the government lifted gag orders. Stiusso was one of the Intelligence Secretariat's most powerful yet enigmatic operatives until he was sacked by Fernandez in December.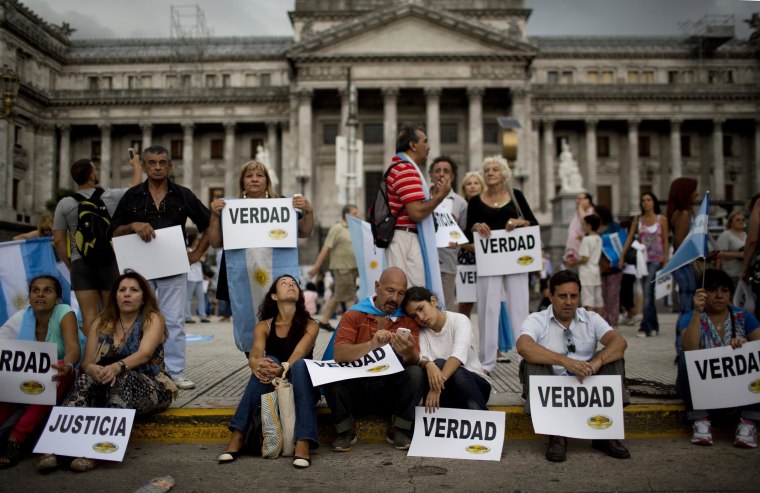 — Reuters