An elderly priest was "assassinated" as he conducted Mass at a church in France early Tuesday when two knife-wielding attackers linked to ISIS took several nuns and worshippers hostage.
The siege ended when the hostage-takers were "neutralized" at the church in the town of Saint-Etienne-du-Rouvray, police said. Another hostage was critically injured.
French President Francois Hollande blamed the "cowardly acts" on ISIS-linked terrorists.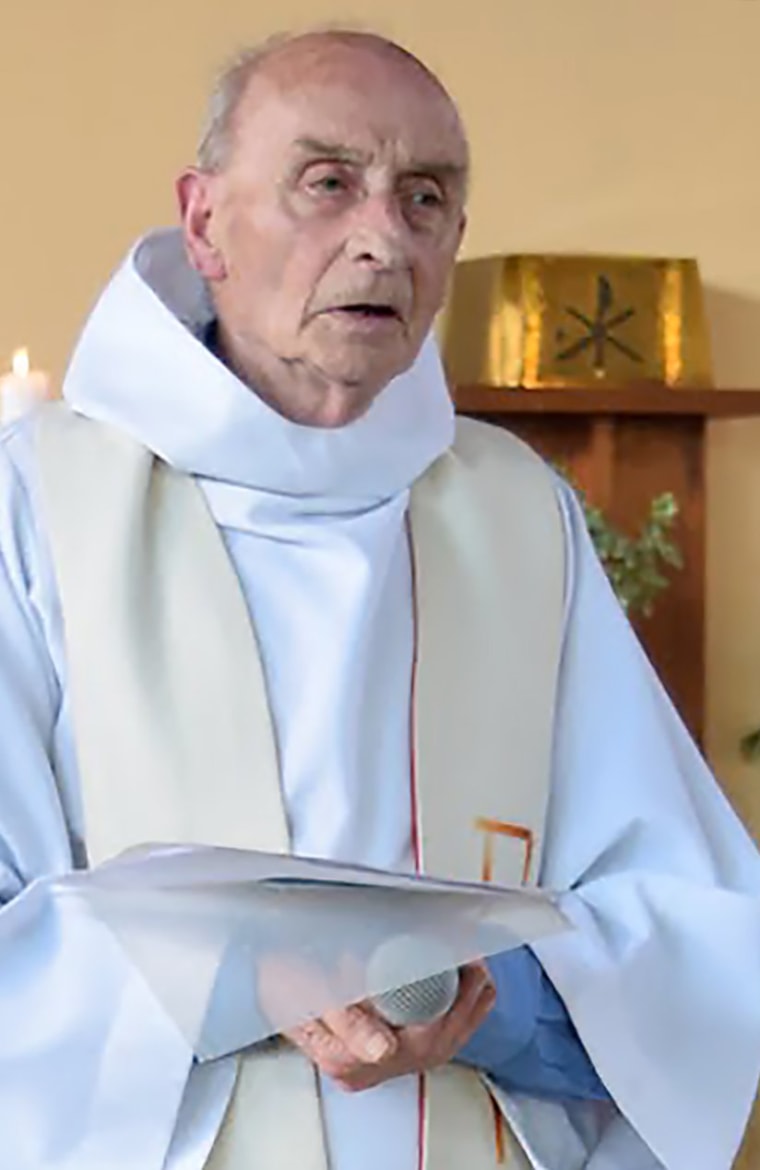 The victim was named by Archbishop of Rouen Dominique Lebrun as Rev. Jacques Hamel, 86. "I cry out to God," Lebrun said in a statement.
Prime Minister Manuel Valls said he was horrified by the "barbaric" attack.
The killing is being investigated by anti-terrorism police, Interior Ministry spokesman Pierre-Henry Brandet told reporters. "A person was assassinated and another seriously injured," he said.
French authorities said the hostage-taking began at 9:25 a.m., when the attackers barged into morning Mass, taking six people — three nuns, a priest and a couple — hostage.
One nun escaped, and alerted police.
Police SWAT teams arrived and tried to negotiate with the captors. They attempted to storm the church, but the assailants used three hostages as a "curtain" in front of the door, Paris prosecutor Francois Molins said.
Then the door swung open, and the three hostages ran out, Molins said. The two attackers followed, shouting "Allahu Akbar," and were "neutralized" by police. Officials did not give details on exactly how the police killed the assailants.
Inside, investigators found two fake bombs and three knives. One of the attackers wore a "false explosive belt" and another three knives, Molins said. The other attacker carried a pressure cooker — a device that terrorists have used to make bombs — wrapped in aluminum.
Molins identified one of the attackers as Adel Kermiche, who'd been caught trying to reach Syria, base of operations for ISIS, twice last year. He was charged at the time with attempting to join a terrorist group and was released into house arrest, in which he wore an electronic monitoring bracelet, Molins said.
The second attacker has not been identified by authorities.
A nun who was in the church said Hamel was forced to the floor before his throat was slit. "They forced him to his knees. He wanted to defend himself. And that's when the tragedy happened," said the nun, identified as Sister Danielle.
"They recorded themselves. They did a sort of sermon around the altar, in Arabic. It's a horror," she told BFM television.
Hollande and Interior Minister Bernard Cazeneuve traveled to the town, which is located near Rouen in Normandy.
Vatican spokesman, the Rev. Federico Lombardi, said in a statement Tuesday that the attack hits particularly hard "because this horrific violence took place in a church, a sacred place in which the love of God is announced."
It was the first known attack inside a French church in recent times. One was targeted last year, but the attack never was carried out.
France is currently on high alert after the July 14 truck attack in Nice that left 84 people dead.
A string of deadly attacks last year claimed by ISIS also killed 147 others.
An earlier version of this article stated a different age for the victim, based on official information from the Catholic church.