PARIS — A beluga whale stranded for days in France's River Seine died Wednesday during a risky rescue operation.
The 13-foot white mammal was successfully lifted out of the river, where its surprising presence had drawn international attention and mounting concerns for its health. But the dangerously thin whale began struggling to breathe during the rescue effort, leading authorities to decide that euthanizing it would be the most humane decision.
"Despite an unprecedented beluga rescue operation, we are sad to announce the death of the cetacean," the Calvados prefecture, where the whale was going to be monitored, said on its Twitter account.
A team of divers, veterinarians and rescue workers tried overnight to save the mammal in a complex operation, according to the marine life organization Sea Shepherd France, which oversaw it.
After trapping the mammal in a river navigation lock about 60 miles from Paris, they built a net around the 1,700-pound whale.
The team then lifted it out of the water with the help of a tractor and crane, in an operation that took six hours.
The creature was then due to be transferred via a refrigerated truck to a saltwater pool in Normandy.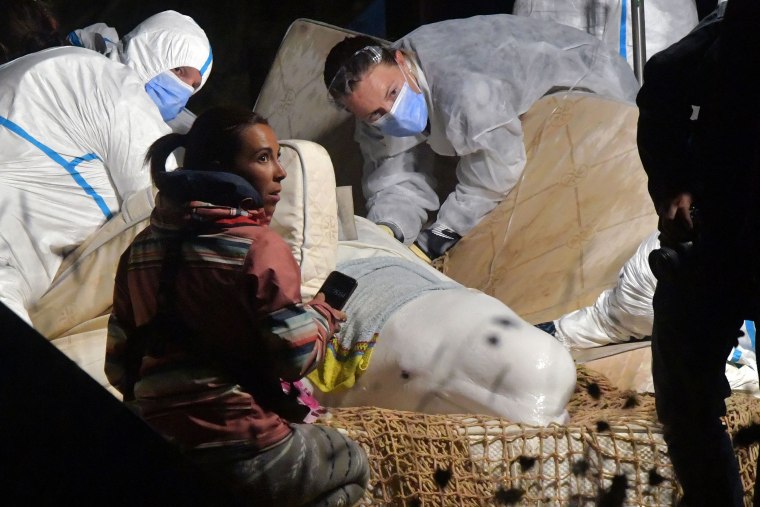 "We don't have a choice," Sea Shepherd France President Lamya Essemlali said before the rescue mission. "He has to move from here because this environment is not suitable for his health."
The beluga was first spotted last week swimming up the Seine. Rescue workers tried to feed the mammal trout and squid, but it refused to eat.
The endangered species are better suited to Arctic and subarctic waters, with their thick skin allowing them to live in freezing cold water. Beluga whales migrate south during the fall and return in spring when ice in the Arctic starts to melt, according to the World Wildlife Foundation. They sometimes stay near, or travel in, rivers.
It is not clear how this beluga whale ended up in the Seine, whose polluted waters and heavy river traffic added additional threats to its outlook. 
"It's a total mystery how it got there," said Liz Sandeman, the co-founder of Marine Connection, a British marine wildlife conservation group that is helping to provide information to French authorities.   
"You just don't expect to see a beluga whale near a European capital city," she added.
This is not the first time a whale has been spotted around a major European city, though. In 2018, another beluga swam its way down England's River Thames, just outside London.
Nancy Ing reported from Paris, and Elizabeth Kuhr reported from London.