MADRID — President Joe Biden on Wednesday pledged to boost American military operations in Europe as he seeks to project a picture of strength and unity among NATO members while they grapple with Russia's invasion of Ukraine.
Speaking on the first full day of the alliance's summit, Biden said the U.S. will deploy additional troops to Romania on a rotating basis and enhance other rotational deployments in the Baltic states. He said the United States would maintain a permanent headquarters for the U.S. 5th Army Corps in Poland, a move that was originally planned by the Trump administration.  
The U.S. will also send two F-35 squadrons to the United Kingdom, stage additional air defense and other capabilities in Germany and Italy, and build up naval operations in Spain, increasing the number of destroyers stationed there to six, from four. 
Biden said the moves were intended to make sure NATO is ready to meet potential threats from air, land and sea. The announcement comes as NATO leaders meet in Madrid in what could be one of the most consequential gatherings in the military alliance's 73-year history.
"In a moment when Putin has shattered peace in Europe and attacked the very, very tenets of rule-based order," Biden said, "the United States and our allies are stepping up, proving NATO is more needed now than it ever has been, and it's as important as it has ever been."
Earlier this year, the U.S. sent 20,000 additional troops to Europe, bringing the total U.S. armed forces on the continent to 100,000.
The Department of Defense declined to detail how many additional troops would be sent to Europe and where those troops would be coming for operational security and planning reasons, said Celeste Wallander, assistant secretary of defense for international affairs.
Former President Donald Trump had announced in 2018 that the U.S. would open a military base in Poland. Troops were deployed there in October 2020 on a temporary basis; Biden's move on Wednesday will make that troop presence permanent, said a Defense Department official.
"NATO is strong, united and the steps we're taking during this summer will further augment our collective strength," Biden said.
Biden was able to help get one contentious issue off the table before arriving at the summit, urging Turkish President Recep Tayyip Erdoğan to drop his opposition to Finland and Sweden joining NATO. The three countries' foreign ministers signed a memorandum Tuesday to confirm that Turkey will back Sweden and Finland's NATO bids, removing the last clear barrier to their entry.
Biden spoke with Erdoğan on Tuesday morning, encouraging him to "seize this moment and get this done in Madrid," a senior administration official said. While the U.S. didn't directly broker the deal, Biden tried "to help put a thumb on the scale to get this across the finish line," the official said.
Biden thanked Erdoğan for working with Finland and Sweden on the deal ahead of a meeting the two had Wednesday.
The agreement to expand NATO and announcements about increasing the number of troops in the east are intended to greatly bolster the alliance's abilities to fend off any potential Russian aggression toward its member states.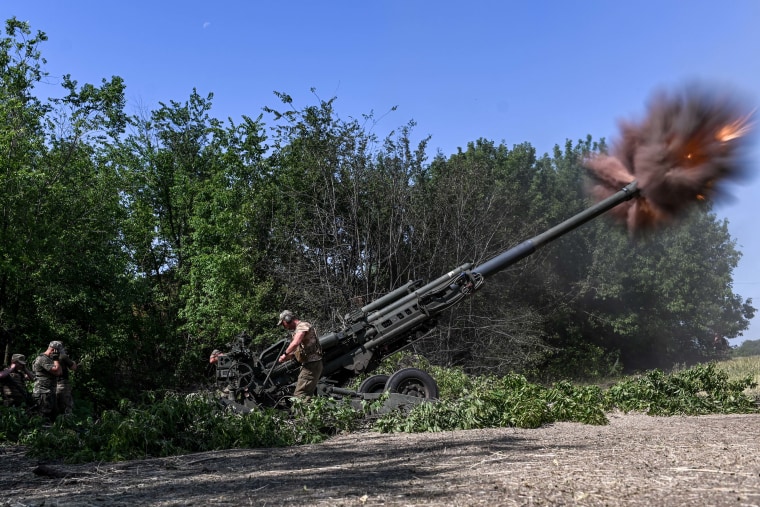 The last time the NATO leaders met, for an emergency meeting in Brussels in March, there was a sense of triumph among the members as they locked arms against Russia, fearing they could be next if Ukraine were to fall. It was a stark reversal from a few years earlier, when members openly questioned whether the alliance was still relevant.
In NATO's updated Strategic Concept, a guiding document for the alliance, Russia was called "the most significant and direct threat to allies' security and to the peace and stability in the Euro-Atlantic area." It had previously been considered a "strategic partner."
But while the 30 NATO members have maintained their resolve in supporting Ukraine, there have been diverging views over the intervening months on a variety of issues, from how far to go in punishing Russia to the level of military preparedness needed.
Still, Biden hopes to project a show of unity to Russia coming out of the summit, an endeavor greatly aided by the deal among Turkey, Finland and Sweden.
"We have to stay together," Biden said this week before a meeting with German Chancellor Olaf Scholz. "Because Putin has been counting on, from the beginning, that somehow NATO would and the G-7 would splinter. But we haven't, and we're not going to." 
Before the start of the meeting, NATO Secretary-General Jens Stoltenberg announced a major overhaul of the group's military posture and priorities, increasing the number of its forces at high readiness to more than 300,000 from the current level of 40,000, along with bolstering military supplies and equipment in the NATO members bordering Russia. 
The alliance will also make it clear in its so-called Strategic Concept that it no longer views Russia as a "strategic partner" but as a "direct threat to our security, to our values, to the rules-based international order," he said at a news conference Monday.
But a number of questions remain this week, such as how to fund efforts to build up NATO's defenses. Just nine of the member countries are meeting the NATO target of spending 2 percent of their gross domestic product on defense, an amount that Stoltenberg said is becoming the "floor and not the ceiling."
"This constitutes the biggest increase of our collective defense and deterrence since the Cold War, and to do this we need to invest more," he said. 
Defense costs are rising as many countries feel the economic effects of rising inflation, particularly soaring energy prices, and German officials have warned that Germany could slip into a recession if Russia were to further cut the amount of gas it is piping to the country. 
While the U.S. and Canada have already banned all Russian oil imports, the European Union is taking a more gradual approach, aiming to stop importing Russian oil by the end of the year. But the move has been opposed by Hungarian Prime Minister Viktor Orbán, who has been an ally of Russian President Vladimir Putin.
China has been another area of differing approaches among NATO members. The group is expected for the first time to discuss the "challenges Beijing poses to our security interests and values," Stoltenberg said. While Biden has pushed for a hard line on China, other member countries have been hesitant in how far to go, given their economic dependence on China as a trading partner. 
But the U.S. has sounded an optimistic note that there will be enough common ground on the issue. In the Strategic Concept released Wednesday, the alliance identified China for the first time as posing a "challenge" to their interests.
China's "malicious hybrid and cyber operations and its confrontational rhetoric and disinformation target Allies and harm Alliance security," the group wrote in the Strategic Concept.
"We will boost our shared awareness, enhance our resilience and preparedness, and protect against the PRC's coercive tactics and efforts to divide the Alliance," the document stated, using the abbreviation for the People's Republic of China. "We will stand up for our shared values and the rules-based international order, including freedom of navigation."