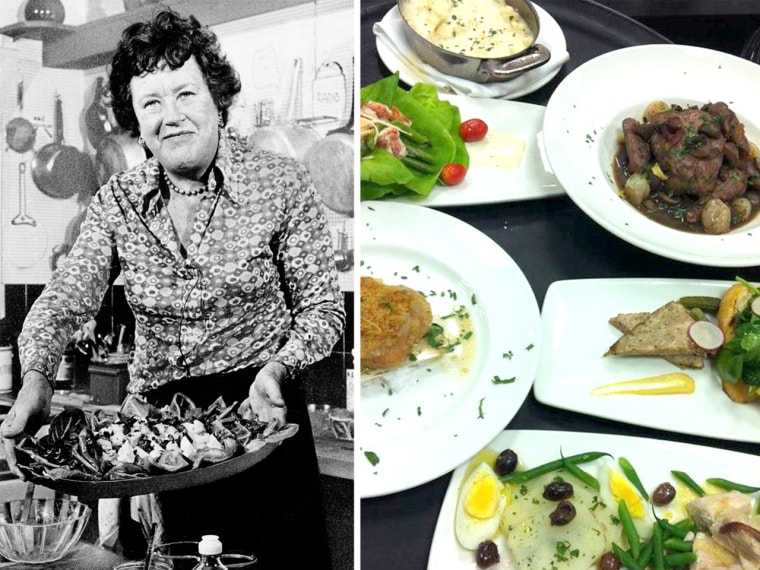 Champion of the home cook Julia Child would have turned 100 on August 15, which she would have almost certainly celebrated with a delicious and raucous dinner party. So in her honor, the publisher of a new biography about Child, "Dearie," by Bob Spitz, asked more than 100 restaurants nationwide to put on a special Julia Child Restaurant Week, serving menus inspired by 100 of her most iconic dishes. Most restaurants are celebrating through August 15, but check individual sites for details. Here are a few places that caught our eye:
Emeril's
Multiple locations
It's no surprise that nine of Emeril Lagasse's restaurants are participating in the Julia Child Restaurant Week—Child and Lagasse became instant friends after he made shrimp étouffée on her show, "Cooking with Master Chefs," back in 1993 (check out the episode here). The special menu at his restaurant Table 10 in Las Vegas even tells diners which cookbooks each dish came from—the featured Vichyssoise, for example, comes from Child's "Mastering the Art of French Cooking, Volume I." Click here for all the menus, at locations in New Orleans, Orlando, Las Vegas and Charlotte, NC. 
Arrows Restaurant
Ogunquit, Maine
Child herself ate at this James Beard Award–winning restaurant in Maine in its early days, back in the '90s. "She had a reservation and we were terrified, but of course very excited," chef Clark Frasier recalls. After her meal, Child came back and chatted with everyone, from the line cook to the executive chef, he says. He and chef Mark Gaier chose to feature the Ile Flottante, or "Floating Island," this month in honor of Julia. "It was one of her most elegant desserts," Frasier says of the simple meringue-and-custard dish. Get a recipe here.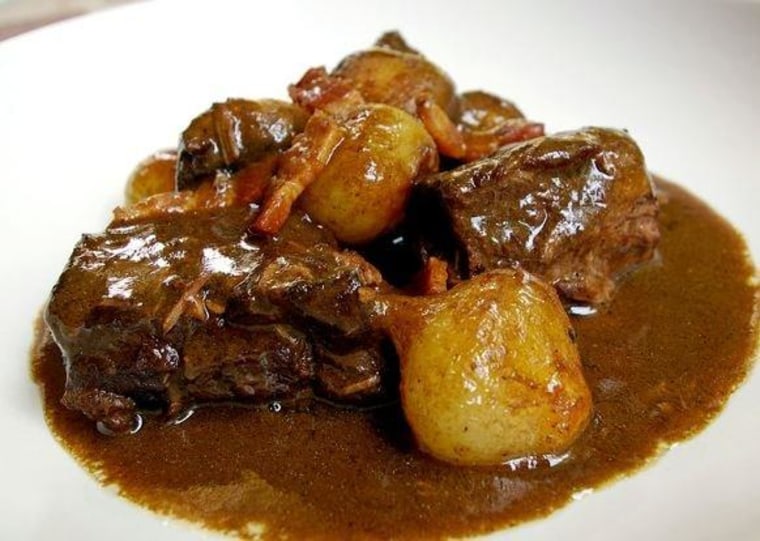 Vertical Wine Bistro
Pasadena, Calif.
Pasadena is Child's original hometown, and the Vertical Wine Bistro is going all out, with a special month-long tribute tasting menu. Chef Laurent Quenioux chose Salade Niçoise as the perfect summer California dish to represent Child, as well as a Boeuf Bourguignon, one of the most classic and iconic of Child's dishes, and a Mousseline Au Chocolat, which reminds him of cooking with his mother when he was growing up in Sologne, France. The special tasting menu is also sprinkled with quotes from Child, such as, "If you're afraid of butter, use cream.
Vincent on Camelback
Phoenix, Ariz.
At this fine-dining spot, diners will be treated to fun footage from Child's shows in the lounge as well as screenings of the movie "Julie & Julia." Chef Vincent Guerithault, who is originally from France, says, "[Child] introduced French cooking to the masses and made my homeland's cuisine far less intimidating." To honor Child, he's offering a special menu with several options, including Sautéed Sea Scallops à la Provençale.
The Pearl Cafe
Missoula, Mont.
Customers at this French hot spot, or those who simply like it on Facebook, can enter to win a copy of "Mastering the Art of French Cooking, Volume I," or a copy of the new "Dearie" biography, now through August 15. Through the week, chef Pearl Cash is also offering three of Child's recipes as an amuse-bouche—Julia's French Bread, Roquefort Cheese Balls or Mushrooms à la Grecque—as well as a prix fixe menu where diners can choose from dishes like Paté de Campagne or Lamb Stew Printanière.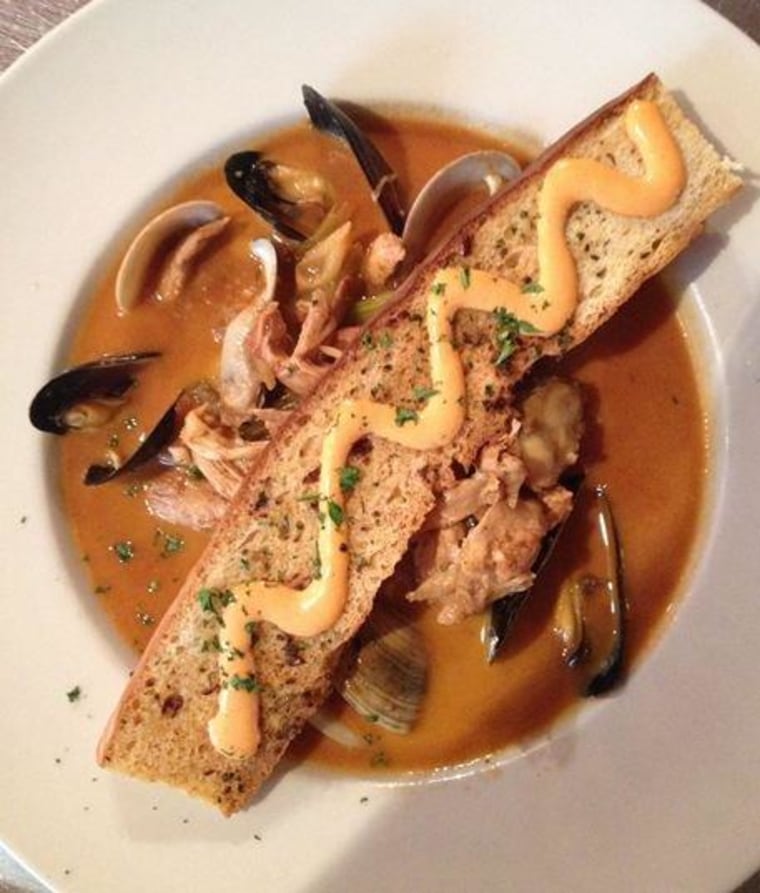 39 Rue de Jean
Charleston, S.C.
On a typical day, this Charleston French café—located at 39 John St.—already has lots of Julia-inspired dishes on the menu, so for the restaurant week, chef Aaron Lemieux combed through her recipes to find special ones to offer, including Canard à L'Orange (orange duck) and Boeuf à la Mode (that's pot roast, or beef "in the style"—not beef with ice cream!). Each night features a whole new Child menu, and diners can order à la carte. Inspired customers can also buy one of Child's cookbooks or "Dearie" on the way out.
Café Patachou and Petit Chou
Indianapolis, Ind.
Perhaps no French food is more intimidating to the home cook than an omelet, which Child perfected with her one-minute rolled omelet technique. So in her honor, Petite Chou and the Café Patachou locations in Indianapolis, IN, are serving up a special omelet with gruyère and Smoking Goose lardoons bacon. Petite Chou is also serving her Pan Seared Rainbow Trout with Sauce Meunière and Zucchini Gratin. Owner Martha Hoover says one of her most prized possessions is a wooden spoon signed by Child herself. Of course, she says, it will never be used. "Instead, it will remain proudly displayed wherever I cook for my family as a reminder of the woman who inspired me as a young girl to devote my life to food."
Tracy Saelinger is a freelance writer based in Portland, Ore.

More from TODAY.com: