Anthony Rota, the leader of Canada's House of Commons, resigned Tuesday after he unknowingly honored a man who fought for the Nazis in World War II.
Rota removed himself from the powerful post of House speaker with a brief statement to fellow lawmakers on Parliament Hill in Ottawa.
"It's with a heavy heart that I rise to inform members of my resignation as speaker of the House of Commons," he said.
"The work of this House is above any of us. Therefore I must step down as your speaker."
Canadian lawmakers on Friday honored Yaroslav Hunka, 98, who fought for Ukraine's independence during World War II.
It later emerged that Hunka, who was given a standing ovation in the presence of visiting Ukrainian President Volodymyr Zelenskyy, had, in fact, fought as part of a notorious Nazi unit, the First Ukrainian Division.
In an apology Sunday, Rota said he "subsequently became aware of more information" about Hunka's past.
Rota specifically apologized to Jewish communities in Canada and around the world and to Polish citizens.
Some Ukrainian nationalists fought in World War II with the Nazis, battling Polish underground forces and assisting Germans in capturing Jewish people in furtherance of genocide. Ukrainian collaborators fought alongside the Nazis to crush the Warsaw Ghetto Uprising and the Warsaw Uprising.
Ukrainian collaborators are also blamed for massacring thousands of Poles during the war.
And some Ukrainians were death camp guards, including the American autoworker John Demjanjuk. He was convicted of 28,060 counts of being an accessory to murder before he died in 2012 at age 91 while his case was being appealed.
"I reiterate my profound regret for my error in recognizing an individual in the House during the joint address to Parliament of President Zelenskyy," Rota said Tuesday.
"That public recognition has caused pain to individuals and communities, including the Jewish community in Canada and around the world, in addition to survivors of Nazi atrocities in Poland, among other nations," he said.
Rota's resignation will become official at the of the day Wednesday.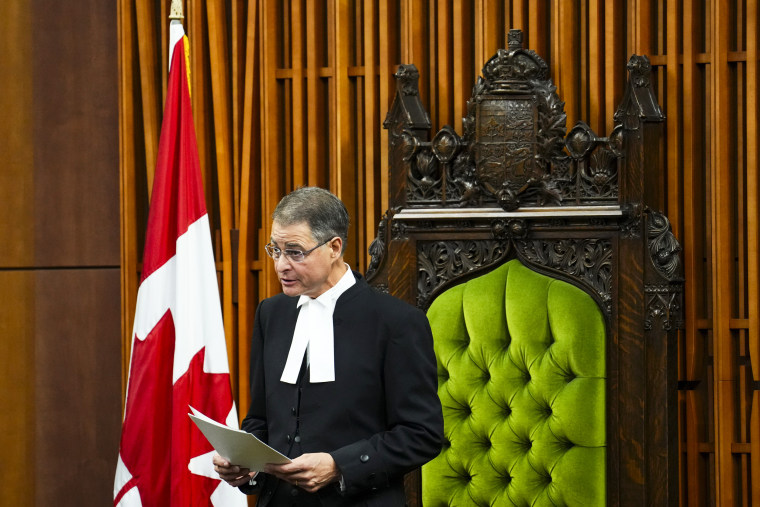 "I accept full responsibility for my actions," he said.
Government Liberal House leader Karina Gould, who is Jewish and a descendant of a Holocaust survivor, welcomed the resignation.
"This is something that has brought shame and embarrassment to all of Parliament and indeed all Canadians," Gould said. "The speaker did the honorable thing in resigning."
Rota's resignation could take some heat off Prime Minister Justin Trudeau as the Conservative Party seeks to pin the embarrassing diplomatic blunder on Trudeau.
"Trudeau (and his Liberal Speaker) have brought shame on Canada," Conservative leader Pierre Poilievre said in a statement Tuesday before Rota's announcement.
"The Liberal Speaker will have to resign. But that does not excuse Justin Trudeau's failure to have his massive diplomatic and intelligence apparatus vet and prevent honouring a Nazi," he said.
The gaffe has also become a propaganda boon for Russian President Vladimir Putin, who has peddled flimsy accusations of Nazi elements within modern Ukraine to justify Russia's invasion.
Putin has said he seeks the "denazification of" Ukraine, a particularly audacious claim considering that Zelenskyy is Jewish and lost three family members in the Holocaust.