BEIJING — With President Donald Trump pledging to scrap or renegotiate trade deals as part of his "America First" strategy, the door has been left open for China to push ahead with its own agreements. And nowhere are those efforts more apparent than in Washington's own backyard: Latin America.
President Xi Jinping, who will be meeting Trump for the first time in Florida on Thursday, has already made three trips to the region since early 2013 — and business is booming.
While trade between the U.S. and Latin America has doubled since 2000, China's trade with the region has multiplied 22 times, according to OECD economist Angel Melguzio. In fact, Beijing is now the biggest trading partner for the major economies of Brazil, Chile and Peru — and Argentina, El Salvador and Guatemala are well-placed to profit from China's booming demand for global food.
The U.S. remains Latin America's biggest trading partner, but with Trump vowing to dismantle the North American Free Trade Agreement (NAFTA) and build a wall on the Mexico border, China could hold the advantage.
Meanwhile, China lends the region a lot of money — around $30 billion in 2015, up from $231 million in 2005. And the funds largely come with no strings attached.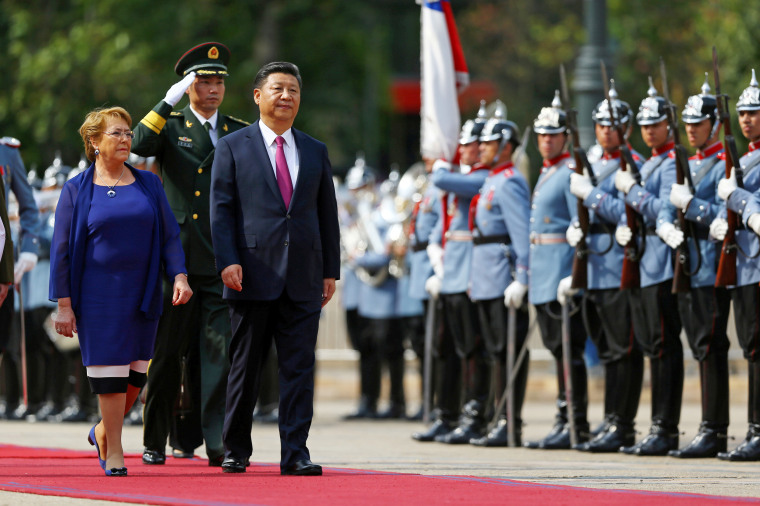 "China stands to supplant the United States in economic and political influence over time," Gustavo Arnavat, a senior adviser at the Center for Strategic and International Studies (CSIS), told NBC News. "My assumption is that their influence will be even more significant in another decade."
Many in Latin America feel that the U.S. increasingly focused on other regions, such as the Middle East, under Presidents George W. Bush and Barack Obama. During these administrations, Latin American economies looked for ways to diversify economically and help address the widespread need for infrastructure.
"China's determination to raise its global profile should concern U.S. officials who appear to be either unaware or indifferent"
Enter China.
Margaret Myers, a program director with the Inter-American Dialogue, a Washington-based think tank, has tracked China's investment in Latin America since the 1990s. Her database reveals that China has signed a slew of deals in everything from energy to fighter jets to infrastructure.
"President Trump's Latin America policy is still unclear," Myers said. "Limited or unproductive policy … could leave space for additional engagement from China and other partners."
When Trump suggested the U.S. may pull out of NAFTA to keep jobs in America, neither China nor Mexico wasted much time in announcing a new auto partnership.
China's JAC Motors has invested over $200 million in a factory in Mexico's central Hidalgo state with Giant Motors, a company backed by billionaire investor Carlos Slim. The newly-minted joint venture plans will produce SUVs for the Latin American market.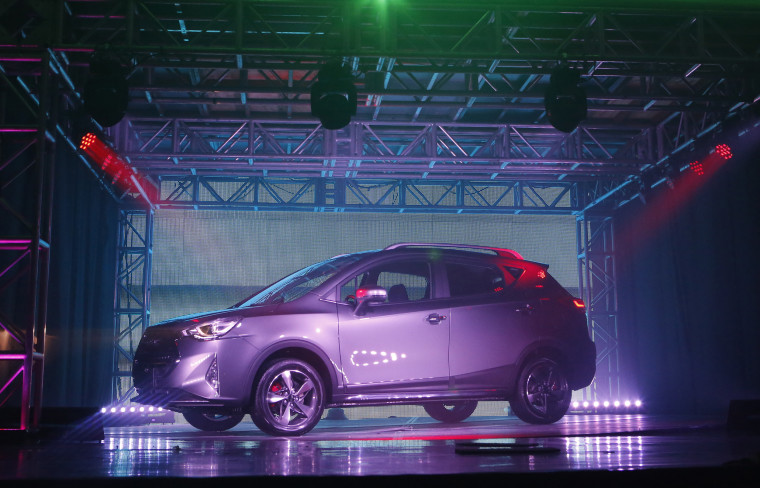 "We don't depend on NAFTA at all, not for exports or for supplies," Giant's chief executive Elías Massri told the Financial Times. "For us, this is where the opportunity lies."
Another sign of Beijing's growing clout is its backing for a planned waterway in Nicaragua that aims to compete with the Panama Canal, long a symbol of U.S. dominance in the region. The new 170-mile facility aims to be to twice as deep as its famous rival and form an important new trade route, although construction is not fully underway.
The road for China has not been without obstacles.
Cultural divides put it under a magnifying glass with Latin American companies and government officials who may be reluctant to do business. Chinese business transactions have a reputation for being notoriously opaque. In Nicaragua, there have been protests against the proposed canal, which is being financed by Chinese tycoon Wang Jing.
But with Trump retrenching on trade pacts, Latin Americans are actively looking east to boost growth. A delegation of Mexican governors just finished a tour of China to drum up backing for projects ranging from gas and rail transport to modernization of airports and highways. They visited top government officials in Beijing and business leaders in Chengdu and Shanghai.
"We must broaden our horizons," Graco Ramirez, president of Mexico's National Conference of Governors, told Xinhua, China's state news agency. "This is a great opportunity to no longer only depend on the United States."
In addition to leveraging the soft power that comes with commercial ties, China's interests in Latin America are also strategic in promoting the "One China" principle. Since Chiang Kai-Shek's Nationalists fled to Taiwan at the end of the Chinese civil war in 1949, Beijing has considered the island a breakaway republic. If any country wants diplomatic relations with Beijing, they must break official ties with Taiwan.
Related: Beijing Says One China Policy 'Non-Negotiable' After Trump
China's global clout has successfully alienated Taiwan, which enjoys diplomatic relations with only 20 countries in the world, including the Vatican.
But the majority of the countries that do recognize Taiwan are clustered in Latin America and the Caribbean, and Taipei's ties with Washington have allowed it to thrive despite being in the diplomatic wilderness. China's growing economic influence with these countries could impact their support for Taiwan.
It was no coincidence that Taiwan's newly-elected leader, Tsai Ing-wen, made a Latin American tour a diplomatic priority to shore up relationships.
"China's determination to raise its global profile should concern U.S. officials who appear to be either unaware or indifferent," said Arnavat of the CSIS. "They are now a major player that cannot be ignored."