LONDON — Hundreds of amateur sailors marked the emotional conclusion to an 11-month voyage Saturday when the Clipper Round the World Yacht Race ended their grueling adventure.
Twelve teams celebrated the completion of the 40,000-nautical-mile ocean race — the world's longest — by sailing up the River Thames and under London's iconic Tower Bridge.
It was a moment of personal triumph for the competitors, who come from all walks of life and have survived wild weather hazards including 90-foot waves and winds of up to 100 mph in what organizers call "an endurance test like no other."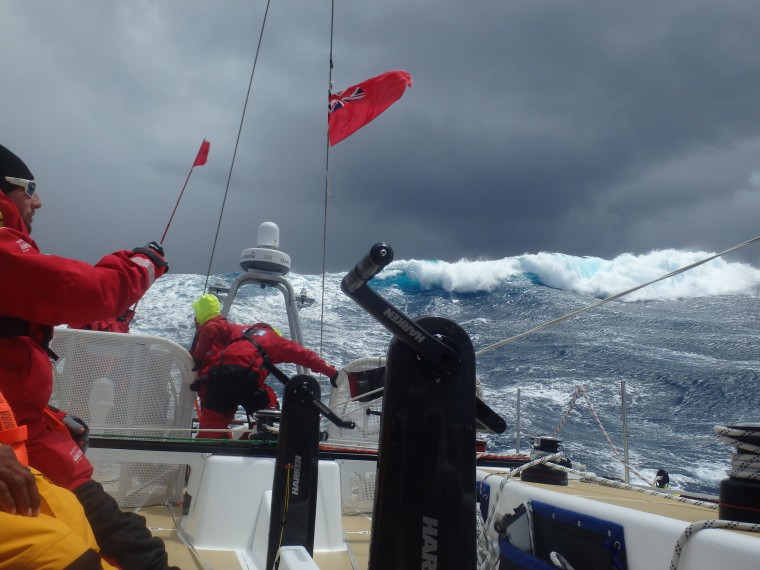 The return of the 70-foot ships to London, where the race began last August, signaled the end of an epic journey that has taken them through 14 ports, 6 continents and some extraordinary moments.
Retired Texas band teacher Linda McDavitt, the oldest female circumnavigator, celebrated her 69th birthday at sea while deaf competitor Gavin Reid rescued a sailor who had been trapped for nine hours at the top of a mast.
There was also some sadness as crews remembered the two competitors who died during the challenge, the first fatalities in the race's 20-year history. Andy Ashman, a 39-year-old British paramedic, was knocked unconscious during a sail change off Portugal while 40-year-old London businesswoman Sarah Young was swept overboard by strong winds in the Pacific Ocean and was later buried at sea.
"We're reminded every day how harsh the marine environment is, wearing through ropes, sails and steel; but it also erodes the veneer and polish we each put on our own characters," competitor Mike Adams, 39, wrote on his race blog. "Being cold and wet and tired rapidly strips you down to your true personality, which can of course result in conflict; but also allows friendships to be built on a far more solid foundation than is sometimes the case in the real world."
McDavitt and Reid spoke to NBC News as the race neared its end, sharing their experiences and reflecting on the standout moments from their time at sea.
Linda McDavitt, 69 — Team "ClipperTelemed+"
As her team's rigger, McDavitt was regularly hoisted up the 100-foot mast — very dangerous work, especially in high winds — but got herself through the worst conditions by hearing "Raindrops Keep Falling On My Head" in her head whenever it rained.
She said her teammates were instinctively protective of her at first, because of her age, but had gotten "letting me play more."
"I just feel like a little kid. It's like you know, if I get hurt, I get hurt, let's just live the moment and have fun," she said - advice she was reminded of when she seriously injured her shoulder Friday on the very last stage of the race. She is expected to make a full recovery.
In a poignant moment of the race she sailed around the Philippines, where her father was a POW for three-and-a-half years during World War II. He was one of tens of thousands of American servicemen transported through the same waters on Japan's notorious "hell ships" in terrible conditions.
"There was no space and they were just crammed in there," she said. "And I'm thinking my stomach's kind of woozy, I'm getting tossed around, but I still have all this space, and I have food, which they didn't have. I have water, I have everything that they didn't have, and I'm still pretty miserable — I can't even imagine what they were thinking."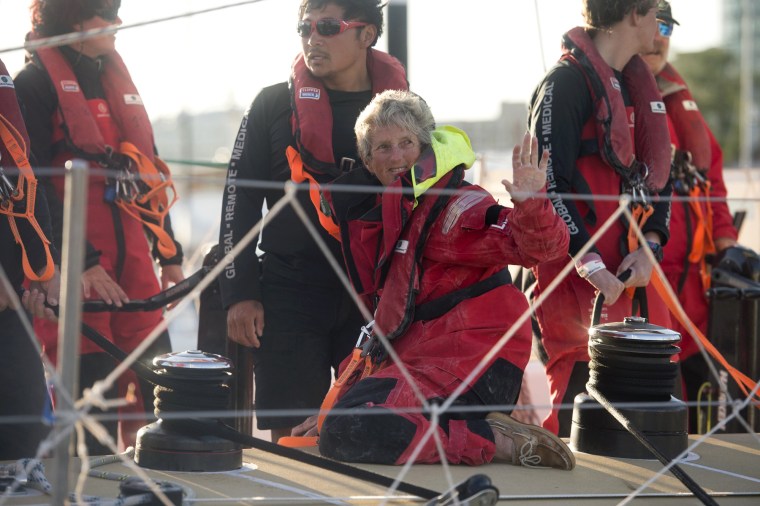 She said the race has changed her, making her "much more tolerant, much more patient, much more laid back" — and given her a sense of freedom.
"I've enjoyed just being able to say 'yessir' and do what was asked of me rather than have to think it through and make sure it gets done ... giving control to someone else has been a lot of fun," she said.
"I'm out on the boat, I'm free. I just see nature, I have no real worries, nobody can get a hold of me, I can't get a hold of anybody ... you're just out there, you're really free."
New friendships are what McDavitt cherishes the most from her time at sea. "I can't believe that there's 4-5-6 of us that have been together on this boat for a year and we haven't killed each other," she joked.
Despite turning 69 during the race, she is already deciding on her next adventure — a safari, an attempt a climbing Mount Kilamanjaro or hang gliding in Colorado.
"You are only as old as you feel you are," she said. "I don't want to become a couch potato ... I just want to keep living. Now that I've seen as much as I have this year, there's so much more out there."
Gavin Reid, 28 — Team "Mission Performance"
Deaf from birth, Gavin wears hearing aids in both ears and relies heavily on lip-reading — a challenge when sailing in the dark or during stormy conditions.
His crew tried creative ways to support him, including a buddy system at night and even glow-in-the-dark lipstick so he could lip-read — an idea that "didn't work out quite as well as I would have imagined," he said.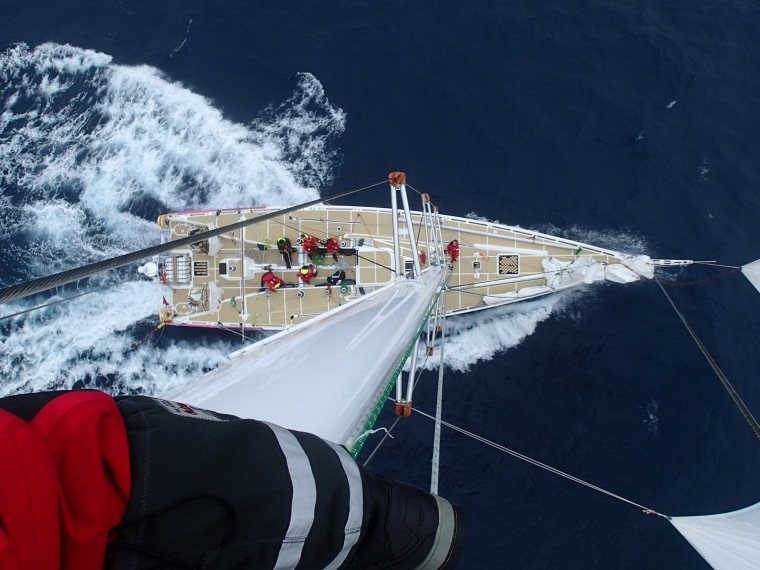 Reid, a supply chain manager from Devon, England, became a race hero when he dramatically came to the rescue of a yacht crew off the coast of Australia in January.
His "Mission Performance" crew responded to a distress radio call from a yacht, which was not part of the fleet, that was stricken with a wrapped propeller, a damaged mainsail and a sailor who had been trapped at the top of the mast for nine hours.
Reid climbed the 75-foot mast and dangling in rough seas in the middle of the night for two hours and untangled the crewman.
"Fortunately we managed to get down just before a storm hit," Reid recalled. "It was pretty rough and bumpy conditions ... pretty dark, about four in the morning ... he wasn't happy, he was swearing a fair amount, but who wouldn't be if you've been up the mast for nine hours — it was certainly a tough experience."
Reid added: "He was getting banged into the spreaders which hold the mast up. They're carbon steel, they're very hard. He was suffering from a lot of bruising ... I think he was just mentally exhausted."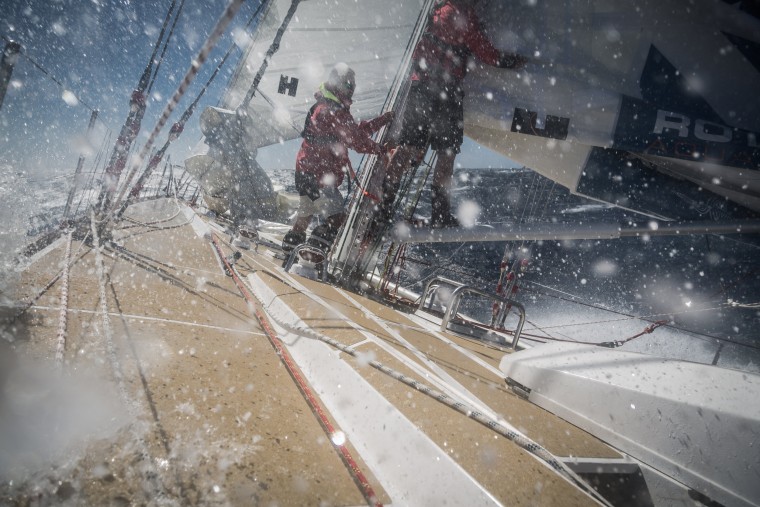 He has been nominated for the Clipper race's prestigious Henri Lloyd Seamanship Award for this act of heroism.
"I've never seen myself as a hero, I just felt it was something I had to do," he said.
He said the race had taught him to make the most of everything, saying: "You've got to try and live your life while you can. Just go out and enjoy it, try and do everything with all of your heart."
"I've always tried to approach things honestly and wholeheartedly ... even when it's 3 a.m. in the middle of the Pacific Ocean and you're getting bashed by waves, I've thought, 'at least I'm not sitting behind my desk.'"