VATICAN CITY – More than 10,000 couples from all over the world flocked to St. Peter's Square to celebrate Valentine's Day with Pope Francis.
In an unprecedented move, the pope invited engaged couples to mark the holiday with him. The response was so overwhelming that church had to move the event from an audience hall inside the Vatican to St. Peter's Square – some 25,000 people from 28 countries were in attendance.
Love was definitely in the air: Heart-shaped balloons were flying over the square and the couples cheered and chanted along with singers playing Christian songs under a beautiful blue sky.
"We are so excited to be here," said Silvia Torlisi, a 28-year old bride-to-be from Terni, Italy. "These days it takes courage to marry this young, and sometimes love is not enough. But Pope Francis taught us the importance of having a family."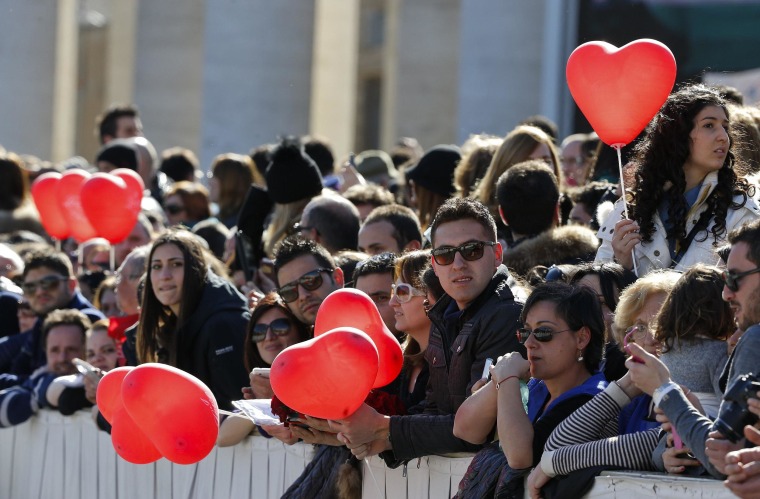 The pope urged couples to have the courage to make lasting choices – which can be challenging in what he called today's throw-away culture.
"It's important to ask whether it's possible to love one another forever," he said. "Today many believe that making lifetime definitive choices is impossible. That's what leads many who get married to think: 'We will stay together until it lasts.'"
But he encouraged the young couples to look beyond the here and now to build a future together.
"A house must be built together, not alone! My dear couples, you are preparing to grow up together. Don't build your house on the sand of feelings that come and go. Build it on the rock of real love."
In a way there is no more appropriate place for lovers to spend the day. Valentine's Day is named after a priest who was killed in the 3rd century for marrying Christian couples during the Roman Empire, when Christians were still persecuted. But this was the first time that such an event was held at St. Peter's Square.
Robert Duncan, a journalist from North Carolina who works for the Catholic News Service in Rome, participated in the event with his British bride-to-be Constance Daggett.
"We are getting married in May and this feels like an early wedding present," said Duncan. "This was only the start of our Valentine's Day, but it was memorable. We'll never forget it."
For Pope
Francis this was an opportunity to celebrate more than just the idea of Christian love – but the institution of marriage. He has warned in the past that because of individualism, family is experiencing a profound cultural crisis. He warned the young couples of the many challenges that lay ahead – including dealing with mothers-in-law.
"We all know the perfect family does not exist. The perfect husband does not exist and the perfect wife does not exist," he said. Then, after pausing as if for comic effect, he added: "Let's not even talk about perfect mothers-in-law." The crowd roared with laughter.
Reuters contributed to this report.