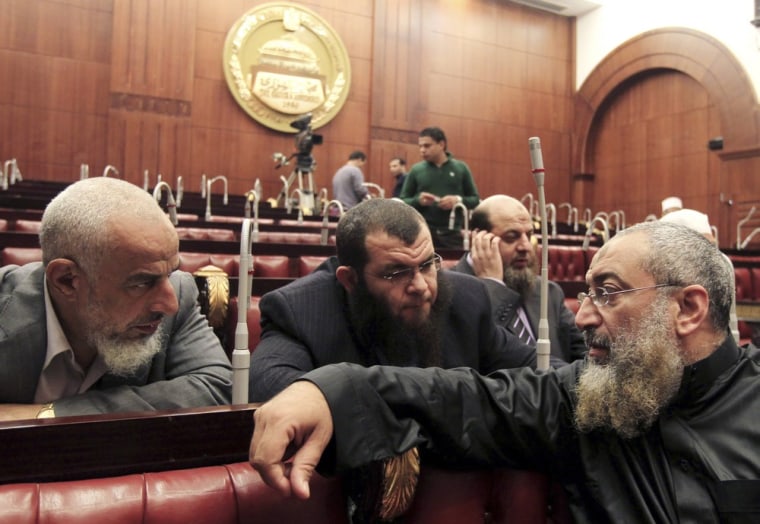 News analysis
Updated at 4:40 a.m. ET: CAIRO, Egypt — Constitutions are often messy affairs. Our own Constitutional Convention, in 1787, was convened secretly, behind guarded doors. Many delegates were suspicious it was all a ploy by George Washington to wrest power from personal freedoms.  Some delegates walked out before the hard work even began. And once the writing was finished, four of the 13 states didn't even ratify it.
But few constitutions have generated the road bumps — or media coverage — that Egypt's new, post-Hosni Mubarak constitution has. 
There are several reasons why this particular document is getting so much attention. It's not only because it would detail Egypt's future government and the values upheld by it. All constitutions do that. What makes this constitutional process unusual is the way in which it's been hijacked by the political crisis playing out in Egypt today — a crisis that pits Islamists, led by Egypt's President Mohamed Morsi, against their opponents, led primarily by Egypt's judges.
Liberals, Christians left out as Islamists back Egypt's draft constitution
When Egypt's first "Constitutional Assembly" met to begin its work, the 100 delegates knew they were embarking on something historic — for the first time in Egypt's long history, they were tasked to produce a document that showcased and protected Egypt's fledgling democracy. But the euphoria didn't last long. Within months, Egypt's Islamist-laden parliament — the body that created the assembly— was dissolved by court order, driven by mostly Mubarak-appointed judges.
Shortly thereafter, a series of legal challenges threatened the constitution-writing panel itself. By this time it had become clear to non-Islamist delegates that the Islamists on the panel were determined to write a defense of Islamic aspirations. More than one-quarter of them — representing secular Egyptians, liberals,  Christians and other minorities — walked out. It appeared the panel, by then entirely Islamist, would be dissolved by the judges.
It's with this backdrop that Morsi made public his controversial decree last Thursday. In a sweeping retort to the judges, he declared that his every ruling, the remaining upper house of parliament, and the Constitutional Assembly, all be above the law. He gave the assembly two more months to complete its work and offer up a final document for ratification. That, as we now know, triggered the turmoil in the streets which some are already calling Egypt's "Second Revolution." Two young Egyptians have been killed, and hundreds wounded in clashes between pro- and anti-Morsi protesters and riot police. But the international media still calls it a "constitutional crisis."
Morsi and his Muslim Brotherhood colleagues then decided to go for broke, and gamble that a pro-Islamist constitution rammed through the assembly would be ratified by the Egyptian people.
That is far from a certainty. More than 200,000 opponents demonstrated in a massive show of support in Tahrir Square on Tuesday night, calling Morsi's decree — and the new constitution – illegal. 
"This is nonsensical and one of the steps that shouldn't be taken, given the background of anger and resentment to the current constitutional assembly," opposition leader and former head of the Arab League, Amr Moussa, told Reuters. 
'You had your revolution. This one is ours'
Another large anti-Morsi protest is now scheduled for Friday. And the Muslim Brotherhood is organizing its own "million-man" march on Saturday, one it now says will not end at Tahrir Square to avoid any confrontation with protesters who have turned the Square into a "Muslim Brotherhood-Free Zone."
Khaled Mahmoud, a 26-year-old volunteer medic who has set up a makeshift clinic for wounded protesters just off the Square, told NBC News he would tell Saturday's would-be Muslim Brotherhood protesters, "Step back. You had your revolution. This one is ours."
But now — in yet another morphing from its intended role — Egypt's new constitution has become a pawn in Morsi's exit from all the chaos. The assembly, which, again, had two more months to work, is racing through its completion in just 48 hours.
More Egypt coverage from NBC News
As the Constitutional Assembly put each article to a vote Thursday afternoon, liberal delegate Mohamed Mohyeldin objected.
"There is a rush in the voting, we should slow down the pace, so that we do not give the impression that we have a problem that we are afraid of and are running away from. We have two months," he said.
But on State TV the speaker, Hossam al Gheryani, said in reply, "We are waiting for those who want to return…we would be happy for them to participate ... [but] there are those who said they wanted nothing to do with this Constitutional Assembly."
Bishop Paula was among the angry delegates who refused to return and vote Thursday.
"We know already the result of the vote because of the unbalanced [Islamist] formation of the assembly. The result is settled whether we go or not," said the representative of the Orthodox Church on live TV. 
And what about the constitution itself? As it rolls off a government website, it appears to be in every way the expression of a pro-Islamist society about half the nation hoped for, and the other half feared. It would not only make conservative Sharia law the law of the land, but expand that, constitutional experts here say, to "dangerous" levels. Besides Islam, only Christianity and Judaism — fellow Abrahamic religions — would be recognized. 
Ominously, its Article 11 reads: "The State and society shall be committed to safeguarding and protecting ethics and public morals." One expert on Egyptian TV warned that this would lay the groundwork for the appearance of "vice and virtue" (vigilante) squads.
Morsi's speech to the nation Thursday night explained the reasons behind his decree, and set the timeline for a national vote on the new, fast-tracked constitution. He has 30 days to conclude the ballot. If it passes — and the Muslim Brotherhood has yet to lose a vote — it will allow Morsi to remove a large monkey from his back. He could then transfer his legislative powers to a new (likely Islamist) parliament, elected within two months of ratifying the constitution.
So, in theory, the current "constitutional crisis" could be over in three months. Or there could be a new, even more turbulent one, further splitting apart the nation.
Jim Maceda is an NBC News foreign correspondent based in London who is currently on assignment in Cairo. He has covered the Middle East since the 1970s.
More world stories from NBC News: