Spanish police shot a man who was driving the wrong way down a freeway in a stolen truck filled with butane gas canisters on Tuesday, authorities said.
Officers, including some armed with machine guns, surrounded the vehicle in police cars while it was still moving at high speed in Barcelona. They fired several shots into the air and into the vehicle's cab before the driver was arrested, according to officials.
Some of the canisters were lost from the back of the vehicle during the chase, injuring at least one pedestrian.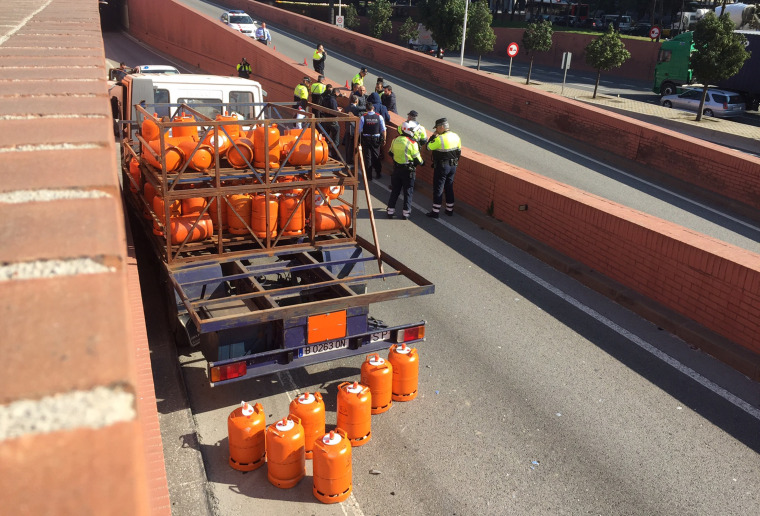 Police say the arrested man, who they only identified as a Swedish national, was hospitalized. The extent of his injuries was immediately unclear.
The incident instantly raised fears of terrorism, coming after truck attacks in Berlin, Germany and the French city of Nice that have shattered the continent's peace.
The evidence, however, "does not suggest that the incident involving the butane cylinders' truck is terrorism," Barcelona police chief Juan Carlos Molinero told a press conference.
The incident underscores the heightened awareness of the threat of terrorism that is becoming a part of normal life in many parts of the Europe.
In economic terms, the Paris attacks resulted in the region that is home to the capital reporting a 6.4 percent drop in visitor numbers from the previous year, which cost businesses 750 million euro ($790 million), according to government statistics cited by French publication The Local.
In more day-to-day terms, the citizens of Brussels and Paris have grown accustomed to seeing routine patrols of armed soldiers on the streets of their cities.
In the U.K., where regular police officers do not carry guns, authorities announced last year a push to recruit 600 extra firearms specialists to cope with the terror threat, which the country's security service rates as severe.
Even Germany, where images from history evoked by troops on the street have profoundly negative connotations, has considered deploying soldiers to help with domestic anti-terror efforts.