/ Source: Associated Press
An explosion rocked the Turkish city of Suruc near the Syrian border on Monday, killing 30 people and wounding nearly 100 others in what Turkish authorities said appeared to be an ISIS-inspired suicide bombing.
The midday explosion happened at a cultural center in Suruc as a political group, the Federation of Socialist Youths, was wrapping up a news conference on plans to rebuild the Syrian city of Kobani, a witness said.
"The way the incident took place is clearly an incident of terrorism and most likely a suicide bombing, savagely (committed) and that we curse," said Prime Minister Ahmet Davutoglu. "We not only curse it. We are face-to-face with a terrorism incident. We have the willpower to find and certainly punish those who are responsible."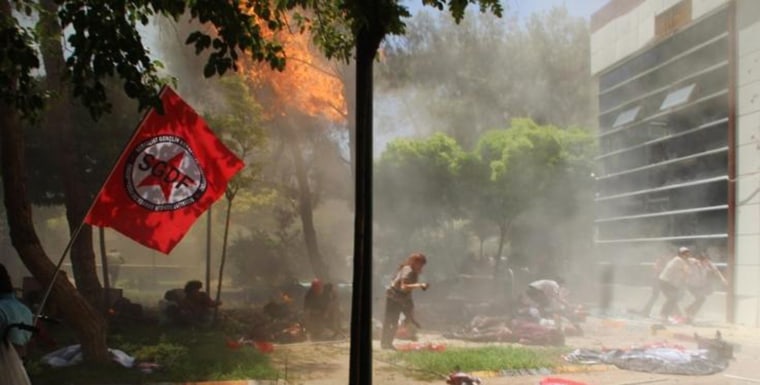 There was no immediate claim of responsibility but one senior government official, speaking on condition of anonymity because he was not authorized to speak publicly, said Turkey suspected ISIS was behind the blast.
Suruc, in southeastern Turkey, is just across the border from Kobani, the scene of fierce battles between Kurdish groups and the Islamic State group that lasted from last year into early this year. The city, heavily populated by Syrian Kurds, was the site of the ISIS' biggest defeat since the militants established control over large swathes of Iraq and Syria. Its ruins have become a symbol of Kurdish resistance.
If it is confirmed that ISIS was behind the attack, it would represent a major expansion of the group's campaign into Turkey at a time that the Turkish government appears to have stepped up its efforts against the group. The bombing was not the group's first attack in Turkey, but it was the most serious. In January, a female suicide bomber with suspected ISIS ties blew herself up in a tourist district of Istanbul, killing a police officer and injuring another.
Turkish news agency DHA said the blast occurred at a cultural center while a political group was giving a statement to the press on Kobani's reconstruction.
News reports said 300 people from the Federation of Socialist Youths association were staying at the site and were preparing to travel to Kobani to help with the rebuilding.
Kobani was the scene of surprise ISIS attacks last month that killed more than 200 people.