The two American servicemen and their friend who thwarted a gunman on a train from Amsterdam to Paris were acting completely in line with their characters when they jumped into action to defend themselves and those around them, family members said.
Airman First Class Spencer Stone and Oregon National Guard Specialist Alek Skarlatos grew up playing sports and rough-housing with one another and their brothers in California, their parents told NBC affiliate KCRA Saturday. And both want to pursue careers in public service when they are done serving in the military, their families said.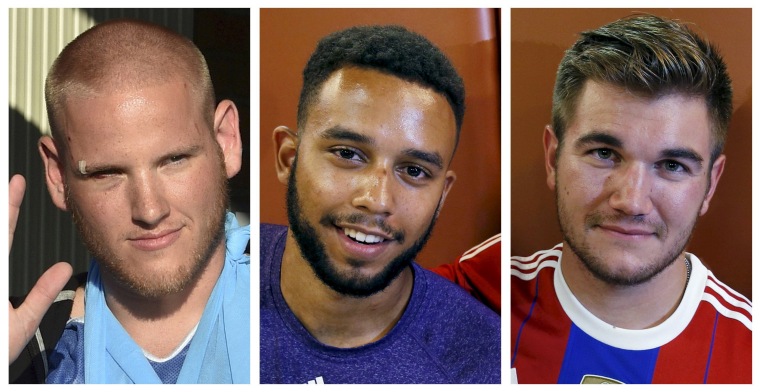 Skarlatos, who returned from deployment in Afghanistan in July, always wanted to be a police officer, his mother, Heidi Hansen said. Protecting people "is kind of what he lives for ... so this is kind of right up his alley," she said.
RELATED: 'Let's Go!' How Three Americans Thwarted Train Attack
Hansen said when she spoke to her son on the phone after the shooting, he sounded "nonchalant."
"I wasn't surprised at all," she said, adding that his reaction during and after the attack was "very typical Alek."
"You expect him to do this," Skarlatos' brother, Solon Skarlatos echoed. "He's very proactive, and he gets stuff done."
Solon Skarlatos said when he spoke with his brother on Friday after the attack and then on Saturday, "it was almost like he was just describing just a regular day to me."
But it wasn't a regular day.
Stone, Skarlatos and their friend, Anthony Sadler, were traveling on the high speed train to Paris during a vacation when they heard a gunshot and glass shattering.
The three, along with a British man, Chris Norman, rushed the alleged attacker, and Stone held the attacker by the neck while Skarlatos grabbed a handgun out of the his hands, Skarlatos has said. The AK-47 was at the gunman's feet.
The gunman slashed Stone with a boxcutter during the altercation, cutting the airman on the back of his head and on his neck and arm, Stone's father, Brian Stone, said. Doctors reattached a part of his hand that was badly cut. He was treated and released from the hospital Saturday.
RELATED: Dad of U.S. Train Hero Anthony Sadler 'Stunned' and 'Relieved'
Sadler's father said his son and his two friends "realized very quickly that this was a life or death situation." He was still in disbelief about the surprising turn of events.
"He leaves here a young man on an excursion to broaden his worldview and have fun with his buddies, and he comes back France's national hero," Sadler's father, Anthony Sadler, said.
Spencer Stone's father, Brian Stone, also said he's not surprised his son went after the attacker.
"I think it's consistent with … Spencer's attitude towards life," Stone said, adding that his son wants to pursue a career as a fireman or paramedic.
Stone said his son, who is 6'2 and 220 pounds, probably took the gunman off guard when he ran toward the attacker instead of ducking for cover.
"I'm just glad that they quickly took action," Stone said. "That the best that we can ask for is that he's healthy and not dead."