Philippine President Rodrigo Duterte showcased his country's increasingly close ties with Moscow on Friday, as he toured one of a pair of Russian warships visiting Manila.
Rear Adm. Eduard Mikhailov, deputy commander of Russia's Pacific Fleet, and Russian Ambassador Igor Khovaev, escorted Duterte and several cabinet members around the anti-submarine ship Admiral Tributs.
During his visit, the controversial leader displayed some of the unorthodox behavior that has strained his country's relationship with long-time ally the United States.
At one point the Philippine leader looked out from the ship's deck and pumped his fist in the air. After signing a guest book, he said "Friends, long live!" He added: "That's from the heart; I hope you can come back more often."
In recent weeks, Duterte has courted controversy with a string of incidents, including publicly claiming to have thrown a rape suspect out of a helicopter and threatening corrupt officials with the same punishment. A senior United Nations official called for a murder investigation after Duterte boasted that he had personally killed three suspected criminals.
Russia is eyeing naval exercises with the Philippines and deployed the Admiral Tributs and sea tanker Boris Butoma on a five-day goodwill visit to Manila.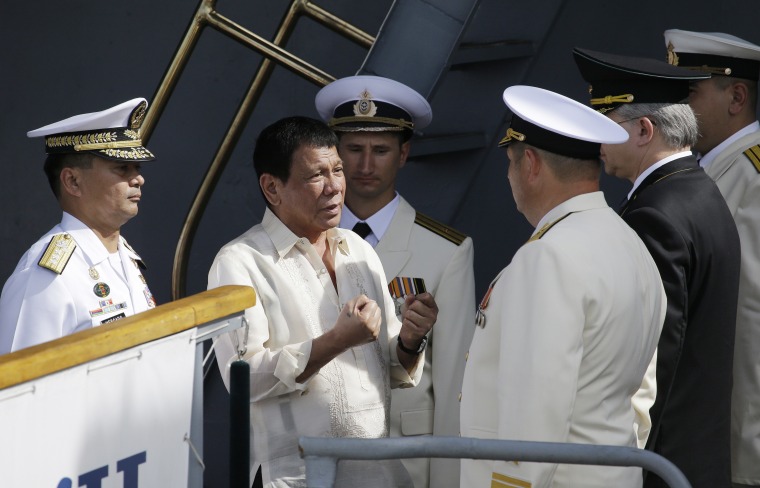 Filipinos were allowed to tour the huge ships and Russian marines demonstrated their combat capabilities. Tobacco and beer magnate Lucio Tan, the 4th richest Filipino according to Forbes magazine, was among civilians who toured the ship.
Defense Secretary Delfin Lorenzana, who accompanied Duterte on the ship tour, expressed optimism about "the start of a partnership" between the two countries' defense establishments when he met with Russian navy officials Thursday night.
"May our common aspirations for regional and global peace and security enable us to become good partners, cooperating and coordinating towards tranquil and safe seas for all," Lorenzana said on board the Admiral Tributs.
He said during his trip to Russia in early December, he agreed with Russian defense officials to finalize a memorandum of understanding that will be the basis of future military engagements, including joint military exercises. It is expected to be signed during Duterte's planned trip to Russia in April.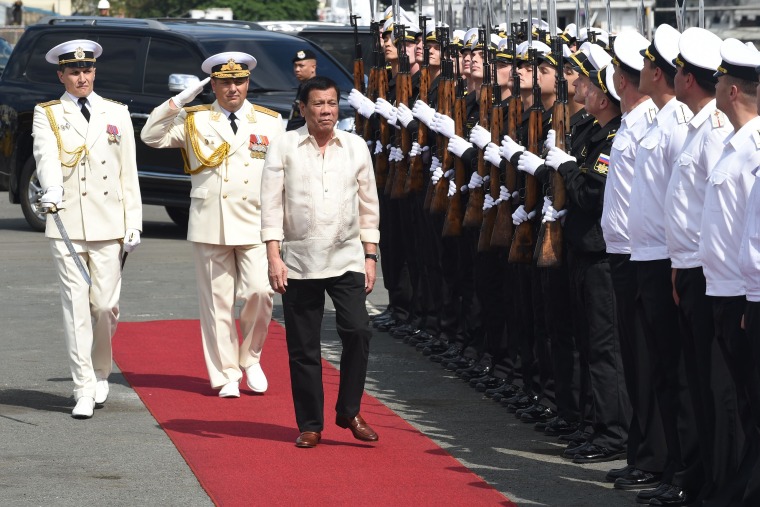 The visit by the Russian navy ships is the third to the Philippines and the first under Duterte, who took office in June. Duterte has lashed out at outgoing President Barack Obama and his administration for criticizing Duterte's deadly crackdown on illegal drugs, which is feared to have left more than 6,000 suspected drug users and dealers dead.
In contrast, he has reached out to China and Russia — whose leaders he has met recently — in a dramatic shift in Philippine foreign policy that has put Washington in a dilemma.
The Philippines has depended heavily on the U.S., its treaty ally, for weapons, ships and aircraft for years, although it has turned to other countries for defense equipment.
After visiting Moscow last month, Lorenzana said the Philippine military was considering purchasing sniper rifles from Russia.