BERLIN — Germany could face months of uncertainty after the center-left Social Democratic Party won a narrow victory in national elections, prompting parties to stake rival claims to forming the next government.
The Social Democrats won 25.9 percent of the vote, according to election officials early Monday, beating Angela Merkel's bloc, which gained 24.1 percent.
Merkel, who is stepping down as chancellor after 16 years and steering Germany through multiple crises, saw her Christian Democratic Union and its Bavarian sister party slide to their worst national electoral result since World War II.
She remains a caretaker leader while haggling and behind-the-scenes talks between potential ministers take place, but will leave a bulging in-tray for her successor, including the recovery from the coronavirus pandemic.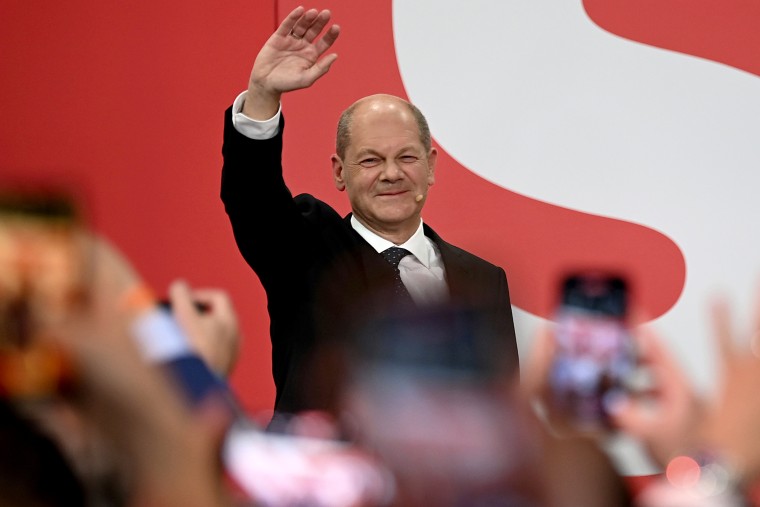 The Social Democrats' candidate, Olaf Scholz, the outgoing vice chancellor and finance minister, said the outcome was "a very clear mandate to ensure now that we put together a good, pragmatic government for Germany."
As for when there could be a new government, he said Sunday night "it would be absurd to give an exact date."
"We will do everything to ensure that we are finished before Christmas, a little bit before that would be good too," he added. It took almost six months for Merkel's Union to form a coalition in 2017.
Martin Bialecki, from the German Council on Foreign Relations, a Berlin-based think tank, said a coalition agreement could come in weeks rather than months, given the willingness of the three parties.
Union leader Armin Laschet is "too weak and his numbers are too far [away] to realize a government mandate," Bialecki said. "Other members of the party are saying, 'Please think twice whether it's wise to claim to be the strongest party after the heaviest losses of the party's history.'"
Attention now turns to the smaller parties, potential kingmakers in a future coalition.
The Green Party came third with 14.8 percent of the vote, a 5.8 percent improvement on its result in the 2017 federal election, while the pro-business Free Democrats came fourth with 11.5 percent.
Download the NBC News app for breaking news and politics
Both those parties have said they would consider a three-way alliance to form a government with the Social Democrats — a so-called "traffic light coalition," due to the red (Social Democrats), green and yellow (Free Democrats) colors of the parties.
Rachel Tausendfreund, editorial director of the German Marshall Fund of the United States, speaking before the final results were announced, said that the environment had played a key role in the election.
"Climate change is more on the mind of Germans than certainly other bigger issues. Foreign policy, [the] transatlantic relationship, that has not entered into this campaign at all," she said. "And climate change has been consistently an issue."
Germans are particularly concerned about climate change as an issue, not least because of the recent and deadly extreme weather, which has coincided with the growth in popularity of the Green Party.
"So I think both of these things together, you had a kind of real-world shock that costs lives and billions of dollars in Germany, and powerful political actors in the Green Party who want to make it an issue," she said.
In Berlin, Wiebke Bergmann, 48, a social worker, told The Associated Press that Merkel's departure made this a "really special" election.
"I really thought hard about which candidate I want as next chancellor — until this morning I hadn't made up my mind," Bergmann said. "All seem fine as human beings, but I'm not sure they can do a good job as next chancellor."
The far-right populist Alternative for Germany party, which campaigns to leave the European Union and for a hard-line stance on immigration, won 10.3 percent, 2.3 percent less than in 2017. However, the party did come first place in the states of Saxony and Thuringia, with at least 24 percent of the vote in each.
CORRECTION (Sept. 27, 2021, 12:45 p.m. ET): A previous version of this article misstated the first name of the leader of the Christian Democratic Union. He is Armin Laschet, not Martin.
Matt Bradley, Carlo Angerer and Andy Eckardt reported from Berlin. Patrick Smith reported from London.