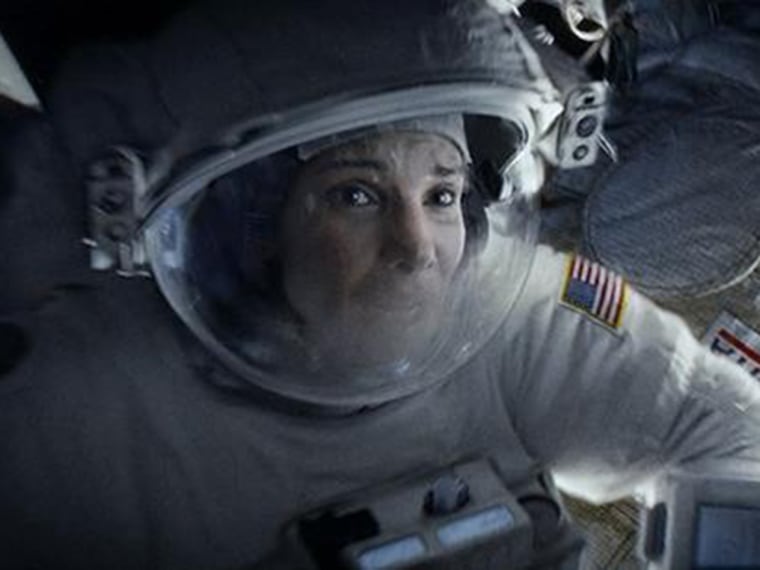 Once again proving the power of older moviegoers, Alfonso Cuaron's 3D space epic "Gravity" debuted to a record-breaking $55.6 million in North America, the top October of all time and the best three-day showing for stars Sandra Bullock and George Clooney.
"Gravity"'s stellar launch caps a substantial production and marketing effort by Warner Bros., and years of work on Cuaron's part. The $100 million movie — doing huge business in 3D cinemas — appears destined to become a player in this year's awards race, based on critical reaction and box office returns.
Running only 90 minutes, "Gravity" received an A- CinemaScore, skewed male (54 percent). Adults over the age of 25 made up more than 82 percent of the audience, while nearly 60 percent was over the age of 35. This was evidenced by a sizable 31 percent jump on Saturday, when more adults become available.
"In two days, this movie has become a cultural phenomenon. People that haven't gone to the movies in years, or who only see one or two movies a year, are going to see Gravity," says Warners domestic distribution chief Dan Fellman. At the same time, he expects the film to play younger and younger.
"Gravity" revolves around two astronauts left floating in space when their space shuttle is damaged (Bullock has a far bigger role). Producers include David Heyman, who played a key role in Warners' Harry Potter franchise. Heyman and Cuaron, who directed "Harry Potter and the Prisoner of Azkaban," brought the project to Warners after Universal put it into turnaround.
GUEST REVIEW: Astronaut Buzz Aldrin on 'Gravity' 
All told, 80 percent of "Gravity"'s opening-weekend revenue came from 3D screens. It's a needed boost, considering the dramatic decline in 3D attendance. It's one of the highest 3D splits of all time ("Avatar"'s 3D share on opening weekend was 72 percent, while "Life of Pi"'s was 68 percent).
Imax theaters generated a hearty $11.2 million, or 20 percent of the total take, representing the top October showing of all time for the large-format cinema chain, as well as the No. 9 opening of all time.
"Paranormal Activity 3" was the previous record-holder for top October opening ($52.6 million), followed by "Jackass 3-D" ($50.4 million), "Taken 2" ($49.5 million) and "Scary Movie 3" ($48.1 million). Bullock's previous best was "The Heat" ($39.1 million); Clooney's record was "Batman & Robin" ($42.9 million).
Overseas, "Gravity" debuted to $3.8 million on Thursday in select markets and is likewise enjoying big business on 3D screens. Russia turned in $1.2 million to claim the No. 1 spot ahead of fellow openers "Insidious: Chapter 2" and local comedy "Vsyo Vklyucheno 2." The 3D share was 76 percent, including 15 percent from Imax.
The only other new wide player this weekend is New Regency and 20th Century Fox's gambling thriller "Runner Runner," starring Justin Timberlake and Ben Affleck. "Runner Runner" quickly folded, taking in only $7.6 million. The saving grace is the film's reported $30 million budget.
Adding intrigue to the weekend, Sony has decided to sneak Paul Greengrass' Somali pirate drama "Captain Phillips," starring Tom Hanks, into 800 theaters on Saturday night a week ahead of its opening. Both "Captain Phillips" and "Gravity" are considered awards contenders.
"Runner Runner" was directed by Brad Furman and also stars Gemma Arterton and Anthony Mackie. New Regency, which fully financed the film, partnered with Leonardo DiCaprio's Appian Way on the project.
From a script by Brian Koppelman and David Levien ("Rounders"), "Runner Runner" revolves around a Princeton University student (Timberlake) who is lured into an Internet poker scam by the owner of a popular gambling website (Affleck).