Greek firefighters found the bodies of 18 people in an area ravaged by a major wildfire burning for days, authorities said Tuesday.
Hundreds of firefighters have struggled to control major wildfires burning out of control for days in northeastern Greece and on Tenerife in Spain's Canary Islands, with strong winds fanning the flames and prompting evacuations of villages and a city hospital in Greece. Firefighters were also battling blazes in Italy.
A new heatwave hit southern Europe, meanwhile, with authorities urging residents to avoid the heat as France, Italy, Spain and elsewhere suffered hot, dry and windy conditions that scientists have linked to climate change.
Hot, dry and windy conditions have seen dozens of wildfires break out across Greece, with the most severe entering its fourth day and encroaching on the northeastern port city of Alexandroupolis. On Monday, two people died and two firefighters were injured in separate fires in northern and central Greece.
On Tuesday, Greek police activated the country's Disaster Victim Identification Team to identify the 18 bodies, which were found near a shack in the Avanta area in theAlexandroupolis region, Ioannis Artopios, a spokesman for the fire department, said in a televised statement.
Given no reports of missing people had been filed in the area, authorities were examining the possibility that the casualties were migrants who had entered the country from the nearby border with Turkey, Artopios said.
The fire risk level for several regions, including the wider Athens area, was listed as "extreme" for the second day Tuesday. Authorities have banned public access to mountains and forests in those regions until at least Wednesday morning and ordered military patrols.
A massive wall of flames raced through forests toward Alexandroupolis overnight, prompting authorities to evacuate another eight villages and the city's hospital. The flames turned the sky over the city and across the region red, hiding the sun as choking smoke and swirling flecks of ash filled the air.
About 65 of the more than 100 patients in the hospital were transported to a ferry boat docked in the city's port, while others were taken to other hospitals in northern Greece. The ferry set sail later Tuesday morning to transport the patients west to the port town of Kavala, where they were to be transferred to another hospital.
Deputy Health Minister Dimitris Vartzopoulos, speaking on Greece's Skai television, said smoke and ash in the air around the Alexandrouplolis hospital was the main reason behind the decision to evacuate the facility.
"We evacuated within four hours," Vartzopoulos said.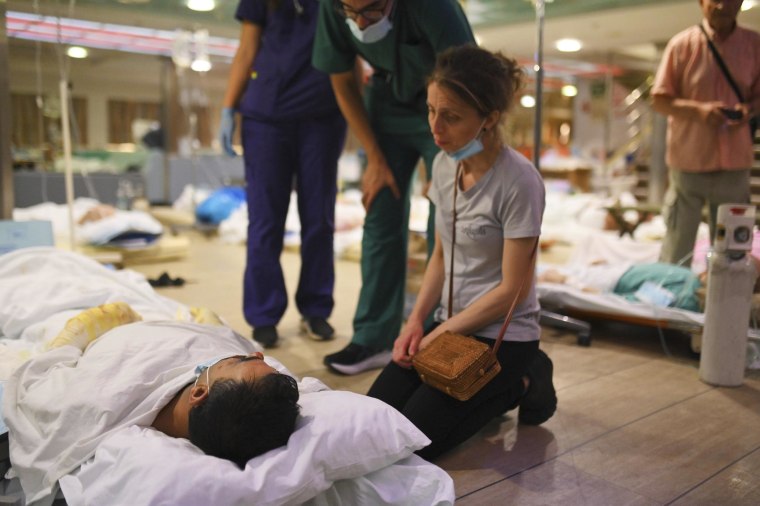 A school, several homes and a cemetery were damaged in two villages near Alexandroupolis, where more than 200 firefighters were battling the flames, supported by four airplanes and three helicopters. Dozens more houses were damaged by another wildfire in the Kavala region, local authorities said. A separate fire in the Evros border region was burning through forest in a protected national park, with satellite imagery showing smoke from the Evros region blanketing much of northern and western Greece.
Near Athens, a new fire broke out in the Aspropyrgos area on the capital's western fringes Tuesday morning, prompting authorities to issue evacuation orders for two villages in the area.
Romania sent 56 firefighters and Cyprus send two water-dropping aircraft to help fight the wildfire in Alexandroupolis, while French firefighters helped tackle a separate fire on the island of Evia.
Greece suffers destructive wildfires every summer. Its deadliest wildfire killed 104 people in 2018, at a seaside resort near Athens that residents had not been warned to evacuate. Authorities have since erred on the side of caution, issuing swift mass evacuation orders whenever inhabited areas are under threat.
Last month, a wildfire on the resort island of Rhodes forced the evacuation of some 20,000 tourists. Days later, two air force pilots were killed when their water-dropping plane crashed while diving low to tackle a blaze on Evia. Another three wildfire-related deaths have been recorded this summer.
With their hot, dry summers, southern European countries are particularly prone to wildfires.
In Spain's Canary Islands, firefighters battled to control a wildfire burning for a week on the popular tourist destination of Tenerife. More than 12,000 people have been evacuated from their homes and nearly 37,000 acres of pine forest and scrubland have been burned. Large parts of Spain were under alert for wildfire risk due to a heatwave that sent temperatures spiking over 100 degrees Fahrenheit in many areas.
In Italy, authorities evacuated 700 people from homes and a campsite on the Tuscan island of Elba after a fire broke out late Monday. Two aircraft were helping douse the blaze, which consumed five hectares on the popular tourist island.