India is facing a tomato crisis as prices have skyrocketed more than 300% due to extreme weather conditions.
Tomato prices surged 341% year-to-date, from 24.68 rupees per kg to 108.92 rupees per kg as of July 11, data from the Department of Consumer Affairs showed.
Flooding in major tomato-producing states like Andhra Pradesh, Maharashtra and Karnataka has been a key driver to the price surge, according to India's National Institute of Biotic Stress Management, a council dedicated to agricultural research.
"Due to excess rainfall in these states, tomato [crops have] been highly affected… A large part of the tomato crop has been destroyed due to rains and flood," the council stated.
India is the second-largest producer of tomatoes in the world, and alongside onions, tomatoes are "an absolute essential" to the daily lives of Indian consumers, said Damien Yeo, food and drink analyst at BMI, a Fitch Solutions research unit. 
Masala, one of the most popular dishes in Indian cuisine, uses tomatoes as a key ingredient in its base sauce. Another popular Indian dish, Andhra Tomato Kura (tomato curry), is also widely enjoyed by locals.
Local farmers reported large-scale thefts of their tomato crops, with one report chronicling how thieves took off with boxes of tomatoes weighing some 150kg.
Several McDonald's outlets in India have also decided to drop tomatoes from their menu.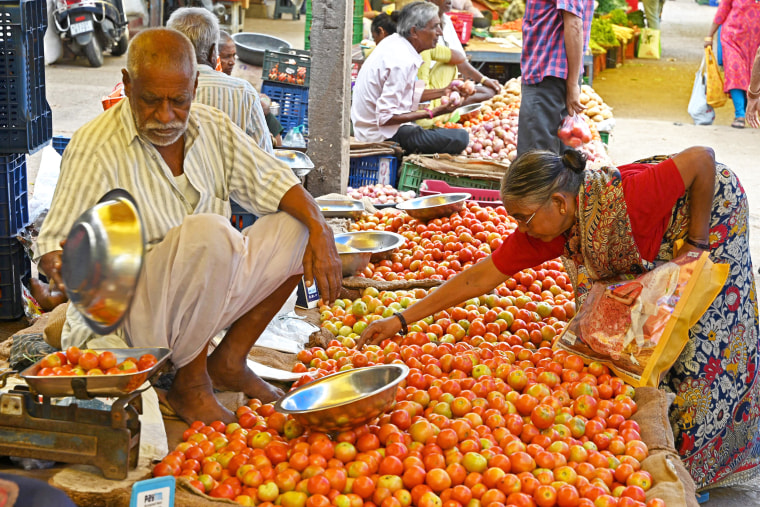 "This is a seasonal problem that the restaurant and food industry has to face every monsoon," the West and South franchise of McDonald's India said in a statement.
In a bid to generate new ideas on how to improve India's tomato value chain and lower prices, the government has invited the public to a Tomato Grand Challenge Hackathon.
Prices of tomatoes generally soar during the growing season of June and July before the August harvest period, Yeo told CNBC.
"The above-average temperature over June and July 2023, plus the late start to the 2023 southwest monsoon has affected production," he said.
He said the rise of the tomato mosaic virus in recent years has also resulted in varying degrees of crop damage, ranging from partial to total losses. The disease is characterized by mottling or mosaic appearance on foliage, and may lead to a reduction in size, quality and amount of the yield.
Compared to July last year, tomato prices have surged 166%, according to government data. Consequently, India's inflation print is likely to have risen 4.58% year-on-year in June as food prices soared, according to a poll by Reuters.
Prices of tomatoes, onions and potatoes are usually "highly volatile," and face relatively inelastic demand as they are staples consumed by Indian locals, said DBS Bank's Senior Economist Radhika Rao.
That said, prices of tomatoes could come to a simmer next month when harvesting begins, the analysts forecast.
"Expectations are that the summer crop supplies might arrive next month, helping to calm prices, ahead of which administrative measures including higher imports might be resorted to," said Rao.
Similarly, BMI's Yeo said August's tomato harvests will start to come — and even if it's low, the new volume could bring some relief to prices.