TEHRAN, Iran — If you thought anti-American sentiment in Iran had waned after the nuclear deal and the lifting of sanctions, you could be wrong.
Tens of thousands of Iranians marched in Tehran's Azadi Square Thursday, chanting "Death to America and Israel" and waving anti-Western placards on the 37th anniversary of the country's 1979 Islamic revolution.
Ahmad Norouzi, a nurse, wore a bandana on his head that read: "We will not allow foreign influence."
"I have a message for Obama," the 37-year-old said. "You can't do anything to us and anything you say is a lie."
Sanaz, a 22-year-old secretary, also joined the rally.
"I am happy that I was able to come here today, and as an Iranian I can put my fist in America's mouth and say Death to America," said Sanaz, who would only give one name.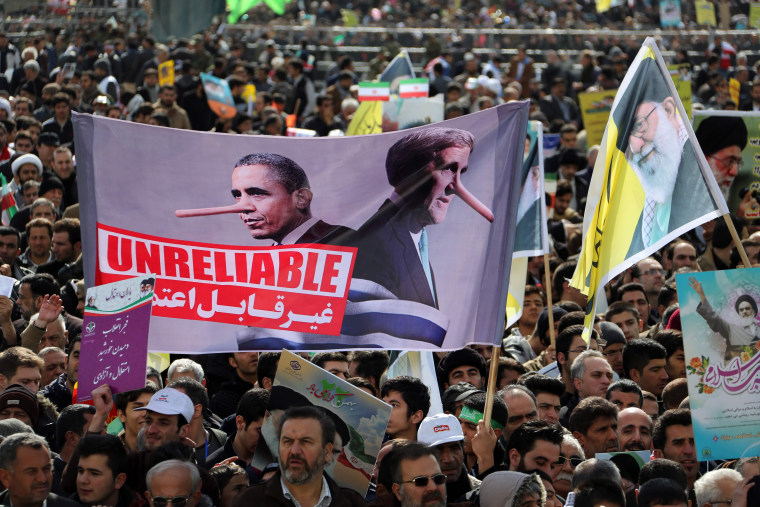 There were several homages in the rally to the incident last month where 10 U.S. Navy sailors were detained by Iran's Revolutionary Guard — including a parade float.
President Hassan Rouhani gave an address, saying that Iranians will "never yield" to outside pressure.
"Our nuclear victory showed to the world that Iranians are capable of winning any battle, including diplomatic battles," Rouhani told the crowds.
Many members of Iran's ruling establishment also joined the rally, which praised Iran's "scientific and defensive achievements" — including an Iranian Shahed 129 drone and the precision-guided long-range Emad ballistic missile.
Despite the political message, there was an almost carnival atmosphere with face-painted teenagers frolicking in the streets while vendors sold food, clothes, balloons and Western-style dolls.
State television showed pictures celebrations from other cities around the country and reported that millions of Iranians had attended events despite freezing weather.