JERUSALEM — Israel's cabinet on Sunday approved the release of 104 Arab prisoners to help restart peace talks with the Palestinians and end nearly three years of diplomatic stagnation.
Thirteen ministers in Prime Minister Benjamin Netanyahu's coalition cabinet voted in favor, seven voted against and two abstained, a government official said.
"The cabinet has authorized the opening of diplomatic talks between Israel and the Palestinians," said a statement issued by the prime minister's office.
Netanyahu had earlier urged divided rightists in his cabinet to back the prisoner release, and postponed the weekly meeting of ministers by an hour to ensure a majority vote in favor.
"This moment is not easy for me, is not easy for the cabinet ministers, and is not easy especially for the bereaved families, whose feelings I understand," Netanyahu said in broadcast remarks at the start of the meeting, referring to families who have lost members in militant attacks.
"But there are moments in which tough decisions must be made for the good of the nation and this is one of those moments."
Palestinian President Mahmoud Abbas has demanded the release of prisoners held since before a 1993 interim peace accord took effect. Israel has jailed thousands more Palestinians since then, many for carrying out deadly attacks.
The prisoner release would allow Netanyahu to sidestep other Palestinian demands, such as a halt to Jewish settlement expansion and a guarantee that negotiations over borders will be based on boundaries from before the 1967 Middle East war, when Israel captured the West Bank, Gaza Strip and East Jerusalem.
In any future deal, Israel wants to keep several settlement blocs and East Jerusalem, which it annexed as part of its capital in a move never recognized internationally.
Protests in Ramallah
Hundreds of protesters from the Popular Front for the Liberation of Palestine (PFLP) group staged a rally against the resumption of peace talks in the West Bank city of Ramallah, the seat of Abbas's Palestinian Authority. They clashed with police and threw rocks.
PFLP activists also demonstrated in Gaza and chanted: "Listen Abbas, our land is not for sale ... The cause will never be resolved except by the rifle."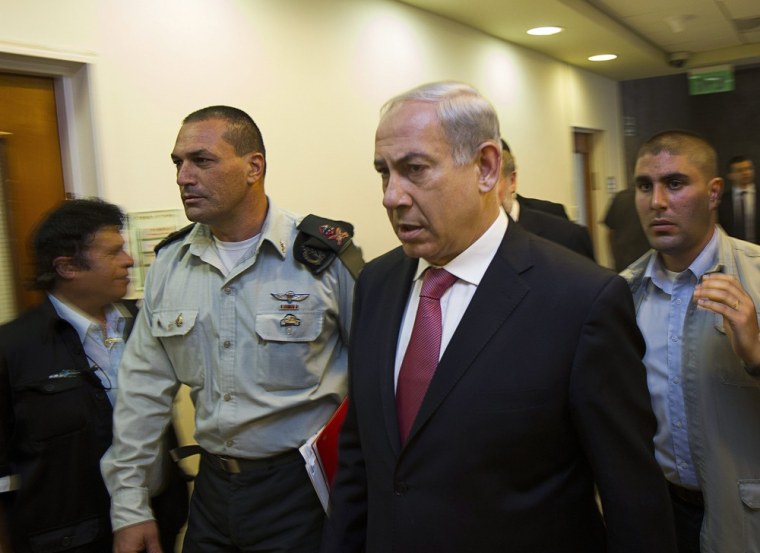 In an appeal for public support posted on his Facebook page on Saturday night, Netanyahu said the prisoners would be freed in groups only after the negotiations — set to last at least nine months — begin.
The 22-member cabinet also discussed legislation that would require a referendum on any statehood deal reached with the Palestinians involving a withdrawal from land Israel captured in the 1967 war. It will be brought to parliament in coming days.
The U.S.-brokered talks, expected to reconvene in Washington as early as Tuesday, broke down in late 2010 in a dispute over Israeli settlement construction in the West Bank, which Palestinians say denies them a viable state.
Before the cabinet meeting, Netanyahu told ministers from his Likud party that Israel would pay a price if peace talks did not resume, according to one official who was there.
The latest diplomatic push follows months of intense shuttle diplomacy by U.S. Secretary of State John Kerry who said a week ago the groundwork had been laid for a breakthrough, while setting no specific date for talks to restart.