/ Source: Associated Press
ROME — Two border patrol ships carrying 451 migrants neared Sicily on Saturday but the migrants' fate remained uncertain after Italy's hard-line interior minister insisted they should be sent to Malta or Libya instead.
Italian Premier Giuseppe Conte's office said three ideas were being considered: Redistributing the migrants among European countries, contacting Libyan authorities to arrange for their return, or keeping them on board the ships to screen them for asylum.
Interior Minister Matteo Salvini, who has forced migration to the top of Europe's agenda by refusing to let rescue boats dock at Italian ports, vowed to remain firm Saturday as he created yet another standoff.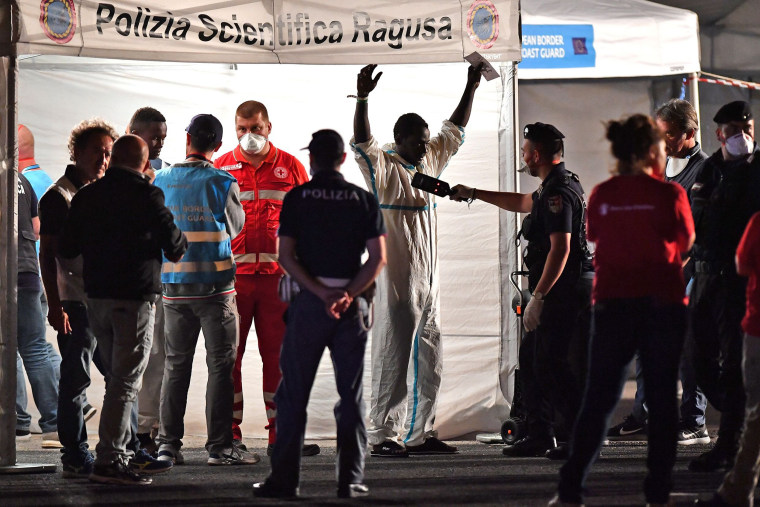 But Salvini has already been chastened this week after the Italian president intervened in a rescue on humanitarian grounds.
The migrants had been aboard a large fishing boat when the Italian and Maltese coast guard control centers began squabbling Friday over who was responsible for taking them in.
Malta said it had fulfilled its obligations by monitoring the vessel to see if it needed help. Malta says the ship's crew made clear they didn't need help and were heading toward the Italian island of Lampedusa.
Salvini and his transport minister insisted Malta should have opened its ports to the ship.
Early Saturday, the migrants were taken off the boat and transferred onto a rescue vessel from the EU border patrol agency Frontex and a ship from the Italian border police. By late Saturday, the two ships were near the Sicilian port of Pozzallo.
In just one month in office, Salvini has upended years of Italian policy toward migrants by refusing them entry.
Italy in general feels that the European Union has left it alone to handle the tens of thousands of migrants coming across the sea every year. Salvini is pressing the EU to step up and take in the migrants who land in Italy and is trying to help Libya prevent them from leaving.
Aid officials say migrants who are being returned to Libya are at risk of facing abuse, rape, beatings and slavery.