KABUL, Afghanistan — Attackers stormed a Shiite Muslim cultural center in the Afghan capital Thursday, setting off multiple bombs and killing dozens, authorities said.
A health ministry spokesperson said 41 people had been killed, including two children, with 84 others injured.
The Islamic State group claimed responsibility for the deadly attack in a statement released through its Amaq media agency, but provided no evidence to support its claim.
Interior Ministry spokesman Najib Danish told the Associated Press that suicide attackers set off an explosion outside the center in southwest Kabul — before storming the site. They then set off explosive devices in the basement of the building where scores of people had gathered to mark the December 1979 invasion of Afghanistan by the former Soviet Union, he said.
Shiite leader Abdul Hussain Ramazandada said witnesses reported at least one suicide bomber sneaked into the event and was sitting among the participants. He exploded his device and as people fled more explosions occurred.
Initial reports suggested the suicide attackers had struck a neighboring office of the Afghan Voice news agency but it later emerged that the cultural center was the target.
Afghan broadcaster 1TV released images illustrating the extent of the damage, with broken furniture, clothing and pools of blood visible on the floor.
In a video shared on Twitter by Turkish broadcaster Yeni Safak, dozens of people — some of them carrying coffins — could be seen gathering outside a Kabul hospital as ambulances brought in the wounded.
The local Islamic State affiliate has carried out several attacks targeting Shiites in Afghanistan. The Islamic State also issued a warning earlier this year following an attack on the Iraqi Embassy in Kabul vowing to target Afghanistan's Shiites. Since then, the IS has taken credit for at least two attacks on Shiite mosques in Kabul and one in the western city of Herat, killing scores of worshippers.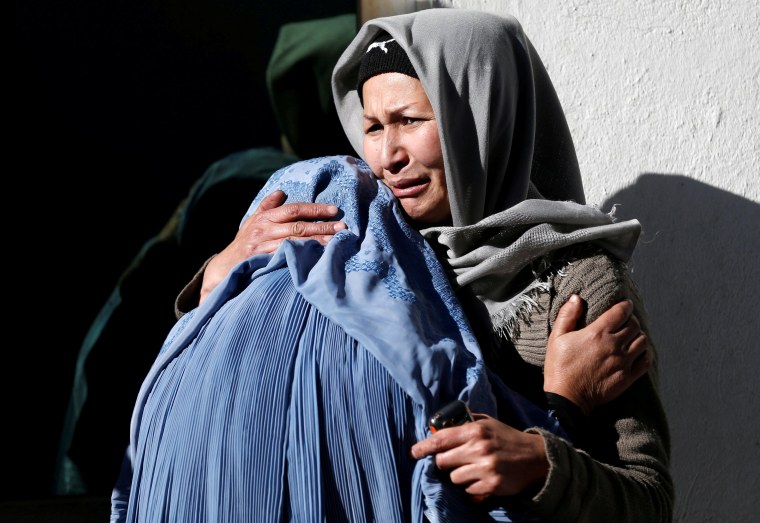 The Islamic State affiliate, made up of Sunni extremists, view Shiites as apostates. The IS affiliate is a mix of Uzbek militants belonging to the Islamic Movement of Uzbekistan who broke with the Taliban, as well as disenchanted insurgents who left the much larger and more well-established Taliban.
Afghan President Ashraf Ghani called the attack a "crime against humanity."
In a statement released by the presidential palace, Ghani said: "The terrorist have killed our people. The terrorists have attacked our mosques, our holy places and now our cultural center." He called them attacks against Islam and "all human values."
Amnesty International said the attack "underscores the dangers faced by Afghan civilians."
"In one of the deadliest years on record, journalists and other civilians continue to be ruthlessly targeted by armed groups," it added.
U.S. Navy Capt. Tom Gresback, a spokesman for the NATO-led mission in Afghanistan, also condemned the violence.
"This barbaric attack will not deter the unwavering resolve we have in supporting the Afghan National Defense and Security Forces in achieving peace and freedom for the people of Afghanistan," he said.