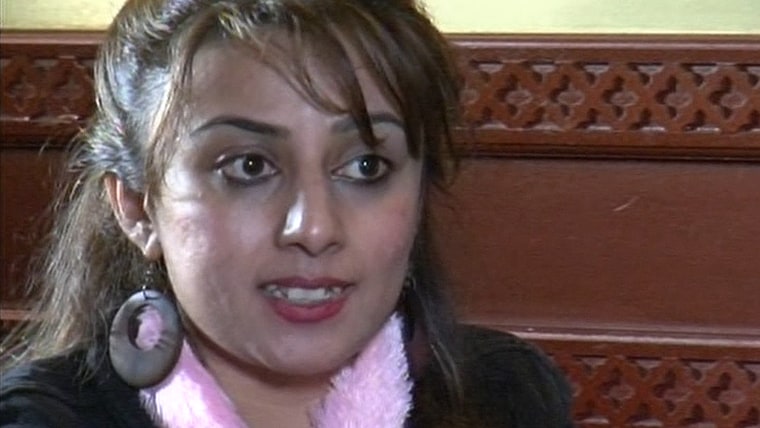 A young Kenyan mother rubbed a boy's blood on herself and played dead in order to survive the Nairobi mall massacre last week.
A week ago Saturday, Sneha Kothair-Mashru was having coffee with friend at the Westgate mall when she heard the staccato crack of gunfire.
She dropped to the floor as gunmen invaded the upscale mall in what now is known as a planned attack by the Somalia-based al Qaeda affiliate al Shabaab.
The cell phone of a young man lying next to her started to ring and she reached under his body in an attempt to turn it off, fearful it would draw attention to her hiding place.
"When I put my hand under him that's when I realized that this guy had been shot because he was bleeding," she told NBC News. "He was bleeding heavily. There was a lot of blood there."
Then, she covered herself with the boy's blood and lay motionless until help arrived.
"I felt really, really guilty doing that… because it was this young boy," she said.
But, likely because of her impromptu camouflage, she was able to return to her husband and son from the mall that day.
Still, Kothair-Mashtru is wondering who the boy is.
"I'd love to know who he was, because I think his blood protected me, saved my life," she said.
In another survivor story, a mother seen protecting her kids in a video that was widely distributed online, was identified. Her name is Faith Wambua-Luedeling, NBC News has learned, and she was found safe at home with her son Ty, daughter Sy and husband Eike.
Wambua-Luedeling, who spent four and a half hours on the floor playing dead while keeping her young children quiet, hopes to find the officer who finally rescued them. 
Kenyan authorities say that more than a thousand people were rescued from the shopping center over the course of four-day siege. No one remains unaccounted for, the government said on Sunday.
The death toll remained at 67 people. Five terrorists were reportedly killed by security forces.
Kenya's interior minister Joseph Ole Lenku announced Sunday that nine suspects were in custody in connection with the attack. One suspect who was arrested on Sunday, Lenku said.
None of the suspects have been identified.
And powerful new photos taken inside the Westgate mall show the destruction left by the terrorists, and the forces that rooted them out.