KHARKIV, Ukraine -- Former Ukrainian Prime Minister Yulia Tymoshenko has gone on hunger strike in prison after guards dragged her off her bed and punched her in the stomach, her lawyer said on Tuesday.
Prison authorities deny the accusations.
Tymoshenko, the main opponent of President Viktor Yanukovich, is in jail convicted of abuse of office. She said the beating took place while she was being moved to a state-run hospital last Friday after complaining of back pain. 
"They approached my bed, put a sheet over me and started dragging me off the bed, using brute physical force. In pain and desperate, I started defending myself the way I could and received a strong fist punch in the abdomen," Tymoshenko said in a statement read to reporters by her lawyer, Serhiy Vlasenko.
The 51-year-old was convicted last year in a case that strained relations between Ukraine and the West, which saw it as politically motivated.
PhotoBlog: Ukraine court jails former PM Yulia Tymoshenko for 7 years
In the statement, she said she had been attacked by three prison guards: "They twisted my arms, lifted me up and dragged me outside wrapped in a blanket. I thought those were the last minutes of my life."
The prison administration denied using any force against Tymoshenko, the Interfax news agency reported.
A state prosecutor denied allegations of beating but said Tymoshenko's move last week had indeed been forced.
"She packed up and got dressed and then lay on her bed and said 'I am not going anywhere'," Interfax quoted regional prosecutor Henady Tyurin as saying.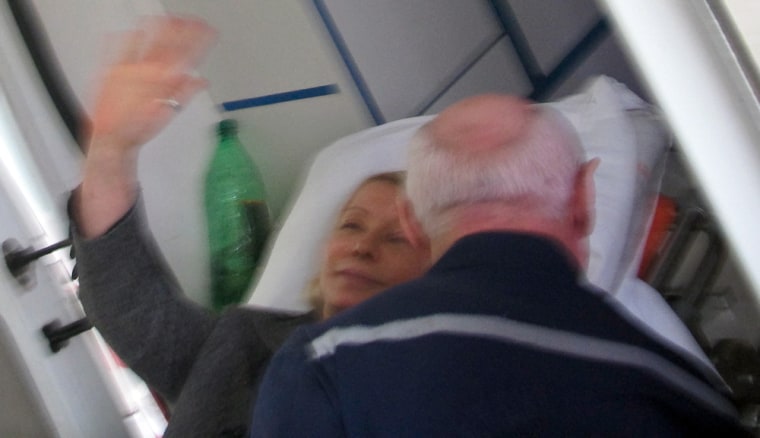 "The law ... allows the prison service to use physical force: (guards) lifted her, carried her to the car and took her to the hospital."
Tymoshenko returned to her prison in the city of Kharkiv on Sunday after she refused to be examined.
The opposition leader has been on a hunger strike since Friday to draw international attention to the situation in Ukraine, Vlasenko said.
Facing new trial
Tymoshenko was sentenced to seven years in prison in October, convicted of abusing her power as prime minister in brokering a 2009 gas deal with Russia.
Yanukovich's government says the deal ran against national interests and has saddled Ukraine with an exorbitant price for vital energy supplies.
Tymoshenko is now standing a new trial, charged with tax evasion and attempted embezzlement, and faces up to 12 years in prison if found guilty.
She refused to attend the opening hearing this month citing poor health. The next session is scheduled for April 28.
Tymoshenko has denied any wrongdoing in both cases, dismissing them as part of a campaign of repression by Yanukovich's government.
Russia expressed concern over "media reports about the worsening health" of Tymoshenko. A Foreign Ministry statement urged Ukrainian authorities to ensure her legal rights are protected and to display "humanity".
The European Union has warned Ukraine that its members will not ratify key bilateral agreements on political association and free trade while Tymoshenko remains in prison.
Tymoshenko was one of the leaders of the 2004 Orange Revolution which derailed Yanukovich's first bid for the presidency. She went on to serve twice as prime minister and lost the 2010 presidential vote to Yanukovich in a close race.
More world news from msnbc.com and NBC News:
Follow us on Twitter: @msnbc_world