TEL AVIV — Israel's Prime Minister Benjamin Netanyahu has rebuked an Israeli cabinet member who said she dreams of seeing the Israeli flag fly over the sensitive holy site in Jerusalem at the heart of recent violence.
The Temple Mount, known to Muslims as the Noble Sanctuary, is the holiest place in Judaism and the third-holiest in Islam. The recent wave of violence between Israelis and Palestinians has been fueled by allegations and rumors Israel wants to change the rules of who can visit the site. Currently, non-Muslims can visit but not pray.
Deputy Foreign Minister Tzipi Hotovely said in an interview on Israel's Knesset Channel Monday that Jews should be allowed to ascend and pray on the Temple Mount.
"My dream is to see the Israeli flag flying over the Temple Mount," she told the channel.
Netanyahu said Saturday that Muslims will continue to pray on the site while non-Muslims will visit there.
His office issued a further statement Monday repudiating the remarks from Hotovely, who is a member of the prime minister's Likud party.
"The policy of the government of Israel regarding the Temple Mount was expressed by Prime Minister Benjamin Netanyahu in his statement Saturday night, and nothing has changed," it read. "Prime Minister Netanyahu made ​​it clear that he expects all members of the government to act accordingly."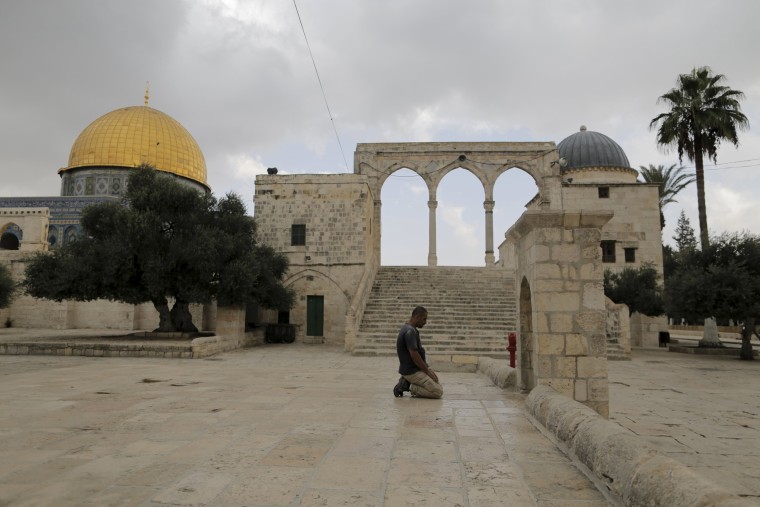 Hotovely issued a statement following the rebuke stressing that her "personal opinions" were not government policy.
"I am fully commited to the government's policy that there will be no change in the status quo on the Temple Mount, as the Prime Minister reaffirmed on Saturday evening," she said.
Israel and Jordan have agreed to place surveillance cameras on the Temple Mount in order to assure Palestinians that Israel is not changing the status quo.
Secretary of State John Kerry said these cameras would provide comprehensive visibility and transparency and "could really be a game changer in discouraging anybody from disturbing the sanctity of this holy site."
More than 10 Israelis have died in a recent wave of Palestinian attacks. Over the same period of time, some 50 Palestinians have been killed by Israeli fire, including 29 said by Israel to be attackers.
On Tuesday, an American grandfather of eight and former school principal who was critically injured in a Jerusalem bus attack died.