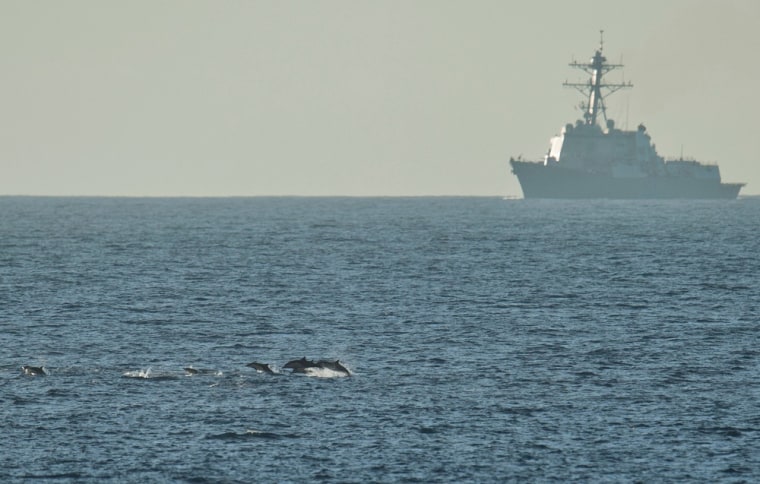 New Navy estimates showing many more dolphins, whales and other marine mammals could be hurt by sonar off Hawaii and Southern California caused alarm among environmentalists on Friday. The Navy, for its part, emphasized those were worst-case estimates and that the numbers cover a much larger testing area than before.
The numbers are in the Navy's new draft environmental impact statement for exercises planned from 2014-2018. In it, the Navy says that, under its preferred alternative, sonar training and testing might unintentionally harm marine mammals 2.8 million times a year over five years.
"The numbers are staggering and there is absolutely no corresponding mitigation to account for this harm," Zak Smith, an attorney for the Natural Resources Defense Council, told msnbc.com.
That's up from about 150,000 instances a year in the Navy's impact statement for 2009-2013, Smith added.
But the Navy said the numbers were misleading since the new area is much larger and more activities have been added since the last statement. "It's like comparing three grapes to a watermelon," Pacific Fleet spokesman Mark Matsunaga told msnbc.com.
"These are just worst-case estimates," he added. "That's not to say we're going to go out there and hurt them all."
"Direct comparisons with the prior analysis might not be comparing apples to apples," acknowleged Smith. "But I think that's irrelevant. ... Regardless of what accounts for this change the fact is that we -- including the Navy -- now understand that the Navy's activities will have a much greater impact than previously thought."
Twelve million potential exposures are listed under "behavioral," Smith noted. It's the least harmful category, but Smith said it can include an impact like forcing a whale to abandon its habitat for several days. "Marine mammals don't have the energy to continually withstand" that kind of impact, he added.
Two million incidents are counted for temporary hearing loss, Smith said, and 2,000 are listed for permanent hearing loss.
Hearing is critical to marine mammals, much like seeing is to humans, Smith said. "It's as if some technology used in my neighborhood blinded me for the next 10 minutes. It becomes a problem if I go outside and get hit by a car."
Dolphins are the most impacted species, followed by whales and orcas, according to the new estimates.
In addition, the Navy estimates traditional explosives testing and training might kill 1,000 marine mammals during the period.
The Navy numbers were presented Thursday by John Van Dame, a senior environmental planner at the U.S. Pacific Fleet.
US sued over sonar tests in whale waters
"Each time around, each time we swing through this process, we get better, we take a harder look, we become more inclusive," the Associated Press quoted him as saying.
Matsunaga added that the new estimates include "more activities that weren't analyzed the first time around" and "hundreds more sources of sound" from Navy ships.
Smith said his group isn't looking to block sonar and explosives testing and training, but to see it used at times and places where the impacts to marine mammals are minimized.
Will the Navy work with other federal agencies to mitigate the damage?
"That's the big question," said Smith, noting that, as part of the environmental process, the Navy is now taking public comments and then will consult with the National Marine Fisheries Service. 
The NRDC, he added, will be submitting formal comments and hopes that the Navy and the fisheries service will eventually have "a very thoughtful conversation as to what they can work out."
More content from msnbc.com and NBC News: