DUBAI, United Arab Emirates — New security screenings for all passengers on U.S.-bound flights began on Thursday, with airlines worldwide questioning flyers about their trip and their luggage in the latest Trump administration decision affecting global travel.
Both American and global airlines must comply, affecting all of the 2,100 flights from around the world that enter the U.S. on any given day. The directive is far broader than an earlier Trump administration ban on laptops inside the cabins of some airliners, which only targeted 10 Mideast cities and their airlines.
The new rules were met with some confusion. While five global long-haul carriers said they would begin the security interviews on Thursday, each offered different descriptions of how the procedure would take place, ranging from a form travelers would be required to fill out to being verbally quizzed by an airline employee.
Other carriers insisted their operations remained the same, while some airlines said they had received permission to delay implementing the new rules until January.
"The security measures affect all individuals, international passengers and U.S. citizens, traveling to the United States from a last point of departure international location," said Lisa Farbstein, a spokeswoman for the U.S. Transportation Security Administration. "These new measures will impact all flights from airports that serve as last points of departure locations to the United States."
The new rules come at the end of a 120-day window for new U.S. safety regulations to be implemented following the lifting of the laptop ban imposed on some Mideast airlines.
Related: This Is an Odd and Unsettling New Era in Air Travel
They include "heightened screening of personal electronic devices" and stricter security procedures around planes and in airport terminals, Farbstein said. She did not elaborate.
At Dubai International Airport, the world's busiest for international travel, long-haul carrier Emirates began questioning passengers about their luggage, liquids they were carrying and where they were coming from. Passengers also had to have their carry-on bags searched, along with their electronics. It urged those flying through Dubai International Airport to allow extra time for flight check-in and boarding.
"These measures will work in complement with the current additional screening measures conducted at the boarding gate," it said.
U.S. carriers also will be affected by the new rules. Delta Air Lines said it was telling passengers traveling to the U.S. to arrive at the airport at least three hours before their flight and allow extra time to get through security.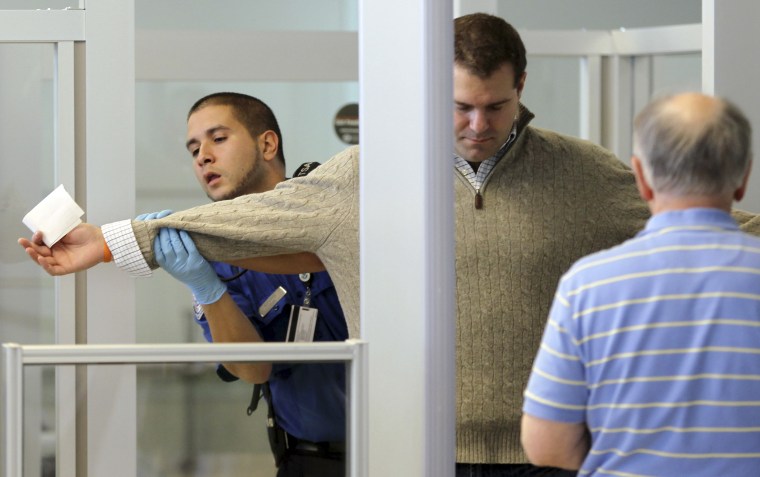 Other carriers who announced the new regulations on Wednesday included Air France, Hong Kong-based Cathay Pacific Airways Ltd., the airlines of Germany's Lufthansa Group and EgyptAir.
In Hong Kong, passengers described some of the questions they were asked.
"They asked me if I packed my own bag, where I packed it from, where I came from, they looked at my itinerary, verify where I was, who I was, from where I came from," said Fran Young, who was travelling to Los Angeles.
Some showed displeasure.
"It's a little inconvenient, I kind of just want to get my printed ticket and then just go inside," passenger Gavin Lai said. "I don't want to wait on people to interview me like that. So it's a little annoying."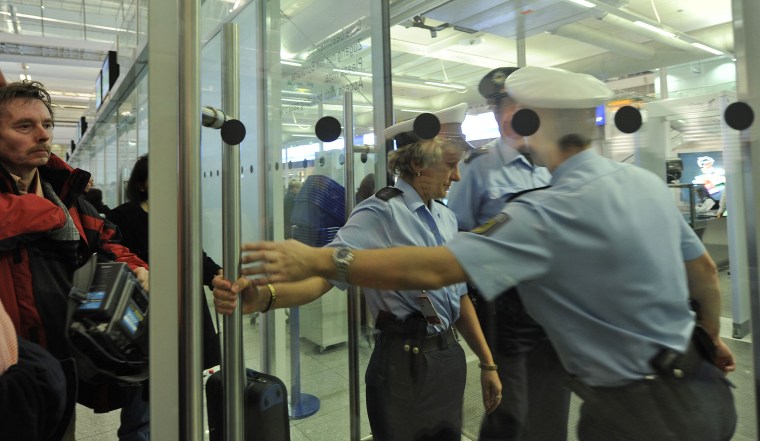 The International Air Transport Association, which represents 275 airlines, did not immediately respond to a request for comment. However, Vaughn Jennings of the trade group Airlines for America said that while the new rules include "complex security measures," U.S. officials have been flexible.
"The safety and security of passengers and crew is the highest priority for U.S. airlines, and we remain committed to ensuring the highest levels of security are in place throughout the industry," Jennings said.
However, not all were convinced of the new measures' effectiveness.
"The part of the new measures I don't like is that airline personnel are being put back into the security screening process," said Jeffrey Price, an aviation-security expert at Metropolitan State University of Denver. "Airline ticket agents aren't always the best at conducting security measures."
This is just the latest decision by President Donald Trump's administration affecting global travel.
Related: Federal Judge Blocks Latest Trump Travel Ban
In March, U.S. officials introduced the laptop ban in the cabins of some Mideast airlines over concerns Islamic State fighters and other extremists could hide bombs inside of them. The ban was lifted after those airlines began using devices like CT scanners to examine electronics before passengers boarded planes heading to the U.S. Some also increasingly swab passengers' hands to check for explosive residue.
The laptop ban as well as travel bans affecting predominantly Muslim countries have hurt Mideast airlines. Emirates, the region's biggest, said it slashed 20 percent of its flights to the U.S. in the wake of the restrictions.