GROZNY, Chechnya — Near the gates to the city here, just off a main highway, motorists are assured they've reached an important place: "Grozny is the center of the world," a sign reads.
This once war-torn city in the North Caucasus has been rebuilt rapidly and with a lot of panache. There was no running water or electricity not long ago, but now Grozny sparkles at night.
Neon light displays run up and down the facades of high-rise buildings. Blocks away is a restaurant called Globus, which is housed inside a glass orb.
Grozny was twice flattened during the last twenty years. Russian tanks first rolled into Grozny on New Year's Eve in 1994, in an effort to restore order when Chechnya tried to break away from Moscow after the Soviet Union collapsed. Then, Russia invaded once more in 1999, to clean out Islamic militants from the mountains nearby.
The transformation has left people who lived through the wars stunned. "Even though they rebuilt it, I don't know why I can't accept it," says Arbi Zubairaev, a local journalist.
"It's not mine," Zubairaev says. "I have a feeling I'm in someone else's city."
RAMZAN KADYROV
Grozny belongs to Ramzan Kadyrov, the head of the Chechen government.
A former rebel who switched his allegiance to the Kremlin during the second war, Kadyrov was installed by Moscow less than a decade later. He receives billions of dollars in aid from Vladimir Putin, and has used the money to transform his city and fund an autonomous paramilitary force.
Ostentatious and proud, Kadyrov is an incessant Instagrammer, posting pictures of himself visiting youth athletic teams, and cradling exotic pets from his sprawling zoo. His family life is chronicled online, too. A recent Instagram video post shows his three young sons practicing martial arts, wrestling and swinging at each other with oversize boxing gloves. Kadyrov has more than 265,000 followers.
"Thanks to our leader, Ramzan Kadyrov, this republic is flourishing."
Among Chechnya's youth, a cult of personality has sprung up. Along Grozny's wide central boulevard, not far from the cluster of high-rise buildings and the multi-level restaurant inside an orb, are the offices of "Akhmad," a youth group named after Kadyrov's father, a former Chechen president who was assassinated in 2004.
"Our members are the future elite of this republic," says the group's spiritual leader, Bashlam Chinayev. Seated on a recent afternoon inside a coffee shop on the opposite side of Putin Avenue, Chinayev conferred with younger members of the group as they planned a community service outing for the following day. "If one day Ramzan noticed us and said your organization has good guys, we of course would help him," Chinayev said.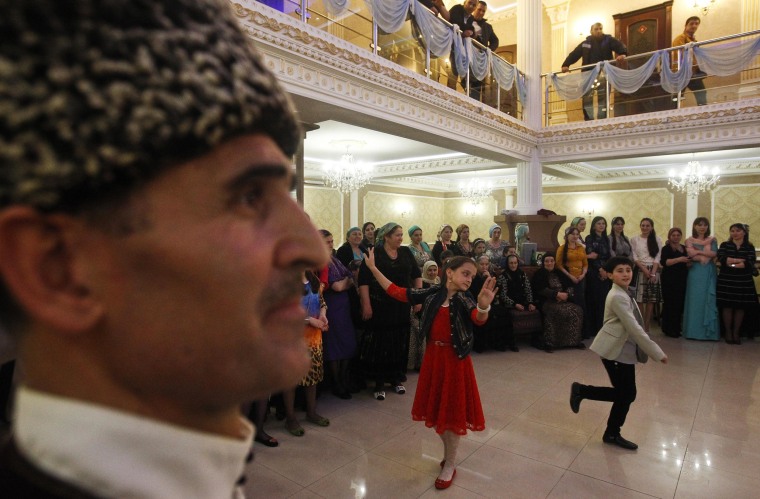 The next morning, the group boarded vans bound for the poor outskirts of the city, where they delivered food and toys to the parents of disabled children. "We're involved in multiple events that help our society develop," said Hajimorad Halajik, a university student.
Halajik, 21, is studying to be a teacher. Like the rest of the men in the group, he wore a green windbreaker decorated with a crest and an image of Kadyrov's father. His hair was brushed forward in a neatly tended mop, a style popular among Chechens.
"Thanks to our leader, Ramzan Kadyrov," Halajik said, "this republic is flourishing."
PEACE AT A COST
But, while the peace in this city is hard to ignore, critics say it has come at a high cost.
"People who live in Chechnya cannot afford to be critical," says Tanya Lokshina, the director of Human Rights Watch in Russia. "They can't afford to say publicly that there is something that they dislike. If they do, they are going to be punished."
Kadyrov is accused of silencing his critics, including Natalya Estemirova, a human rights worker who was kidnapped outside her Grozny home in 2009. Her body was later discovered near a road in the neighboring republic of Ingushetia.
Estemirova had alleged that Kadyrov was connected to disappearances and deaths of political opponents.
Kadyrov has said he was not responsible for Estimorova's death, and has sued the human rights organization that employed her.
"In Ramzan's circle there are many men who have abused human rights. I can say that in spite of my fear and risk," Kheda Saratova, one of the few human rights workers left working in Chechnya, said during an interview in Grozny. "As for Kadyrov himself, he knows the truth."
Kadyrov, who sat for an interview with NBC News, denies charges of rights abuses.
"If you listen to Western journalists," Kadyrov said, "I am the main terrorist here, the main criminal."
Instead, he contends, "I am God's slave and a servant for my people."
THE PROPHET'S BIRTHDAY
Rights organizations worldwide find his claims thin, but Kadyrov has been able to keep a tight grip on power here.
By the time he assumed control of a still-restive Chechnya in 2007, at the age of 30, Kadyrov was already an able survivor. He made targeting the radical Muslims still operating inside Chechnya a high priority, all the while using a conservative, state-sponsored brand of Islam to glue his republic together.
On a recent cold evening in Grozny, thousands of men crowded inside the main mosque. It was the Prophet Mohammed's birthday, and on display was a lock of hair said to belong to him.
Kadyrov, a night owl, arrived at the mosque just before dawn, accompanied by a contingent of young security guards in blue jeans and trim winter coats. A videographer tagged along.
He was welcomed by elders and invited to sit with a group of men near the relic, where he swayed and fought tears as the men sang.
"If you listen to Western journalists," Kadyrov said, "I am the main terrorist here, the main criminal."
The next day, a government television station ran hours of footage of the event.