President Barack Obama on Wednesday insisted "there doesn't have to be a conflict" between respecting gun rights and enacting new gun controls as he tries to use the power of his office to prompt a reluctant Congress to take action in the wake of the Newtown shootings.
But he declared: "This is not easy."
Obama flew to Colorado to advocate for a Senate bill requiring background checks for every gun buyer; a new law in the Centennial State requires just that.
"The loopholes that currently exist in the law have allowed way too many criminals and folks who shouldn't be getting guns -- it's allowed them to avoid background checks entirely," Obama said in a speech at the Denver Police Academy.
"Colorado has shown that practical progress is possible."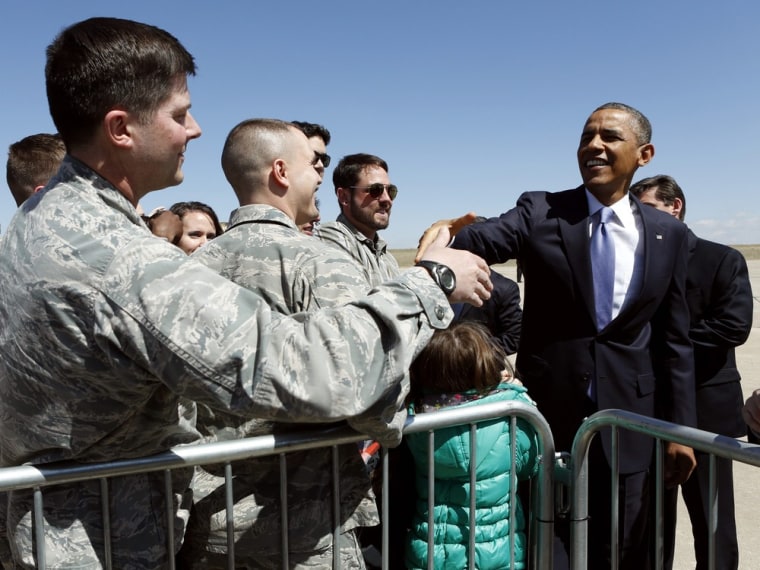 Obama's visit to Denver is part of a push to try to maintain -- or at this point, reignite -- momentum for stricter gun laws in the wake of the shooting at Sandy Hook Elementary School that killed 20 children and 6 adults.
Lawmakers are preparing to consider new gun laws on the Senate floor in the next two weeks, a package that Obama says is "commonsense" reform.
"We're not proposing a gun registration system; we're proposing background checks for criminals," he said Wednesday in Denver.
But the president acknowledged how difficult the path has become -- even for background checks, one of the less dramatic pieces of gun control legislation he proposed earlier this year.
"We knew from the beginning the change wouldn't be easy and we knew there would be powerful voices that would try to" stop gun laws, Obama said. "We knew they'd try to make any progress collapse under the weight of fear or frustration or maybe people would just stop paying attention."
Obama said that powerful gun advocates -- though he didn't name the National Rifle Association – are stoking fears that the background check bill amounts to a plan to take citizens' weapons away.
"We can't do background checks because the government's going to come take my guns away," the president said, paraphrasing the NRA's argument. Obama's retort: "The government's us. These officials are elected by you," he said, arguing that gun advocates "have ginned up fears among responsible gun owners that have nothing to do with what's being proposed and nothing to do with the facts." 
Colorado is a largely rural, western state with a strong hunting tradition -- and a sad history of mass shootings. Obama's event is planned not far from the Aurora movie theater where 12 people were gunned down last year -- now, prosecutors are seeking the death penalty for alleged shooter James Holmes.
The state recently enacted a new package of gun laws that in some ways mirror what Obama and Vice President Joe Biden proposed after Newtown. Colorado didn't ban assault weapons, but the state did limit high capacity magazines to 15 rounds of ammunition and now requires anyone who wants to buy a gun to get a background check.
But that law passed through a state legislature controlled by Democrats -- and was signed by Democratic Gov. John Hickenlooper. That's a much easier path than Obama faces in Washington, where Senate Republicans and the NRA have all but stalled his gun control efforts.
Most of Obama's initial plan to curb gun violence in the wake of Newtown, including an assault weapons ban and a ban on high-capacity magazines, has no hope of passing the Senate. The background check plan has little Republican support -- and even a less controversial measure to make gun trafficking a federal crime is now facing some resistance.
"I'll be blunt, a lot of members of Congress, this is tough for them," Obama said. 
As senators take up the bill next week, Obama plans to travel to Hartford, Conn., to call for stricter gun controls. Connecticut state lawmakers are currently considering one of the toughest new gun laws in the nation.