Barack Obama will break a seven-decade-old taboo Friday when he becomes the first U.S. president to visit Hiroshima, Japan, since a U.S. atomic bomb nearly obliterated the city to help end World War II.
Upon his arrival Thursday in Japan, Obama called the world's first nuclear attack, on Aug. 6, 1945, "an inflection point in modern history," telling reporters at a news conference with Japanese Prime Minister Shinzo Abe: "It is something that all of us have had to deal with in one way or another."
Photos: Hiroshima After the Bombing
Former Vice President Walter Mondale, who served as the U.S. ambassador to Japan during the administration of President Bill Clinton, called the visit "one of the biggest events in modern Japanese history."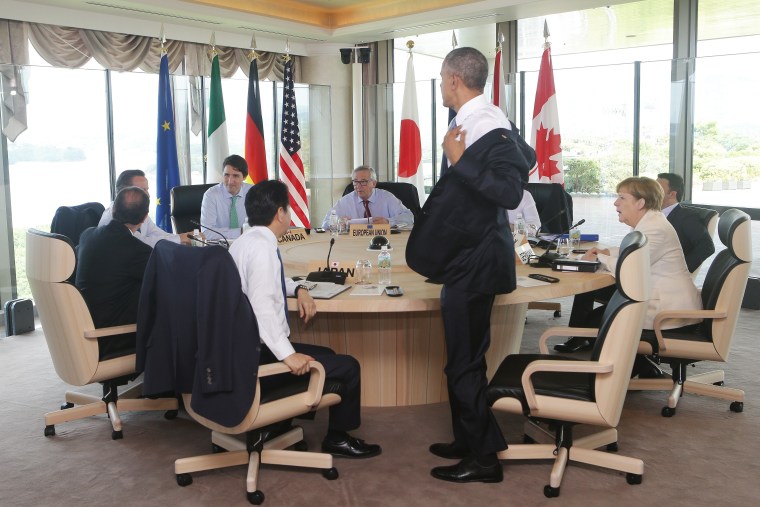 Obama is in Japan for the 42nd G7 summit. But critics have called the trip an "apology tour," arguing that while President Harry S. Truman's decision to use the atomic bomb killed about 140,000 people in and around Hiroshima, it saved many more lives by ending the war early.
Many Japanese disagree and still want Washington to formally apologize — which the White House has stressed Obama won't do.
Related: President Obama's Visit to Hiroshima Stirs Mixed Emotions
Mondale said Thursday on MSNBC's "Meet the Press Daily" that the subject remains a sensitive one, even after 70 years.
"I wish it had happened sooner, but everybody — I think even on the Japanese side — were not too sure in those early years whether it made sense," he said of Obama's historic visit.
"I think that he's going to express sadness about all the human suffering that was caused by the explosion of this weapon," Mondale said. "And then I think he's going to turn to what can we do together, what can we do with others around the world, to find a better way to avoid the possibility that these awful weapons will ever be used again."