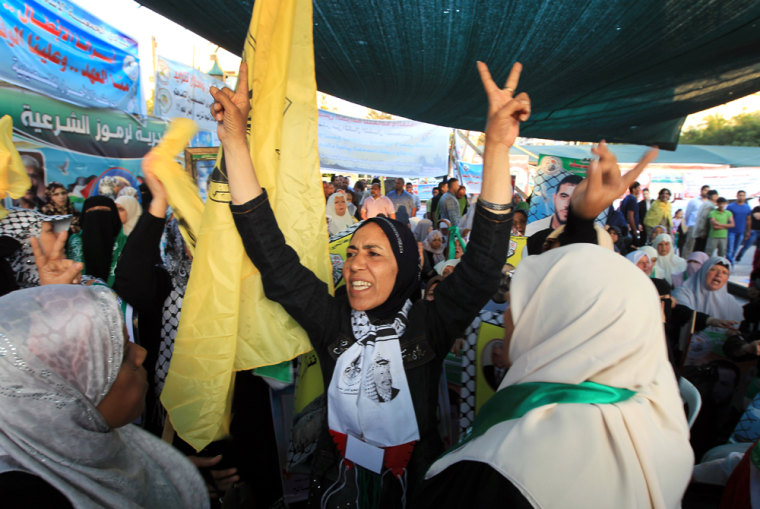 RAMALLAH, West Bank -- A deal has been reached with Israel to end a weeks-long high-profile hunger strike by hundreds of Palestinian prisoners, an official said on Monday. 
The prisoners signed the deal Monday afternoon at an Israeli prison in Ashkelon, the Palestinian Minister for Prisoner Affairs Issa Qaraqe said. He did not have details of the deal, and Israeli officials had no immediate comment.
At least 1,600 prisoners held by Israel have been on a hunger strike since mid-April, demanding better conditions. A handful of prisoners have been refusing food for as long as 77 days, and are said to be in critical condition.   
The peaceful campaign had focused attention on so-called "administrative detention," a practice that has drawn international criticism, and raised fears of a violent Palestinian backlash if any of the protesters die.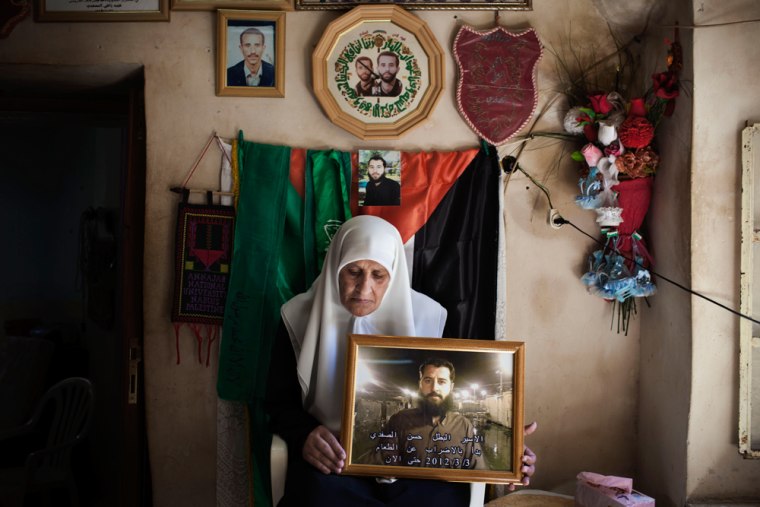 Fighting Israeli detention, Palestinians resort to hunger strike
Earlier, officials told Reuters that Israeli authorities had balked at the agreement's call for the release of any inmate whose detention term, usually a six-month period that can be renewed by a military court, has ended. 
But they said Israel had agreed under the deal to renew family visits for prisoners from the Gaza Strip and end the solitary confinement of 19 inmates. 
PhotoBlog: 1,200 Palestinian prisoners declare hunger strike
Relatives' visits from Gaza were suspended after Israeli soldier Gilad Shalit was captured by Palestinian militants and taken to the Hamas-ruled territory in 2006. He was released in October in exchange for more than 1,000 Palestinian prisoners. 
High esteem
Israel says the detentions are necessary because some cases cannot be brought to open court for fear of exposing Palestinian intelligence sources who have cooperated with Israel. 
Palestinians jailed by Israel are held in high esteem by their fellow Palestinians, who see them as heroes in what they term a struggle against occupation. 
The hunger strikers include militants from Islamist Hamas and Islamic Jihad, which reject peace with Israel, as well as members of Palestinian President Mahmoud Abbas's Fatah group. 
Two inmates who helped to launch the strike, Bilal Diab and Thaer Halahla of Islamic Jihad, were in the 77th day of their fast on Monday. 
As Palestinian hunger strikers starve, a mother waits 
Last week, Israel's Supreme Court turned down their request to be freed from detention without trial but said security authorities should consider releasing them for medical reasons.
The court said administrative detention "causes unease to every judge" but was a necessary evil because Israel was "constantly fighting terror."
A month ago, Israel released hunger striker Khader Adnan, an Islamic Jihad member, amid concerns he would die. He agreed to end his fast after 66 days in exchange for a promise not to renew his detention. 
On Monday, thousands of people held a rally in Gaza in support of the hunger strikers, chanting "We will give our souls and blood to redeem the prisoners." 
Reuters and The Associated Press contributed to this report.
More world news from msnbc.com and NBC News:
Follow us on Twitter: @msnbc_world