By Us Weekly
Lolo Jones' journey to the Olympics hasn't been easy — but it's been easier than finding a husband!
The 29-year-old Olympic track and field star revealed on Twitter she's a virgin and further explained why in Tuesday night's interview with HBO's Real Sports .
PHOTOS: Celebs who love athletes
"It's just something, a gift that I want to give to my husband," she said. "But please understand this journey has been hard. If there's virgins out there, I just want to let them know, it's the hardest thing I've ever done in my life. Harder than training for the Olympics, harder than graduating from college, has been to stay a virgin before marriage."
But she's had plenty of offers!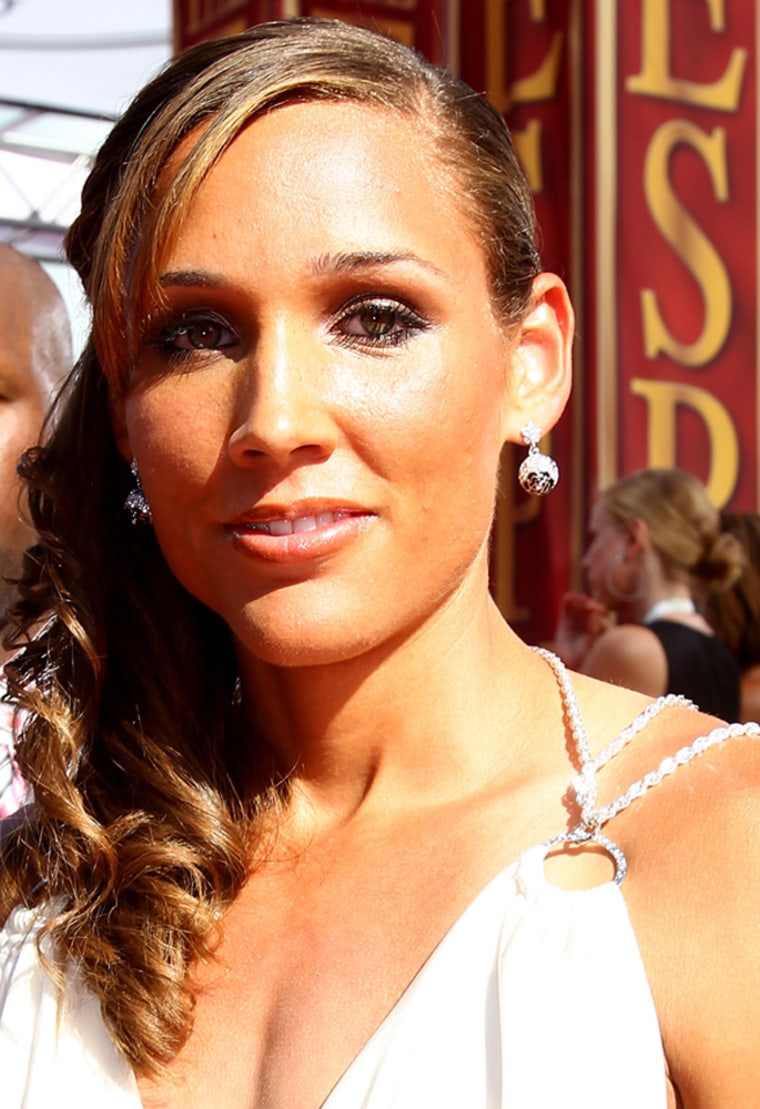 "I've been tempted. I've had guys tell me, they're like, 'Hey you know if you have sex it will help you run faster,' " Jones joked. Her response? "If you marry me, then yeah."
PHOTOS: Biggest star sex tape scandals
And the athlete, who is competing for gold at the London Games this summer, decided to make her virginity public because she's tired of people asking why she's single.
"I hate talking about it but hate people saying they can't understand why I've been single so long. Explains the whole pic," she tweeted Tuesday.
Still, Jones jokes about her virginal status. One Twitter follower wrote her, "Saw a headline that said LoLo Jones 30 year old virgin. What?" She tweeted back, "I'm 29. I have a few more months before I'm the movie sequel."
PHOTOS: When stars lost their virginity
Check out 5 other things you don't know about the virgin runner.
1. She left her family to become a runner. Jones grew up with a single mother in a family of six with her father in and out of jail. "When we couldn't pay the rent, we had to move," she told the Associated Press. But she refused to move while attending Theodore Roosevelt High School in Des Moines, Iowa and instead lived with friends and their family that would take her in.
2. She tripped in the 2009 Beijing Olympics. The runner was favorite to win the 100-meter hurdles, but ended up finishing seventh after she tripped during the race.
3. She cried reading The Hunger Games . "Darn Hunger Games book had me choking up on the airplane," she tweeted. "Rue, district 11 and their crescent shaped bread."
4. She uses Twitter to find dates! Jones told HBO's Real Sports that she's tried every online dating site, but Twitter works best. "I'm waiting for the day where somebody totally tricks me with their Twitter picture. Like they're using an Abercrombie model and I show up on the date with somebody from The Biggest Loser."
5. She's posed semi-nude! The athlete disrobed for ESPN's 2009 Body Issue. "I asked the pastor at my church if he'd still let me come to church on Sunday," she joked of appearing semi-nude in the magazine.
More: Video: Olympic swimming hopefuls show off moves 
Two brothers compete for one Olympic trampoline spot 
Olympic hopeful Ryan Lochte to Vogue: I'm a coach's nightmare 
Olympic hopefuls' moms on supporting star athletes