TEL AVIV — Israel's prime minister urged citizens to be on "maximum alert" amid a wave of stabbings, shooting and clashes which injured at least 75 people on Wednesday.
Israeli police said that a "terrorist" stabbed a man "seriously" at the entrance of a mall in central Israel on Wednesday afternoon. The suspect — a Palestinian from Hebron — was captured by security guards and police following the attack in Petach Tikva, police said.
The attack came hours after a man on a bus in the city of Kiryat Gat — 30 miles from Jerusalem — snatched a soldier's rifle and injured him with a knife in an ensuing struggle, according to the Israeli Defense Forces. It said security forces chased the suspect toward a nearby building and shot him dead.
That incident followed a separate attack in Jerusalem's Old City where an Israeli man in his mid-30s shot an 18-year-old Palestinian woman after she stabbed him, according to Israeli police and medical officials. Both were taken to hospital following the incident in an alleyway near the Western Wall. The woman was severely wounded.
Israeli Prime Minister Benjamin Netanyahu canceled a scheduled trip to Germany in light of the growing unrest and met with police and defense officials on Wednesday.
"We are still in the midst of a wave of terrorism," he said in a statement after the meeting. "We are taking strong action against the terrorists, rioters and inciters. We have boosted our forces and are using all necessary means and methods in the fight."
He urged citizens to be on "maximum alert," adding that "the first order in defeating terrorism is to be level-headed and resilient."
"We have known worse times than this and we will also overcome this wave of terrorism with determination, responsibility and unity," Netanyahu said.
Around 970 Palestinians have been injured in clashes with Israeli security forces since Saturday, according to the Red Crescent. That figure includes 66 people who were shot.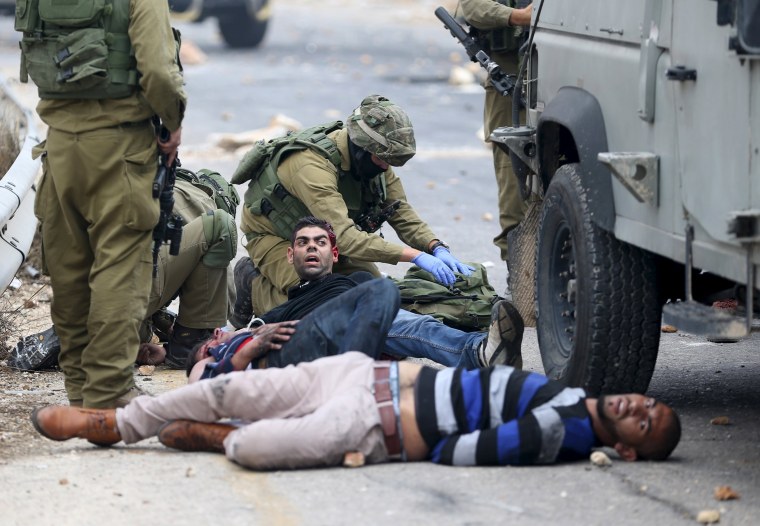 Central to the wave of unrest is a long-running dispute over Jerusalem's Al-Aqsa Mosque, revered by both Muslims and Jews. Many Palestinians believe Israel is trying to expand a Jewish presence at the site, a charge Israel adamantly denies.
Israeli President Reuven Rivlin condemned "lies about Israel's intentions toward the holy mountain," referring to the religious site in a speech to the Foreign Press Association in Jerusalem on Wednesday.
"Let me be clear. Those who wish to turn the tragedy between us into a religious war have blood on their hands," he said.
The mosque has been the site of clashes and protests in recent weeks, but broader tensions appeared to boil over last Thursday when two Israeli settlers — including a U.S. citizen — were shot dead while they drove with their children in the West Bank. Israel sent hundreds of troops in pursuit of the killers and four days later said they had detained five members of a Hamas cell in connection with the shooting.
On Friday, a Palestinian stabbed an Israeli to death, seriously wounding his wife and two-year-old in Jerusalem's Old City, near the site of Wednesday's attack. The attacker then stabbed and killed another Israeli man and opened fire at tourists before being shot and killed by police.
Over the weekend, Israeli security forces killed four Palestinians — including a 13-year-old boy — who were throwing stones during clashes in the West Bank.
The Israeli military on Monday also demolished the east Jerusalem homes of alleged Palestinian militants who were accused of attacks on Israelis about a year ago.
Related: Teenager's Death Fuels Violent Clashes
Meanwhile, two Palestinian students were shot and injured Wednesday by Israeli forces after they threw stones at settlers' vehicles between two settlements east of Bethlehem, according to Dr. Saeed Frahneh at the Palestinian Authority-run Beit Jala Hospital.
A 38-year-old woman driving in the same area was lightly wounded after her car was pelted with stones by attackers who tried to drag her from the vehicle, Israel police spokesman Micky Rosenfeld said. She was able to flee before security forces arrived, Rosenfeld said, adding that seven cars were damaged in the area.