SINGAPORE — Vice President Mike Pence confronted Myanmar leader Aung San Suu Kyi on Wednesday over the "violence and persecution" of her country's Rohingya Muslims.
Sitting next to Suu Kyi and with the news media present, Pence said her country's atrocities were "without excuse." The vice president also called on Suu Kyi to hold those responsible to account.
Suu Kyi was once an arch opponent of her country's government and heralded for her efforts to shepherd democratic reforms. She spent 15 years under house arrest and won the Nobel Peace Prize in 1991, cementing her status as an international human-rights icon.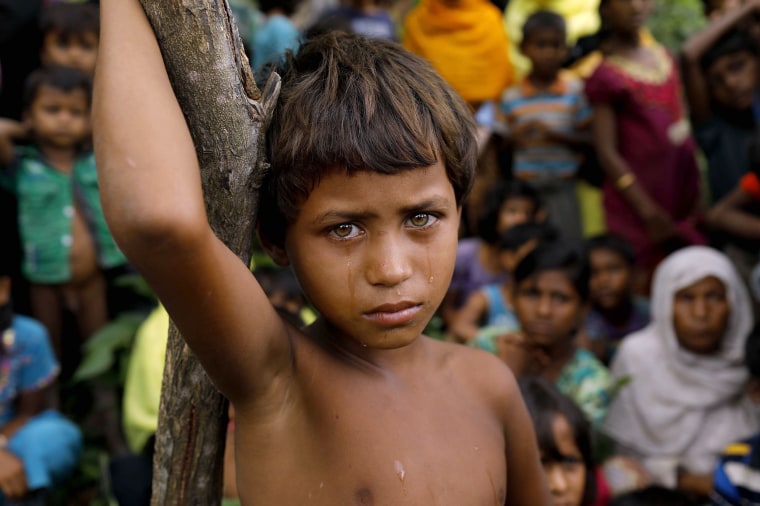 But since becoming de facto leader of Myanmar, Suu Kyi has been criticized for staying silent about her own military's violence against the Rohingya. The operation involving Buddhist militias has left thousands dead and 700,000 displaced in what the United Nations says is ethnic cleansing.
A recent United Nations report detailed mass killings and gang rapes with genocidal intent in the crackdown that drove hundreds of thousands of Rohingya from Myanmar's Rakhine state into Bangladesh.
Pence also implored Suu Kyi to protect the rights of a free press. Two Reuters journalists remain imprisoned nearly one year after being arrested while reporting on the Rohingya crisis.
"In America, we believe in democratic institutions and ideals, including a free and independent press," Pence said. "The arrests and jailing of two journalists last fall was deeply troubling to millions of Americans."
The meeting between the two leaders and their country's delegations took place on the sidelines of the ASEAN summit in Singapore. Pence repeatedly thanked Suu Kyi for initiating the meeting.
She became Myanmar's de facto leader after her party, the National League for Democracy, won elections in 2015. The military still holds significant power, however.
Many international observers have been dismayed that Suu Kyi has remained largely silent about the treatment of the Rohingya. This week, Amnesty International withdrew the human rights award it presented to her in 2009.
Suu Kyi responded to Pence's opening statement by suggesting that he did not understand Myanmar like she did.
"We can say that we understand our country better than any other country does," she said. "And I'm sure you will say the same of yours if you understand your own country better than anybody else does."