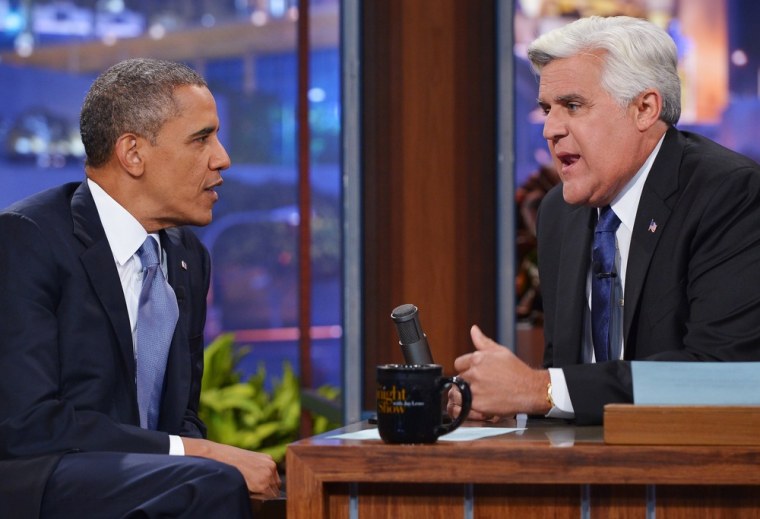 President Barack Obama urged Americans to continue to "live our lives" on Tuesday amid a suspected al Qaeda threat that has closed more than a dozen U.S. embassies.
In his first public comments about the potential plot, Obama told "The Tonight Show" host Jay Leno that the threat was significant.
However, the president pointed out that the odds of dying in a terrorist attack were less than dying in a car accident.
"Terrorists depend on the idea that we're going to be terrorized," Obama added. "We're going to live our lives."
Asked if the message was for Americans to delay travel plans, Obama said no, but Americans should exercise "some common sense and some caution." He encouraged people to check with the State Department or embassies before trips to any potentially dangerous areas.
Obama praised American resilience after tragedies like the Boston Marathon bombing, saying it is important not to let terrorists "shut us down" over fears of violence.
He added: "It's a reminder that for all the progress we've made, getting [Osama] bin Laden, putting al Qaeda in between Afghanistan and Pakistan back on its heels, that this radical, you know, violent extremism is still out there, and we've got to stay on top of it."
Obama's sixth appearance on the NBC show came days after the State Department shuttered more than a dozen U.S. embassies and consulates across the Middle East and North Africa for the remainder of the week. That action sprung from intercepted messages between top al Qaeda leaders who appeared to be plotting a major attack in or around Yemen. Almost 100 U.S. personnel were evacuated from the country early Tuesday.
Addressing concerns about an NSA information collection program that stores phone record metadata in the effort to prevent terrorist attacks, Obama acknowledged that some are skeptical of the program's impact on privacy but defended some government surveillance as a "critical component to counterterrorism."
"We don't have a domestic spying program," Obama said. "What we do have are some mechanisms that can track a phone number or an email address that is connected to a terrorist attack," he said. "That information is useful." 
The president also addressed the ongoing diplomatic fracas with Russia, which offered temporary asylum to alleged NSA leaker Edward Snowden and has cracked down with policies targeting gays and lesbians as the 2014 Sochi Olympics approach.
He confirmed that he will attend the G-20 summit with Russian President Vladimir Putin but warned that his forward-looking message will be clear.
"There are times when they slip back into Cold War thinking and Cold War mentality," he said of the Russian government. "What I continually say to them and  to President Putin, that's the past."
Domestic issues also came up – including Obama's emotional impromptu speech in the wake of the verdict in the Trayvon Martin case.
He described his remarks then as an effort to aspire to "fairness" in the justice system while acknowledging the realities that face young African American men.
"What we also believe in is that people - everybody - should be treated fairly and the system should work for everyone," he said to applause.
Not all of the conversation revolved around the most weighty issues faced by the commander-in-chief: Obama joked about his love of broccoli and his recent birthday, and he quipped that former Secretary of State Hillary Clinton had "that post-administration glow" when they lunched privately last month.
Asked if his onetime presidential rival was "measuring the drapes" during the visit, Obama reminded Leno that Clinton knows her way around the White House from her tenure as first lady.
"Keep in mind she's been there," he said. "She doesn't have to measure them."
Reuters contributed to this report.
Related: