Russian military leaders averted an all out "civil war" by persuading mercenary leader Yevgeny Prigozhin to call off his armed march on Moscow over the weekend, President Vladimir Putin said Tuesday.
Speaking to members of the armed forces in Moscow's Cathedral Square, a symbolic spot where tsars held their coronations, the Russian leader praised the country's armed forces for preventing further violence and civilian deaths.
"The military and law enforcement officers of the Russian Federation actually stopped the civil war," he said.
Later on Tuesday, Belarusian President Alexander Lukashenko confirmed that the Wagner Group chief was in Belarus as had been agreed when Prigozhin called off his mutiny on Saturday.
Prigozhin, who had been in an escalating feud with the country's military leaders, accusing them of corruption, rank incompetence and killing his fighters in Ukraine, has said that he was not seeking to depose Putin but instead was acting to protect his Wagner mercenary force from being destroyed by the defense ministry.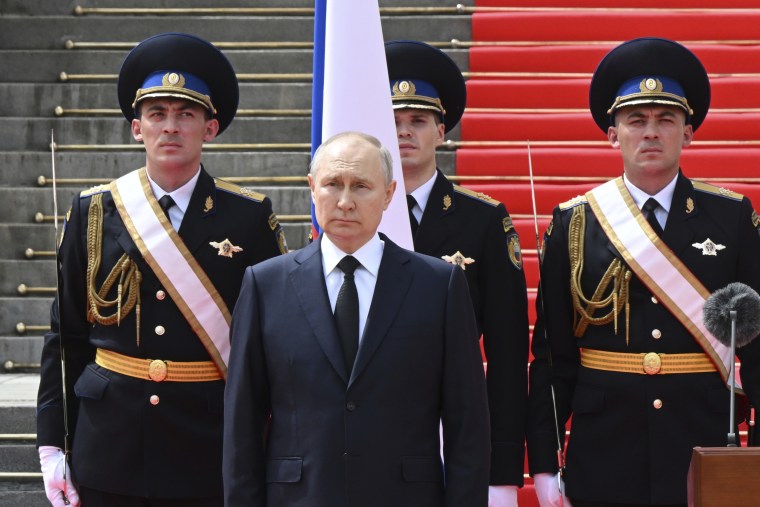 While Putin apparently sought to project authority and power after Prigozhin's aborted "march of justice," which saw Wagner mercenaries come within 150 miles of Moscow, the Russian government sent mixed signals on Tuesday, with security services closing a criminal investigation into the rebellion with no charges.
Lukashenko underlined how seriously the Wagner rebellion had been taken, saying his military had been placed in "full combat readiness" in response.
"My position is: If Russia collapses, we will remain under the rubble, we will all die," Lukashenko, Putin's closest ally in Europe who claimed to have helped broker the deal that ended the armed mutiny, told journalists in Minsk.
Earlier Tuesday, a plane belonging to Prigozhin arrived in Belarus, according to a flight-tracking website.
The flight-tracking website Flightradar24 showed that an Embraer Legacy 600 jet with the serial number RA02795 took off from St. Petersburg shortly after 1 a.m. local time (5 p.m. ET Monday), before landing in southern Russia. It then departed from an undisclosed location in Russia and landed in Minsk, the Belarussian capital, at an unspecified time Tuesday morning.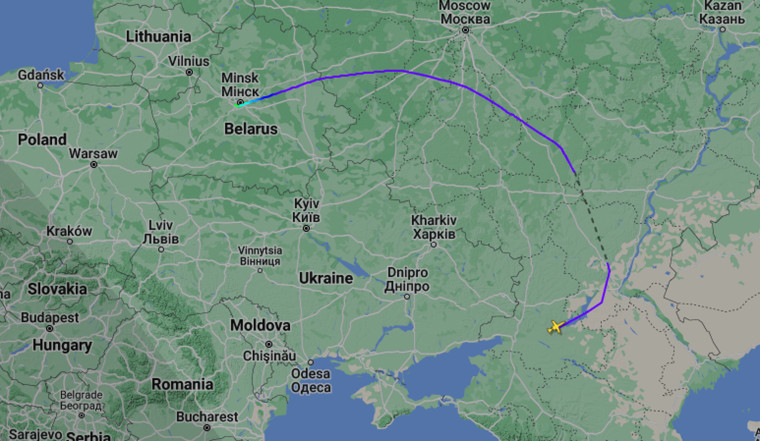 U.S. Treasury sanctions documents from 2019 show that this plane belongs to Prigozhin, dubbed Putin's chef, and was bought in 2018 under its previous name, M-SAAN, from a company based in the Indian Ocean nation of Seychelles. The company, Autolex, is being pursued by the U.S. government for "materially assisting" Prigozhin.
Prigozhin's immediate future has been a subject of much debate after he called off the march.
By the time they retreated, the rebels had already taken the major city of Rostov-on-Don and had sowed doubt among millions of Russians already weary from 15 months of war in Ukraine.
In a televised address Monday, Putin angrily called the rebels "traitors" who played into the hands of those who wanted to see the country "drowned in a bloody domestic strife."
Prigozhin said, "Experienced fighters, experienced commanders will be simply 'smeared' and will basically be used as meat," using Russian slang for "destroyed." He added, "We did not have the goal of toppling the existing regime and legitimately elected government."
Prigozhin also repeated allegations that nearly 30 mercenaries had been killed in Ukraine when a Wagner unit was fired on by the Russian military, which served as a "trigger" for the revolt.