Visitors to Qatar are being urged to dress modestly in public or risk offending the locals.
A grassroots campaign set to launch next month implores ex-pats and tourists to recognize local values by covering up from their shoulders down to their knees.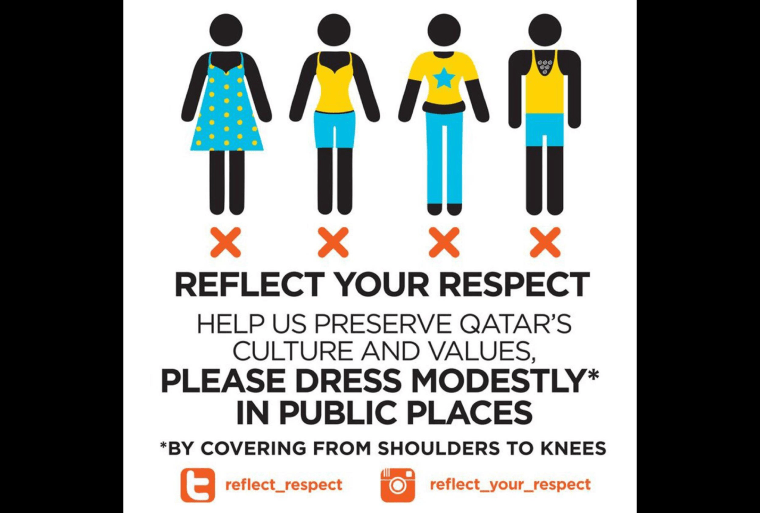 The Reflect Your Respect drive has been launched by Qataris who take objection to the scantily clad foreigners who live in, or visit, the small Middle Eastern country.
The group has already kicked off a social media campaign, setting up a Twitter and Instagram account.
But in an attempt to address the problem head-on, women and girls will begin visiting malls, beaches and other public places on June 20 handing out fliers showing the appropriate dress code, according to Doha News.
"Help us preserve Qatar's culture and values," a poster from the campaign reads. "Please dress modestly in public places."
The issue of dress code has long been contentious, and this campaign has sparked heated debate, according to Al Aribiya News.
Fliers show stick figures wearing a dress, shorts, a tank-top and jeans with an exposed midriff. Beneath each image is a large "X" indicating these outfits are forbidden.
"If you are in Qatar, you are one of us," the leaflet reads.
The poster informs readers that modesty is defined as covering "from shoulders to knees," and states: "leggings are not pants."
Further posts on the group's Twitter account show an "Ethics and Social Codes of Conduct" which it hopes visitors will follow. These include asking women to avoid wearing any clothes which are too tight, too short or translucent.
Both sexes are encouraged to avoid wearing swimwear outside the confines of a beach or pool.
The group has chosen June 20 to launch their campaign partly to coincide with the approach of Ramadan.
They intend to distribute the leaflets throughout the year and simultaneously hand out chocolates, flowers and shawls to impress that they are delivering their message with kindness, Doha News reported.
A spokeswoman for the group, Umm Abdulla, acknowledged it could not force anyone to dress in a particular fashion, but said the issue is one of respect.
"People say they don't meet enough Qatari people, but this is because we don't want go to these places and see these things," said spokeswoman Umm Abdullah told Doha News.
"Our kids as well, we don't want them to end up imitating this — we want to preserve our traditions and our values. They (expats) have their own places where they don't have to be covered — but we have the right to go to hospitals, to the market, to the malls, to the beach, without seeing these things."