MIAMI – Twice this month, an often-repeated tragedy at sea occurred again, leaving at least 35 dead.
On Monday night, a grossly overcrowded Haitian sail freighter capsized about 15 nautical miles from Staniel Cay, in the Bahamas, throwing more than 140 people into the water. The U.S. Coast Guard says at least 30 of the migrants died. The rest were found clinging to the hull of the ship when rescue crews arrived at the scene.
Earlier this month, along a rocky and barren island near the Puerto Rican coast, Coast Guard officials say a group of immigrant smugglers ferrying 18 Haitians by boat from the Dominican Republic to Puerto Rico forced all their passengers overboard and ordered them to swim to Mona Island as the smugglers then sped away.
Five of the passengers couldn't make it to shore in the rough seas and drowned.
"The immigrant smugglers don't choose to run up nice and soft onto the beach and let the people off gently. They'll stop 20, 30 yards off the rocks and literally force the people out of the boat to swim for it," said Capt. Mark Fedor, Chief of Enforcement for the U.S. Coast Guard Seventh District in Miami.
"You have some folks who might not swim at all. You have children that are in these boats and they're trying to swim across rough water in surf conditions onto a rocky outcropping. It's a recipe for disaster," he added.
Smugglers using new route
In the past year, authorities say, there has been a dramatic rise in the number of Haitians crossing the treacherous waters of the 80-mile-wide Mona Passage which separates the Dominican Republic from Puerto Rico. This year alone, law enforcement officials have intercepted more than 2,100 Haitians being smuggled there, compared to just 139 Haitians in the previous four years combined.
Haiti and the Dominican Republic are neighboring countries that share the island of Hispaniola. Dominican smugglers frequently cross the land border now to recruit Haitians for an illegal boat ride to Puerto Rico, a United States commonwealth.
"The (smuggling) network is entrenched enough that they're able to reach back into Haiti and basically advertise their services," said Fedor. 
If Haitians can make it Puerto Rico, they are one step-closer to the U.S. mainland – for many, the ultimate destination.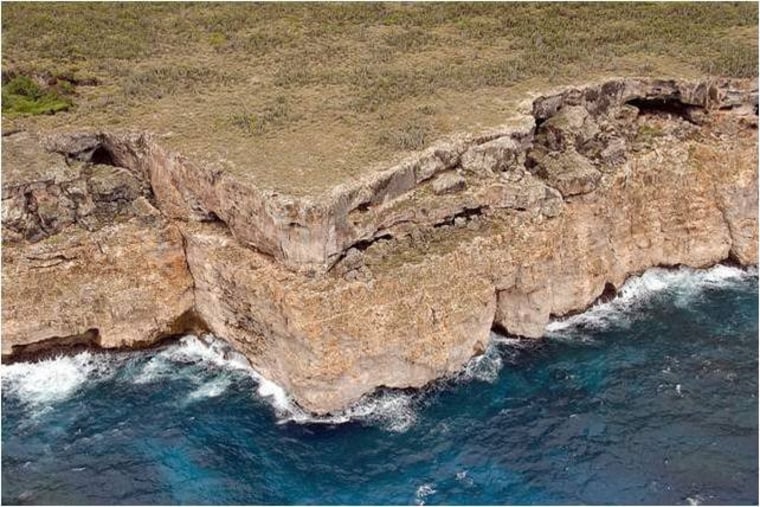 The smugglers reportedly charge from $1,000 to $2,000 per passenger, and it's believed much of that money comes from Haitians living in Florida and elsewhere in the U.S. 
"I think what you are seeing is a lot of family members sending money back home to bring their relatives to the United States," said an official with U.S. Immigration and Customs Enforcement, known as ICE.
Smugglers are increasingly choosing the route to Puerto Rico over the more traditional maritime path from Haiti to the Bahamas and then into South Florida. The Bahamas route was favored for many years and is still used, but traffic there slowed dramatically after the Coast Guard stepped up patrols in the Windward Passage and the Atlantic Ocean, and Florida prosecutors brought cases against smugglers that led to significant prison terms.
The problem with the Puerto Rican route, though, is that it is extremely perilous.
"Here you have rough waters and rocky shorelines," said the ICE official. "This is an incredibly dangerous journey. This is the time of year when the seas are getting much more rough."  
The Puerto Rican coast is also not as hospitable as the sandy beaches in Florida and the Bahamas. Haitian passengers ferried in small wooden motorboats, called "yolas," are often dropped off near rugged Puerto Rican islands with high cliffs, leaving it to chance that someone will eventually come along to find them.
'Thousands try, hundreds die'
Most of the Haitians who take to the sea are fleeing the extreme poverty in Haiti, the poorest country in the Western Hemisphere which in 2010 was devastated by a massive earthquake. 
Eighty percent of Haiti's population lives below the poverty line. Most Haitians don't have formal jobs, can't find enough to eat and don't have access to adequate housing and medical care. 
Still, officials and Haitian community leaders say the extreme risks of boarding a smuggling boat are too high. 
"These smugglers are opportunists, they don't care about anything, they don't care about you, they are about making money by any means necessary," said Marleine Bastien, Executive Director of Haitian Women of Miami, a political activist group.
"They are preying on desperate people who would risk anything, anything, in search of a better life somewhere else," Bastien said.
In about two weeks, the Coast Guard and the Haitian community in Miami are planning to hold a news conference to unveil a humanitarian campaign urging Haitians to stay away from smugglers and to not finance their operations. 
A radio and TV public service announcement will be released in Florida, Haiti, the Dominican Republic and other Caribbean islands. Its theme is, "Thousands Try, Hundreds Die. Do Not Take to the Sea."
Coast Guard Lt. Commander Gabe Somma said the campaign message is clear: "Smugglers are not looking out for you and are taking advantage of you. It's dangerous and they can't be trusted."
Coast Guard officials say they have no way of knowing how many Haitians have perished in the ocean over the years, but they suspect the number is substantial and could climb even higher if the warnings against smuggling are ignored.
"Our fear is you're going to get a large load, maybe not in such good conditions, they're going to drop these people off near one of these islands and the potential for massive loss of life is there," said Fedor.
Those dangers came into clear focus again on Oct. 16 when a motorboat illegally transporting 15 Haitians from the Bahamas to Florida overturned seven miles from Miami Beach. 
Authorities were alerted when one of the passengers made a 911 call for help. Four women drowned in the incident and the boat captain and a crew member were indicted for allegedly causing their deaths.
Related