Russia has described a new $800 million U.S. missile defense site in Romania as a "direct threat" and warned it would bolster its equivalent systems earlier than planned.
Admiral Vladimir Komoyedov, chairman of the State Duma's defense committee, said: "They are moving to the firing line. This is not just 100; it's 200, 300, 1,000 percent aimed against us."
His comments came as the shield — at the Cold War-era Deveselu base 110 miles southwest of Bucharest — was formally activated at a ceremony featuring military bands and attended by U.S., NATO and Romanian officials.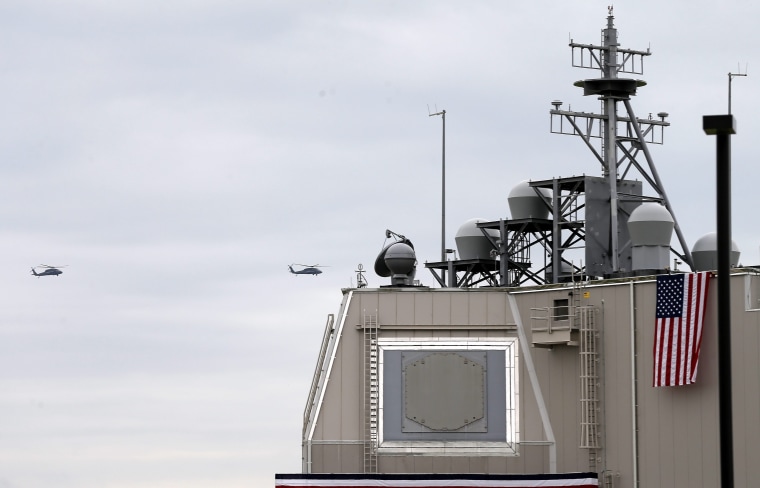 Komoyedov, a former commander of the Russian Black Sea Fleet, disputed U.S. suggestions that the shield is intended to fend off threats from Iran and is not aimed at Moscow.
"This is a direct threat to us," he told the Interfax news agency. "This is not about Iran, but about Russia with its nuclear capabilities."
At a cost of billions of dollars, the missile umbrella relies on radars to detect a ballistic missile launch into space. Sensors then measure the rocket's trajectory and destroy it in space before it re-enters the earth's atmosphere. The interceptors can be fired from ships or ground sites.
The shield, which is modeled on the United States' so-called Aegis ships, was assembled in New Jersey and then transferred to the Deveselu base in containers.
Romanian President Klaus Iohannis said his country wanted NATO to have a "permanent naval presence" in the Black Sea that respected international conventions.
On Friday, Polish and U.S. officials will take shovels in hand to break ground at another planned site in the Polish village of Redzikowo, near the Baltic Sea.