Russian missiles pounded cities across Ukraine early Thursday morning, according to Ukrainian authorities, starting fires, killing at least two people and trapping others under rubble.
The early morning missile attack was Russia's largest in over a month, and came a day after reports of sabotage at a Russian military airfield in Chkalovsk near Moscow.
It also coincided with the United Nations General Assembly summit in New York, where Ukrainian President Volodymyr Zelenskyy delivered a speech and presented a Ukrainian "peace formula," and came on the International Day of Peace.
In the southern Ukrainian city of Kherson, near the front lines, two people were killed Thursday and at least five injured after a strike hit a residential building, said regional Governor Oleksand Prokudin.
Seven people were injured in Kyiv, including a 9-year-old girl, reported Mayor Vitalii Klitschko, and some residential and commercial buildings were damaged.
The Ukrainian Air Force said it had intercepted 36 of 43 cruise missiles launched deep into Ukraine. Closer to the the front lines, Kherson was struck with S-300 missiles and Kharkiv was likely targeted with other, shorter-ranged, weapons.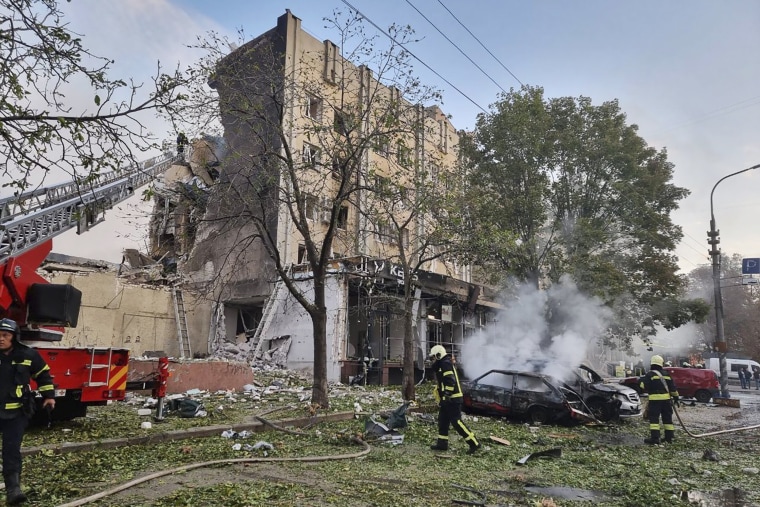 At least six strikes hit the Slobidskyi district of Kharkiv, damaging civilian infrastructure, said regional Governor Oleh Syniehubov. The city's mayor added that two people had been sent to hospitals.
At least 10 people were injured and at least one person was rescued from under rubble in Cherkasy, in central Ukraine, according to Ihor Klymenko, minister of internal affairs of Ukraine. Up to 23 people may still be buried under rubble in Cherkasy after the morning strike, said Cherkasy regional Governor Ihor Taburets. Rescue services were working to clear the debris.
An industrial zone was hit in the western region of Lviv, damaging buildings and starting a fire, but no information on casualties was immediately available, Klymenko added.
Regional Governor Vitalii Koval reported strikes in the city of Rivne in the northwest region of the same name, without immediately providing details.
Russia's Ministry of Defense said 22 drones were taken down overnight by air defense systems, 19 above Russian-annexed Crimea and three others in the Kursk, Belgorod and Oryol regions near Ukraine. The defense ministry did not say whether there were any casualties.