LONDON — A toy dog learned that space is the final frontier when he got detached from his "ship" on re-entry and plummeted at least 15 miles back to Earth.
Students at a primary school in England who launched "Sam" using a helium balloon on Tuesday are now searching for him.
The stuffed toy was selected to serve as an "astronaut" when children carried out experiments for a class involving astronomy and physics.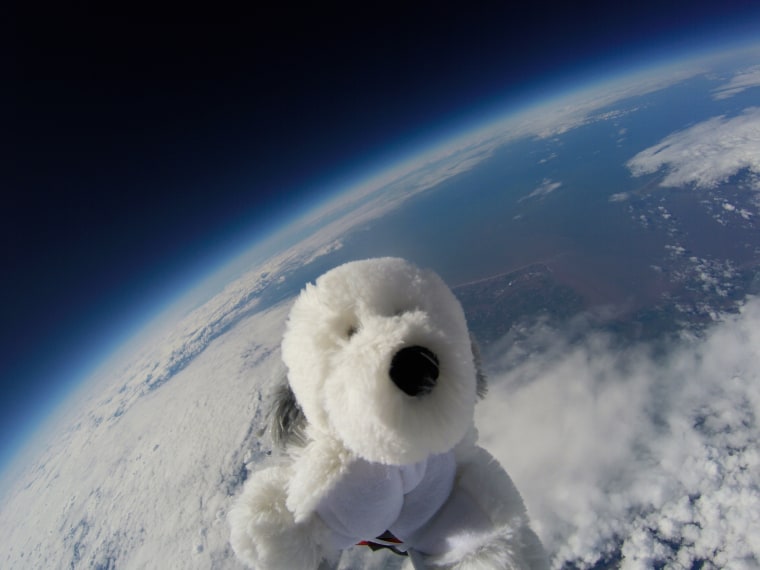 When the balloon finally popped, a GPS tracker and GoPro camera plunged back through the atmosphere. However, there was no sign of Sam following his near-space expedition.
"I had an assembly the next day in which I broke the news," Morecambe Bay Community Primary School principal Siobahn Collingwood said. "You could have heard a pin drop, there was silence and shock."
She added: "[The students] decided to launch a publicity campaign with local newspapers that has now gone global ... The children created history with the space launch and would love to see Sam the dog safely returned with tales to tell of his adventures."
The #findsam has been trending and some parents at the school have created a Facebook group supporting their kids' search.
"We do not have any data on the aerodynamics of a toy dog"
"They are all so determined. The ideas that they have been coming up with to find him have been amazing," says Melissa Brearton, whose son and daughter attend the school. "They were heartbroken that he was lost. When you see the kids like that you just do anything you can to help."
The tracker and camera were found 48 miles away from the launch site.
Chris Rose of SentIntoSpace.com worked with the school to produce the experiment. He said that Sam was likely located within a 40-50 mile radius of where the devices turned up.
"We do not have any data on the aerodynamics of a toy dog," Rose added.