By Kelly Holechek, InStyle.com
Here's an easy way to share holiday season joy and make it meaningful — a personalized holiday card! From charming custom letterhead to stationery with fun family photos, send warm wishes with one of these festive favorites. 
For Newlyweds
Just merry-ied! Share your love with family and friends with a unique holiday announcement. 
Merried & Merry, minted.com and Mistletoe Kiss, minted.com.
For Dog Lovers
Sometimes "Happy Holidays" is just better said by man's best friend. Woof, woof.
Let it Wag Holiday Card, shutterfly.com. 3/$5.99; at emi-jay.com.
For Growing Families
What a bundle of joy! Show off the newest addition to your family to loved ones this holiday season with these adorable cards. 
Twinkle Twinkle Holiday Photo Card, minted.com and Soft Snow, tinyprints.com.
For Hanukkah Fans
Near or far, celebrate the spirit of Hanukkah with these festive greetings. 
Modern Menorah, minted.com and Menorah Magic in Navy , tinyprints.com.
More from InStyle.com: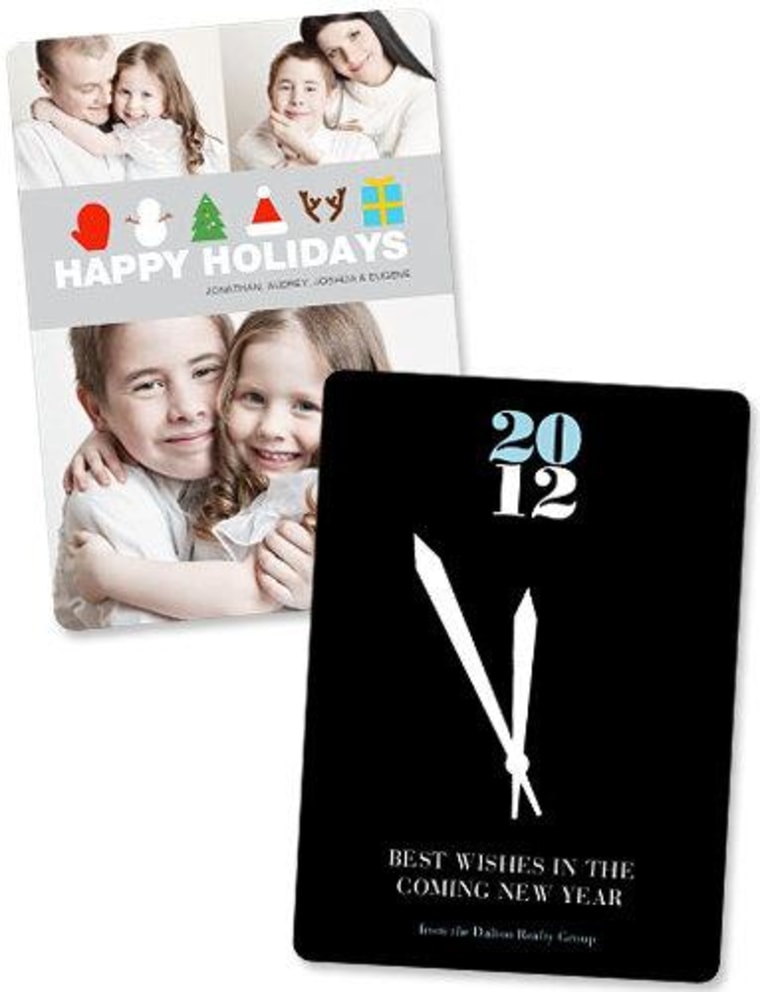 If You Want to Give Back
Start the New Year off with good karma with greetings created by Paper Culture. The company not only creates environmentally-responsible stationery by printing everything on 100% post-consumer recycled paper, Paper Culture also plants a tree with each order.
Christmas Icons, paperculture.com and The Time is Now, paperculture.com.
For Those Who Have a Lot to Say
Share all the monumental moments of the year with a timeline-inspired holiday card. 
Year in a Nutshell, minted.com and Top 10 List, paperculture.com.
For Designer Treatment
Send stylish cards created by Tory Burch! A portion of the proceeds of these whimsical designs will benefit the Tory Burch Foundation, a nonprofit organization that supports the empowerment of women and families. 
Poppy Print in Baltic, tinyprints.com and Foxy Holiday, tinyprints.com.
For Added Glitz
Sparkle into the New Year with a glittering greeting card.
Stylish Strands in Bamboo, tinyprints.com.
For True Elegance
Set an impressive tone with these classic, customizable cards. 
Create Your Own, cecinewyork.com and Lacy Etching in Smoke, tinyprints.com.
For the E-Mail Option
Don't have time to mail out cards? Customize your greetings this season with a few simple clicks and send out e-cards, while also having the option to send out via snail mail!
Lights Twisted on Dashers Paw, paperlesspost.com.
More from InStyle.com: