TEHRAN -- Iran's female soccer pros face random gender tests after seven people were disqualified from the league because they were deemed not to be women.
The "snap checks" have been introduced by the Football Federation Islamic Republic of Iran, according to Ahmad Hashemian, who heads its medical committee.
Teams are required to perform gender tests on any woman signing a professional contract and pass the results on to the federation, Hashemian said. However, many clubs previously failed to comply with the regulation. The rule was introduced about three years ago after a team raised concerns that an opponent's goalkeeper was a man.
Seven people have now been disqualified from playing in the women's league, while four others are waiting to hear back from the federation.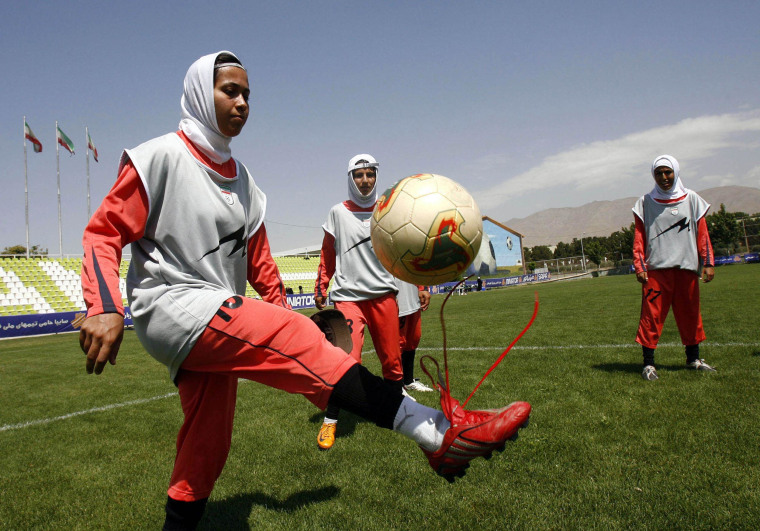 The checks are similar to those carried out on South African runner Caster Semenya, who was forced to undergo gender tests before eventually being cleared to return to action against women.
In cases where players are undergoing sex changes, Hashemian said they would be allowed back onto the field when their gender-reassignment procedures had been completed.
"If these people can solve their problems through surgery and be in a position to receive the necessary medical qualifications, they will then be able to participate in [women's] soccer," he added.
While Iran has strict laws governing homosexuality, which is punishable by death, sex-change operations are legal as a result of a fatwa - or religious ruling - pronounced by the late Ayatollah Ruhollah Khomeini.
Sex changes are recognized in Iranian passports and only Thailand performs more gender-reassignment surgeries.
Henry Austin reported from London.